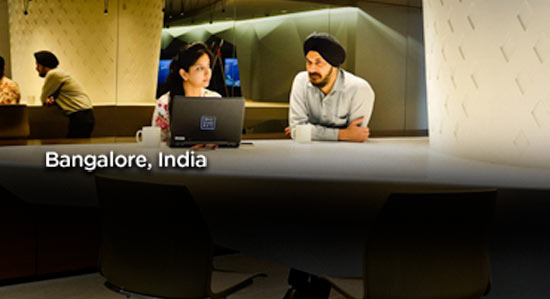 Push us. Amaze us. Inspire us.
Careers in India
When you walk through the doors of one of our state-of-the-art office sites in India, you'll find modern, comfortable, positive spaces that invite our employees to share ideas, spread creativity, innovation, and find balance in their daily lives. We are proud of our presence in the community, proud of VMware's future in India, and proud of our commitment to initiatives that celebrate diversity in the workplace and India's technology industry.
VMware India continues to play a strategic role in VMware's global growth strategy for the mobile cloud era and our operations are currently second in size only to those at VMware's Palo Alto headquarters in the United States.
Solution Architect
Job ID R1902832
Date posted 03/01/2019
Cloud Consultant:
1. Role Purpose:
The key purpose of this role is the delivery of successful consulting engagements to customers with a focus on operationalization and standardization of VMware solutions from an IT Service Management and business perspective, with a focus on VMware vSphere (ESXi and vCenter), vRealize Automation, vRealize Orchestrator and related products.
2. Key responsibilities and accountabilities:
Delivering high quality process and service delivery improvement engagements around the VMware product line, to drive better outcomes for customers around VMware solutions
Engaging with stakeholders across all facets of IT, including facilities, network, security, systems, strategy and business applications teams as well as service focused teams such as capacity management, financial management and event management to drive organizational change around the VMware platform and management solutions
Provision of estimates and validation of project plans
Provision of leadership in the best practice operationalization and standardization of VMware products & technologies.
Delivery of projects in the enterprise space, often independently and with a commitment to high-quality outcomes.
Documentation of best practices for developing and deploying these solutions for reuse in other customer engagements, and contribution to the development of standard consulting service offerings
3. Knowledge and Skill Requirements:
Role Specific Technical Skills:
The role requires expertise in the following:
Organizational modelling, roles and responsibilities
Infrastructure provisioning process and infrastructure lifecycle management
Systems management, including monitoring and automated provisioning and lifecycle management concepts and related processes including capacity, performance and event management
IT Service Management and ITIL process design
Understanding of modern IT data center practices and IT business operations across the ITIL service lifecycle
Exposure to VMware's products (VMware ESX, vCenter, SRM, vRealize Automation)
Enterprise data center experience, across storage, networking, systems, virtualization, cloud solutions and management solutions
Programming fundamentals along with OOPs concepts.
Scripting skills: Shell, Powershell, JavaScript, Perl/Python (Add on advantage).
Webservice concepts – SOAP/REST (Add on advantage).
Previous Experience:
The person filling this role would generally have experience similar to the following:
Experience in operational support environment analysis and design, including:
Support organization consulting, including organizational modelling, roles and responsibilities
Infrastructure provisioning process and infrastructure lifecycle management
Systems management, including monitoring and automated provisioning and lifecycle management concepts and related processes including capacity, performance and event management
IT Service Management and ITIL process design
Understanding of modern IT data center practices and IT business operations across the ITIL service lifecycle
At least 5 years' experience in enterprise-class IT infrastructure environment(s), including a working knowledge of networking, storage, facilities and servers
At least 2 years' experience in customer-facing positions as a professional services technology or business consultant, including:

Gathering requirements, leading workshops and driving change within the customer organization
Designing technical and/or process solutions
Presenting to and interfacing with upper level management
Highly Desirable
• Exposure to VMware's products (VMware ESX, vCenter, SRM, vRealize Automation, vRealize Orchestrator, vROps)
• A VMware VCP (or higher) would be highly regarded
• Designing technical and/or process solutions
• Presenting to and interfacing with management teams
Education:
• ITIL training and qualifications
• Business, accounting, financial or management qualifications
• Enterprise architecture training and qualifications
• VMware Certified Professional (VCP) certification
• Server, security, storage and networking certifications
• B.S./B.A./M.S. qualifications or equivalent technical training
• VCAP
• Bachelor in Information Technology-related or similar higher education
Personal Attributes and Competencies:
• Strong communication skills
• Ability to work well with a multidisciplinary team
• Ability to lead workshops
• Flexibility with travel
Relevant Jobs
Sorry, there are currently no new opportunities near your current location. Try a new search.