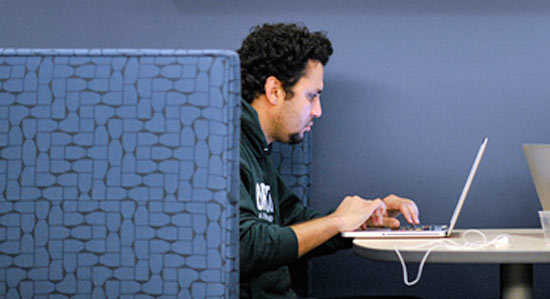 Push Us. Amaze Us. Inspire Us.
Careers in Engineering
We are intellectual mavericks, pioneers, game-changers, and doers of the extraordinary, on a mission to create cloud, mobility, security, and virtualization solutions that will reach millions of users around the world. At VMware, our people are empowered to succeed and are valued for their innovative contributions as we revolutionize the IT industry.
Are you ready to join us?
Senior Director of Research
Palo Alto, California
Apply Now
Job ID 78206BR
About VMware Research Group
Director of the Research Group (VRG) will be the champion and mentor of a team of stellar researchers whose goals are to advance the state of the art and to disrupt the industry. VRG researchers accomplish this by combining research breakthroughs with VMware's premier development capabilities and industry presence. With its early roots in academia, VMware has established itself as a source of ground breaking innovation with a culture that flourishes with technical leadership. The VRG is extending the depth of our innovation pipeline through a culture of research excellence combined with deep and meaningful partnerships that bridge the gap between academic research and the leading technologists within the Company's business units.
Learn more about us: https://research.vmware.com/
Responsibilities
Our Researchers are responsible for the investigation of new and unproven technologies, advancing state of the art, and developing ideas that inspire and inform the future of VMware. They are expected to launch new research initiatives and/or collaborate on existing research projects.
Your role will be attracting bests-in-class researchers to the group in addition to the permanent research staff, this includes interns, post-docs, visiting scholars, etc. who am essential components of our program.
You will mentor VRG researchers, guiding their career growth and professional development, including their stature within the Company and within the external research community. Don't just be their manager – be their champion.
You will create an extraordinary research environment in which the whole is greater than the sum of the parts by finding ways to synthesize multiple research threads into larger agendas – without compromising the integrity of the individual projects. You will guide VRG researchers towards disrupting the research community, through agenda-setting leadership in their respective research communities; and "Disrupting VMware", by seeking out applications for key research advances that will create whole new business opportunities for VMware and/or preempt significant disruptions to our current businesses.
Establishing productive working relationships with senior R&D staff to: understand the priorities of each engineering group; find opportunities for VRG engagement; and facilitate such engagements. Partner effectively with the Senior Director (Research and Innovation) identifying and implementing of the most promising paths from research to product/service, establish champions within the business units, etc.
Establish strong collaborative projects with external researchers. Partner with the Director of the VMware Academic Program on the identification of key opportunities and encourage VRG researchers with them.
You will also interact with customers to learn about the challenges they face and to create opportunities for the early dissemination of research results/artifacts through PoC's etc.
You will help get VRG messages out to: the research community, prospective employees, industry analysts, customers, developers, etc. This includes the development of collateral, distribution of research artifacts (e.g., OSS), external speaking by VMware researchers, participation in RADIO/VMworld, industry forums, etc.
Role model our values and actively contribute to the health, fun and vibrancy of the VRG. Make the VRG the research environment you always dreamed of.
Qualifications and Experience
Proved record of mentoring researchers and guiding them to success. This could either be in an industrial research setting or as a faculty member at a top university.
Research track record in one or more technical areas relevant to VMware's research agenda. Evidence of having defined and successfully pursued a research agenda that has had significant impact on research community and/or industry.
Ability to collaborate effectively with product team executives and senior technologists.
Excellent written and verbal communication skills with capability to facilitate technical conversations with and among researchers; and describe clearly to executives, customers and technologists the nature and importance of the problems VRG researchers are working on, the unique aspects of their approach, and their results and their implications.
Capable of handling multiple projects simultaneously and able to travel both domestically and internationally, as needed.
15+ years of work experience in technology industry.
Preferred Experience:
Strong leadership and team-building skills with past management experience highly desirable.
Preference for an individual who has experience building stuff people use --- prototypes, products, Opensource code, etc.
Past success in research technology transfer highly desirable.
Education
Ph.D. (or equivalent) in Computer Science, Computer Engineering, Electrical Engineering, Statistics, Mathematics or a discipline directly related to your area of research expertise.
Your saved jobs
You have not saved any jobs.
Recently viewed opportunities
You have not viewed any jobs.