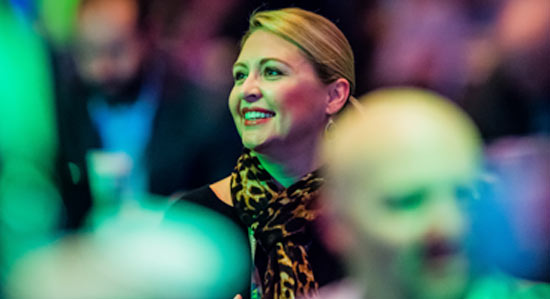 Push us. Amaze us. Inspire us.
Careers in Sales
Innovation is the essence of our brand. Our top-performing sales professionals help our customers—across all industries—revolutionize their businesses to thrive in the digital era by leveraging the power of software. We create exceptional end-user experiences and build customer trust.
Are you ready to work with some of the best and most innovative products on the market?
Cloud Management - Senior System Engineer Iberia (Madrid based)
Apply Now
Job ID 81410BR
Date posted 02/17/2017
Provide support to the VMware sales team and channel partners in pursuit of virtual infrastructure business opportunities. Gain prospects' technical recommendation to develop a business relationship with VMware and its channel partners. Expected to help define, accelerate and close transactional and enterprise business within a geographic territory or defined set of accounts. Must perform a variety of tasks, including product overviews, customized presentations and demonstrations, complex solution design, infrastructure surveys, proposal development, advanced product evaluations and product feature/benefit discussions.


Main Duties

- Present VMware product features and benefits to Managers and Director Level prospects as well as Systems Managers and Administrators
- Provide technical and strategic vision about VMware product family and be able to describe customized solutions to address complex customer requirements, utilizing VMware and partner products and professional services
- Must be able to describe VMware's key messages and vision and discuss key benefits for our customers
- Must be recognized and utilized as a technical resource within the region
- Must maintain current knowledge of complete VMware product set and be able to describe key features and benefits of each
- Keeps abreast of developments within industry and the organization
- Establish positive working relationships – internal and external
- Acts as a VMware Product Advocate
- Proactively seek out new sales opportunities by developing new and existing technical relationships within accounts
- Evangelize current and future VMware products and technologies with an emphasis on large enterprise deployments and/or vertical solutions
- Proactively drive new and incremental business with the OEM and Channel Partners
- Ensure success of customer proof-of-concepts (PoCs)
- Documentation of client feature requests and issues
- Drive the design of customer oriented solutions using VMware

The role, responsibilities and geographical focus will change and develop over time along with the company's rapid growth.

Key Interfaces

- Account Manager(s)
- Other SE's
- Regional Manager


Required Skills

- Qualification in business or engineering discipline or equivalent training and industry experience
- Knowledge and demonstrated proficiency with at least one major server operating system (UNIX/Linux or Windows Server)
- Good understanding of Virtualization concepts and competitive positioning knowledge is essential
- Strong understanding of Enterprise technology including SMP servers, storage arrays, storage networking, network protocols, and general connectivity in multi-platform enterprise environments
- Open systems administration and management, technical sales or consulting experience Prioritizing and organizing skills
- Strong relationship building skills
- Communicates effectively verbally; communicates clearly in writing
- Excellent presentation skills with an ability to build and present high quality product demonstrations to both technical and executive audiences including, (experience of presenting to large audiences e.g. seminars an advantage)
- Must be fluent in English, local language
- Creative thinking "outside of the box"
- Demonstrates high ethics and integrity, is respected
- Knowledge of VMware Virtualization solutions and associated products
- Knowledge of other solutions like NSX, EUC or vSAN is a plus
- VMware and Industry certifications is a plus
- Knowledge of Management and automation solutions from VMware
- Proven skills in Openstack / Containers / API Automation / Orchestration tool experience
81410BR
Your saved jobs
You have not saved any jobs.
Recently viewed opportunities
You have not viewed any jobs.