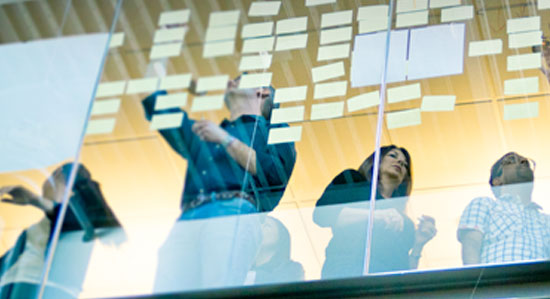 Push us. Amaze us. Inspire us.
Careers in Marketing
Are you a marketing whiz? Dare to communicate around the world as you put strategy into action through integrated marketing plans in digital, print, email, webinars, trade shows and more.
Partner Marketing Manager - France
La Defense, France
Apply Now
Job ID R1900288
VMware stands out from other organizations because of its strong corporate culture and EPIC2 values which inspire people to bring their authentic and creative selves to work every single day.
If you are considering VMware as a potential next employer, you couldn't have chosen a better time.
We are focused on identifying the key customer issues in Digital Mobility, Digital Transformation and helping with them with their Hybrid Cloud Journey by using our best-in-class Software Defined Data Centre.
VMware is a company that is built on shared values and having a strong corporate culture and identity is key to what makes it a great place to work.
These values best expressed through the acronym EPIC2: execution, passion, integrity, customers, and community.
Execution is a core value that encourages collaboration and high standards. VMware teams debate and discuss, and then get things done. Egos are checked at the door, and shared work is focused on impact, quality, and efficiency.
Passion means challenging the status quo. VMware people are inspired to follow their curiosity and the pursuit of the seemingly impossible to continuously make things better for customers, products, and each other.
Integrity focuses on building trust. Employees are expected to say what they do and do what they say. The company supports peers to build and cultivate relationships with one another, customers, partners, shareholders, and the community—without taking anything for granted.
Customers make it possible. They are core to VMware's mission. The innovation that flows out of VMware frees customers from constraints and enables organizations of all types to meet their toughest technological challenges.
Community acknowledges connection. Employees are encouraged to approach each other with open minds and fearless hearts. Opportunities to serve by dedicating time, talent, and energy are plentiful.
Do you have what it takes to be EPIC2?
You'll work collaboratively with the channel sales team to market to VMware's partners, with our partners to implement co-marketing initiatives, and with Marketing to directly market to our partners' broader customer base.
You'll be responsible for developing and executing our integrated marketing strategy to fuel awareness, build pipeline and drive scale with our channel – spanning our distributors, strategic and development solution provider partners and select OEM relationships.
This is a cross-functional role, and you must have a diverse set of skills to both enjoy the role and achieve success. You'll establish marketing relationships with partners and understand their business models. From that crucial understanding of our unique value to one another, you will design creative co-marketing plans to build our brand, create demand, and help drive revenue. These plans should have a strong focus on business impact from the start, as you will be driving their execution, measuring results, and optimizing for success.
VMware's work environment is very dynamic, so you should be someone who thrives in a very fluid, fast-paced atmosphere, and must be able to effectively manage your time and tasks. Able to work independently and lead internal and external partners towards mutual goals, you'll be passionate about the value the channel brings!
With our marketing strategy, objectives and messaging front of mind, you will ensure our integrated marketing campaigns are successfully delivering the required pipeline for our respective sales teams. You'll work closely with the wider French marketing team to accelerate and amplify that success as well as contribute to ideas and thinking across EMEA. You'll have existing relationships and build a strong network within our channel community
This role is a fantastic opportunity to combine collaboration, creativity, influence and execution!
Your responsibilities within VMware's France marketing team will include:
Planning and executing upon joint campaigns with our partners including but not restricted to executive roundtables/briefings, digital campaigns, VMworld/wider industry conferences and webinars
Leverage and drive adoption of our EMEA-wide marketing tools such as our Partner Marketing Catalogue, Partner Portal and Concierge Service to ensure we drive scale through our channel.
Stimulate partner understanding of VMware mission and brand; and ensure successful, integrated marketing efforts.
Support EMEA partner events to fuel sales, technical and executive engagement.
Closely track priority critical metrics including the Sales Accepted Leads, pipeline contribution and ensuring the successful allocation and approval of Development Funds before expiry so we can demonstrate the impact our channel marketing efforts are having on pipeline and revenue.
Requirements:
Minimum of 5+ years of experience within a partner and alliance marketing background, field marketing experience is attractive but not required
History of building and maintaining collaborations that drive significant growth.
Experience of executing partner marketing campaigns and measuring their impact with clear important metrics through both DF and direct funding
Excellent interpersonal and written/oral communication skills
Ability to adjust to a dynamic environment, be able multi-task with a can-do attitude
Ability to think strategically and act tactically
Ability to think outside the box and bring creative ideas to the table to support marketing efforts for Notion and our partners 
You're a proactive and thoughtful communicator -- over the phone, through email, and on social media 
Passionate about contributing to a fast-growing business and the role the channel can play in its success
Your saved jobs
You have not saved any jobs.
Recently viewed opportunities
You have not viewed any jobs.