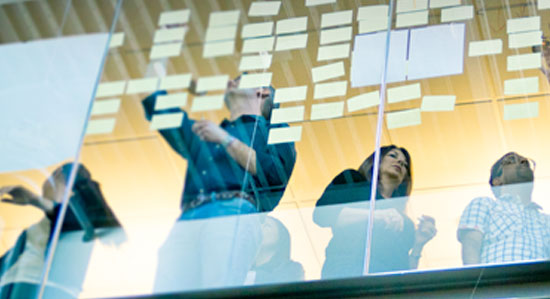 Push us. Amaze us. Inspire us.
Careers in Marketing
Are you a marketing whiz? Dare to communicate around the world as you put strategy into action through integrated marketing plans in digital, print, email, webinars, trade shows and more.
Enterprise Marketing manager - La défense - France
Job ID R1901903
Date posted 02/13/2019
Enterprise Marketing Manager – La Défense, France
VMware, a global leader in cloud infrastructure and digital workspace technology, accelerates digital transformation by enabling unprecedented freedom and flexibility in how our customers build and evolve IT environments.
With VMware solutions, organizations are improving business agility by modernizing data centers and integrating public clouds, driving innovation with modern apps, crafting exceptional experiences by empowering the digital workspace, and safeguarding customer trust by transforming security.
As Enterprise Marketing Manager for France, you will be responsible for all aspects of customer marketing and drive the development and execution of activities alongside the customer lifecycle with VMware in France.
This includes creating awareness, driving demand, optimizing programs to drive conversions and accelerate velocity through each stage of the sales funnel (cross- and upsell), increase client satisfaction, accelerate customer intimacy and the reference database, create a sense of community and strengthen the VMware brand.
You must be an excellent communicator, have strong cross group collaboration skills, have a strong customer focus and experienced in developing concepts, planning and organizing.
The ideal candidate has a previous experience in customer Marketing, can work independently, is comfortable working within a cross-functional capacity, has a background in marketing and demand generation, and possesses effective communication and messaging skills.
This role will work closely with the French account management and sales teams in France and as well as the extended international Marketing teams.
This position will be a key member for the VMware France marketing team and report directly to the Head of Marketing, France.
Responsibilities
Develops targeted client marketing programs to increase the cross and upsell business according to the sales strategy.
Build and strengthen VMware's relationship with IT Decision Makers from our top customers and prospects
Understands the agendas of CIOs and key decision makers and able to map VMware value proposition to these agendas
Deliver business value content that will accelerate the adoption of new solutions by appropriate communication actions
Master, drive and execute events and social media campaigns to leverage cxo content (blog, social media, etc)
Up to date dashboard that tracks Executive Engagements and success level with Enterprise accounts to show effectiveness of marketing activities.
Act as an embedded resource to the global and enterprise account sales teams, and attend Quarterly Business Reviews and other meetings as appropriate; present Marketing plans and updates to Sales and Marketing leaders.
Develop a quarterly enterprise marketing plan & budget, spend the budget in a compliant way and be accountable, track and measure the ROI according to budget rules and guidelines.
Manages and produces French use case studies and videos.
Defines campaign analytics and reporting to drive optimized investment and ROI.
Candidate Profile:
Minimum 8 years in Marketing
BA Degree or equivalent required (MBA or equivalent is ideal)
Language: Fluent in English & French. 
Strong Microsoft Office skills required
Social Media skills is recommended
Previous Experience:
The candidate has held customer marketing position(s) at software vendors.
Has developed and implemented marketing strategies and produced the associated marketing programs, collateral or products, with proven results
Worked with agencies to execute on different marketing programs
Personal Profile:
Strong project and program management skills with ability to work on multiple projects at once, set priorities, work independently, problem solve, improvise, and function as part of a team that often must perform under pressure
Excellent cross-functional team player that can excel at both strategy and execution and lead/influence teams
Highly driven self-starter that thrives in a dynamic environment
Demonstrated leadership running marketing programs for a variety of audiences and a broad solution portfolio
Must be able to work collaboratively across marketing, sales, executives and customers
Exceptional communication (written and verbal) cross functionally and at all levels including executives and customers
And of course, we want you to be EPIC2 – our values - 'execute', passion', 'integrity' 'customer focused' and 'community focused' – values we are proud of.
Before you join, VMware will require you to go through a pre-employment screening process. This means that we will want to verify your details and the information you have given us to ensure your suitability for a certain role considering its nature, seniority and other relevant factors.
Relevant Jobs
Sorry, there are currently no new opportunities near your current location. Try a new search.