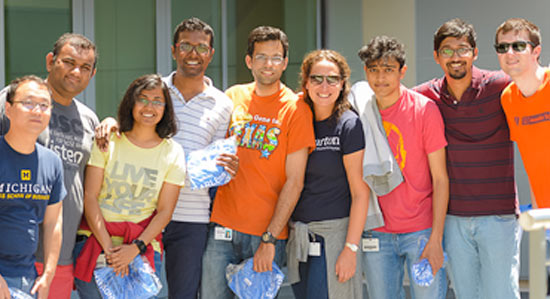 Push us. Amaze us. Inspire us.
University Opportunities
At VMware, you will have the opportunity to challenge yourself, build relationships with the best and brightest in the industry, and prove that together we have the power to do something remarkable.
Intern - PreSales - Pre-sales Solutions Engineer Intern Turkey
Istanbul, Turkey
Apply Now
Job ID R187840
Intern - PreSales - Pre-sales Solutions Engineer Intern
Location: Istanbul, Turkey
Start date: July 2019
Duration: 6 months
The Future Begins with You
If you thrive in an open, positive, innovative culture, VMware could be the place for you! You will be exposed to a wide range of software platform technologies that are utilized by customers all over the world.
A global leader in cloud infrastructure and digital workspace technology, VMware are seeking the best student talent to join our Pre-sales Solutions Engineering team.
At the core of what we do are our people who deeply value execution, passion, integrity, customers, and community.
VMware offers state of the art infrastructure software and security services to companies of all shapes and sizes. Our world is all about technology, and that world is growing because the imagination, ingenuity and talent of our teams knows no bounds. We believe that creativity sparks innovation and encourages our employees to think of VMware differently and change the world around them.
The Pre-Sales Solutions Engineering Team:
In the VMware Solutions Engineering (Presales) team we help customers to understand how they can embrace technology innovation to transform their businesses with industry-leading VMware solutions. This team is involved in all technical aspects of customer engagement:
Talking to customers, introducing them to new technology concepts and ideas that can enhance their business strategy.
Presenting and demonstrating transformative VMware technologies that can make their strategic vision a reality.
Designing the right technology solutions to meet customers biggest business challenges, taking advantage of a rich portfolio of VMware products and services.
Focusing on problem solving and successful customer outcomes.
Through close collaboration with sales and professional services, a Solutions Engineer builds long term customer relationships, ensuring success in their adoption of VMware solutions.
Intern Responsibilities:
Working with Pre-sales team to develop and deploy innovative new Pre-sales processes and services.
Helping introduce sales tools to sales team
Analyze and document existing tools and services to identify how and where they may be improved.
Research emerging technologies, both internal and external, understanding how the team can adopt them to improve services.
Assist with pre-sales team to build account planning for large customers
Intern Team Requirements:
A persistent, self-starter with a track record of success in your academic career to date.
Eagerness to always be learning, passionate about embracing technology innovation in an ever-changing industry.
An excellent teammate, with a passion for working with others and who works with integrity to succeed in a high-energy, dynamic environment.
Being an enthusiastic communicator while possessing excellent listening, interpersonal and writing skills.
University student studying towards Bachelors or Masters - Computer Science, MIS/BIS, Engineering or Science preferred.
Experience in any IT role or software development skills in web technologies would be beneficial.
Fluency in English essential.
Before you join, VMware will require you to go through a pre-employment screening process. This means that we will want to verify your details and the information you have given us to ensure your suitability for a certain role.
Your saved jobs
You have not saved any jobs.
Recently viewed opportunities
You have not viewed any jobs.