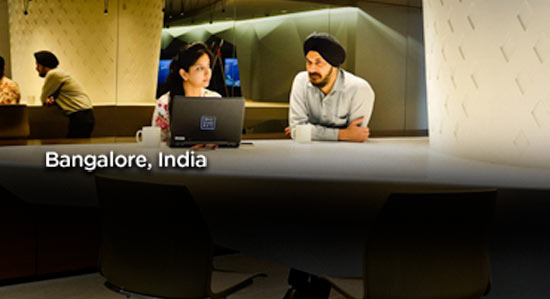 Push us. Amaze us. Inspire us.
Careers in India
When you walk through the doors of one of our state-of-the-art office sites in India, you'll find modern, comfortable, positive spaces that invite our employees to share ideas, spread creativity, innovation, and find balance in their daily lives. We are proud of our presence in the community, proud of VMware's future in India, and proud of our commitment to initiatives that celebrate diversity in the workplace and India's technology industry.
VMware India continues to play a strategic role in VMware's global growth strategy for the mobile cloud era and our operations are currently second in size only to those at VMware's Palo Alto headquarters in the United States.
Technical Account Manager
Hyderabad, India
Apply Now
Job ID R180807-3
echnical Account Manager
VMware Technical Account Manager Service is a long-term service offering from VMware Professional Services Organization (PSO). VMware Technical Account Managers provide unrivaled product knowledge and proven skills to help customer streamline deployment and improve operations of VMware solution deployments. VMware Technical Account Manager will be single point of technical contact who can address ad-hoc technical queries, streamline overall operations, and suggest best practices and coordination of issue management and problem resolution.

Location : Gujarat

Role Description
Technical Account Managers assess customer's existing infrastructure - review and recommend implementation plans for best practices based on customer business and solution deployment. TAMs proactively expand VMware platform adoption and standardization within accounts, driving relationships at every level internally and externally to advocate VMware technology solutions. TAMs must engage resources across the entire VMware organization when necessary. In addition to customer facing activities, TAMs report key account metrics and insight to VMware internal teams while contributing to the overall TAM program development.

The TAM also strives to bring together divergent business divisions toward a common objective and helps these groups address business and technical hurdles by providing access to VMware information and experts while serving in a Trusted Advisor capacity to their accounts.

As one of our Technical Account Managers (TAM), you will be responsible for building and maintaining post-sales relationships with VMware's largest and most complex customers. You will serve clients to ensure successful implementations and as an account manager to ensure that the customers serve as a positive reference and continue their standardization on VMware technology. Additionally, you will become the customer's single point of contact into all of VMware. As such, your technical abilities are critical in identifying solutions, troubleshooting issues, and answering technical questions as they arise.

Responsibilities:
• Establish long-term relationships within assigned accounts while developing an understanding of the client's strategic goals and IT's overall impact on business results.
• Provide project leadership, coordination and architectural guidance for the customer's major VMware initiatives.
• Collaborate with cross-functional VMware project teams which could consist of VMware consultants, engineers, product management and support staff.
• Map VMware solutions to the customer's unique business and technical requirements.
• Maintain current, high-level technical knowledge of the entire VMware product line and future product direction.
• Design and develop innovative solutions to customer requirements using our Enterprise to desktop products, with assistance from our internal engineering group and consulting architects as required
• Manage and drive competing requests across simultaneous client engagements.
• Provide clear and constructive product feedback to VMware Product Management teams based on customer use-cases and requirements.
• Understand the customer's high-level business challenges while functioning as an advisory resource for "Best Practices" and driving adoption of VMware solutions within your accounts.

Requirements
• At least 8+ years experience in customer-facing positions as a professional services consultant, preferably with a management consulting or large System Integrator organization
• Experience with emphasis on hardware architecture – Servers, Storage and enterprise software technologies, and infrastructure design and development
• Must be a fast learner with the ability to explain complex technical concepts to a variety of audiences.
• Strong technical background in data center infrastructure, operating systems, desktop deployments, system administration and/or technical architecture (preferably with technical certifications).
• Strong business acumen and problem-solving skills with the ability to influence internal and external stakeholders at all levels.
• Must be effective working independently and in a team setting.
• Strong organizational skills with the ability to manage competing client demands.
• Excellent communication, presentation and interpersonal skills including the ability to interact, communicate and build relationships with CxO level personnel.
• Must have VCP 5/6 or Advanced VMware certification.
• B.E, B.Tech or MBA degree preferred.
Your saved jobs
You have not saved any jobs.
Recently viewed opportunities
You have not viewed any jobs.