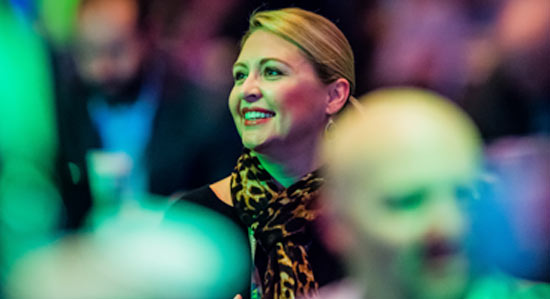 Push us. Amaze us. Inspire us.
Careers in Sales
Innovation is the essence of our brand. Our top-performing sales professionals help our customers—across all industries—revolutionize their businesses to thrive in the digital era by leveraging the power of software. We create exceptional end-user experiences and build customer trust.
Are you ready to work with some of the best and most innovative products on the market?
Channel Compliance Manager
Job ID R1904786
Date posted 04/16/2019
Business Summary
VMware is the leader in cloud infrastructure, business mobility and virtualization software, and empowers customers with solutions in the software-defined data center to hybrid cloud computing and the mobile workspace.  At VMware, our Partner vision is to deliver superior value throughout the customer journey with a vibrant and committed partner ecosystem. The Partner Sales Acceleration Team (PSAT) is leading the way and driving the global partner strategy and roadmap across all partner business models.
As a global company, we work with channel partners all over the world, and we conduct anti-corruption due diligence reviews to ensure these partners can meet our legal and ethical expectations. This role will be responsible for supporting our due diligence program, which is a key part of VMware's overall channel compliance program. The role will be based in Costa Rica, reporting to the Director of Channel Compliance in Palo Alto, CA. 
The successful candidate will be responsible for operating and building out best-in-class Partner screening and due diligence capabilities for Channel Compliance andwill have primary responsibility for the day-to-day operation of our due diligence process, including managing requests for diligence on new and existing partners, compiling and analyzing metrics about the program, and serving as a resource to colleaguesand business clients with questions and requests related to the due diligence process. 
The successful PSAT Compliance Manager will meet/exceed the following:
Core Objectives:
Manage requests for diligence on new and existing partners, including communicating with internal colleagues and third parties to gather all required information to complete diligence 
Conduct first-level review of due diligence questionnaires and external checks to identify potential red flags or areas requiring further inquiry 
Serve as a resource and point-of-contact for questions from internal colleagues and third party representatives going through due diligence
Ensure partner denial recommendations are tracked, triaged and actioned timely 
Assist with the roll-out of process enhancements, including helping to develop trainings and guidance documents for legal and business colleagues 
Compile and analyze reports and metrics from our due diligence platform, and present results to colleagues, so that we can continually assess and adjust our risk-based program 
Proactively identify and recommend practical solutions for program gaps and areas requiring improvement and/or enhancement, partner with and engage stakeholders for their input and support on proposed changes
Establish and agree prioritization of areas to improve and establish plan to do so – execute against these plans
Work with the Legal & Compliance teams to stay abreast of new legislation, regulations, government enforcement activities, and industry trends.  
EXPERIENCE / QUALIFICATIONS
This position requires strong channel, compliance and business acumen on how to effectively manage third-party risk.  They will operate the company's Partner Integrity program and provide transparent and accurate status reporting of program health, frequency based upon use case. They will need to communicate in an open and timely manner, conveying progress updates and program status, as well as providing constructive input and guidance to the Channel Compliance Director. This also includes effectively communicating partner status and escalations to stakeholder groups. The ideal candidate will need to have the executive experience of how to escalate issues through proper governance channels as needed, and apply a solution orientation towards corrective action plans where required.
Additionally, the successful candidate must possess:
5 years increasing responsibilities working in a Compliance or Legal organization 
BS/BA degree required 
Project management experience preferred 
Awareness of, and relevant experience with, anti-corruption laws, such as the Foreign Corrupt Practices Act (FCPA)
Experience in the technology industry, preferred
Familiarity with emerging markets and their compliance risk profile.
Leadership and project management in cross‐functional projects, and willingness to take initiative
Proven ability to thrive in a fast-paced, dynamic environment while juggling priorities and tight deadlines.
Ability to navigate through ambiguity
Outstanding communication and interpersonal skills; ability to influence and work collaboratively across organizations
Excellent written and verbal communications skills 
Excellent analytical and problem-solving skills 
Detail-oriented and well-organized 
Proficiency in Microsoft PowerPoint and Excel (e.g., formulas, pivot charts, pivot tables, formatting, etc.)
Demonstrated experience in assessing and deploying strategies for managing channel risk, performing root-cause analysis, internal control design or similar risk management areas.
Ability to build relationships with cross-functional partners and stakeholders
Preferred Skills: 
Certified Compliance and Ethics Professional (CCEP) certification
Internal or External auditing experience
Process Improvement or project management experience
Additional language skills
Job Requirements and Working Conditions
This position requires some travel
Location is Costa Rica
Relevant Jobs
Sorry, there are currently no new opportunities near your current location. Try a new search.