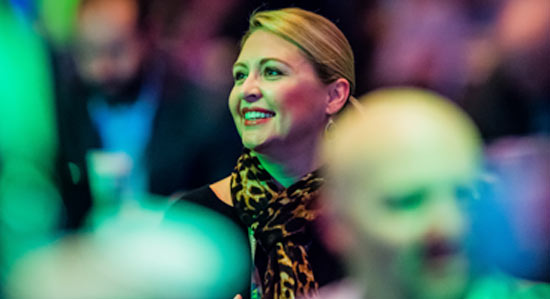 Push us. Amaze us. Inspire us.
Careers in Sales
Innovation is the essence of our brand. Our top-performing sales professionals help our customers—across all industries—revolutionize their businesses to thrive in the digital era by leveraging the power of software. We create exceptional end-user experiences and build customer trust.
Are you ready to work with some of the best and most innovative products on the market?
Air Force Client Executive
Job ID R1905056-2
Date posted 04/10/2019
Job Description
As a DoD Client Executive, you will be responsible for driving VMware solutions to the Air Force.  The ideal candidate would preferably be already working in a similar role and must have a minimum of 8 years software industry experience, with at least 5+ years of solution sales experience within the Air Force.

Responsibility 
* Manage all aspects of VMware solutions sales life cycle within the Air Force
* Initiate and build strong relationships at all levels within the account base
* Develop, implement and drive sales strategy across a defined set of DoD Agencies
* Possess strong sales discipline; build and manage accounts; plans; qualification of opportunities; accurate management of CRM system; Pipe-line management and forecast accuracy within 5%+/- of landing
* Achieve aggressive revenue and growth goals
* Effectively leverage internal and external resources
* Provide leadership to cross-functional sales and technical support teams within assigned accounts
* Utilize VMware EPIC2 values (Execution, Passion, Integrity, Customers, Community) to conduct day to day business

Experience Required:
* 10 + years of experience and history of success in selling IT solutions or software to Federal customers; 5 years' specific experience selling to Air Force
* Must have experience in selling cooperatively with OEM's such as Dell, HPE, Cisco, as well as with channel partners.
* Must have good working knowledge of current enterprise-level information technology products, solutions, and providers.
* Domain experience selling in Enterprise Datacenters, and CLOUD computing environments.
* Proven track record with working with the channel and System Integrators
* Experience selling complex solutions, requiring implementation, integration and Professional Services 
* Experience building demand with cycle times of 6-24 months
* Ability to network with LOB leaders, CxO – And able to work across IT, Ops, AppOps/Dev-admin
• Experience negotiating large 7-figure deals with extremely complex terms, conditions, and price pressures
• Ability to communicate the business value and/or ROI of proposed products and solutions
• Experience leading a team of professionals in sales campaigns that include Sales Executives, Field SE's, Inside Sales, Field Marketing, and Professional Services
* Proven track record of success selling in a highly competitive environment (demonstrated by history of meeting and exceeding quotas)
* Proven experience in a Business Development role identifying and building strategic program opportunities

Core Competencies
• Self-starter with a high energy level
• Ability to work with all levels of individuals
• Proven track record of quota over-achievement
• Excellent communicator, both written and verbal
• Dynamic presenter with the ability to translate technical thoughts to everyday language

Education
• BA/BS degree or higher, or equivalent job-related experience (Degree in Business or Computer Science preferred)
This position is eligible for the AMERSalesDoubleDown enhanced ERP Campaign
Relevant Jobs
Sorry, there are currently no new opportunities near your current location. Try a new search.