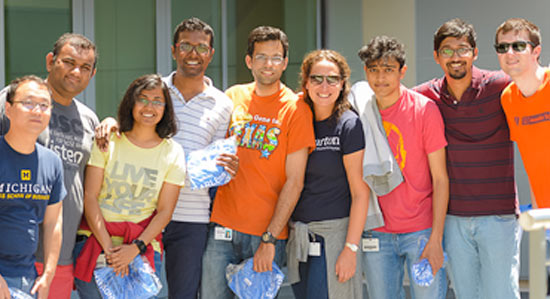 Push us. Amaze us. Inspire us.
University Opportunities
At VMware, you will have the opportunity to challenge yourself, build relationships with the best and brightest in the industry, and prove that together we have the power to do something remarkable.
Systems Engineer Associate Graduate with Spanish - VMware Academy (Start: July 2017)
Apply Now
Job ID 75791BR
Date posted 12/21/2016
Location: Cork, Ireland
Start: 17th July 2017

VMware invests for the future in VMware's Technical Services Organization through the VMware Academy.

The VMware Academy (VA) is an extensive training program that prepares graduates for a career in the Technical Services organisation. The academy involves technical and product training for all participants, as well as training on the commercial aspects of the role. Following training, successful participants will progress to join a Systems Engineer role, where they will contribute to success of the business. We're looking for people who love to win, with a passion for technology, have strong business ethics and great communication skills.

Function Overview
The VMware Technical Services organisation helps customers to transform their businesses through the adoption of industry leading VMware solutions. The Systems Engineering team, part of the Technical Services Organisation, takes ownership of all technical aspects of customer engagement: - from initially introducing new concepts to a customer, though to presenting and demoing VMware technologies and helping to design a solution that meets the customer's needs.
Through close collaboration with sales and professional services, this team builds long term customer relationships, ensuring success in their adoption of VMware Solutions.

Role Description:
Our objective is to build a team of exceptional graduates to create the next generation of Systems Engineers inside VMware. Successful candidates will initially be based on our Cork campus for 18 – 36 months, where you will undergo a structured program of training and then progress to join the Cork based presales team who work with customers throughout Europe.

After this time; we would expect successful candidates to relocate back to your local country/Spain or Italy based field sales territories to work as part of the Systems Engineerings country teams.

Graduate Program Overview:
Successful candidates for the graduate role will undergo a structured program of training including:
• Mentoring, coaching and sponsorship for career development.
• Effective communications training to ensure great customer interactions.
• Customer and partner facing activities and tasks, providing real-world experience.
• Commercial and technical presentation training.
• Hands-on training in leading edge technology that is highly desired in the IT industry.
• Development is very practical with an emphasis on experience based "learning by doing".

Graduate Team Requirements:
• A persistent, self-starter with a track record of success in their academic career to date.
• Willingness to learn, with a passion for all relevant aspects of technology.
• A team player who works with integrity to succeed in a high-energy, dynamic environment.
• Enthusiastic communication manner, excellent listening, interpersonal and writing skills.
• Bachelor's degree required - Computer Science, MIS/BIS, Engineering or Science preferred.
• IT experience or software development abilities a plus.
• Fluency in Spanish essential
• A career objective to progress to a field sales role in our Spanish or Italian based field sales territories.

Before you join, VMware will require you to go through a pre-employment screening process. This means that we will want to verify your details and the information you have given us to ensure your suitability for a certain role.

InternalSocialMedia#854
75791BR
Your saved jobs
You have not saved any jobs.
Recently viewed opportunities
You have not viewed any jobs.