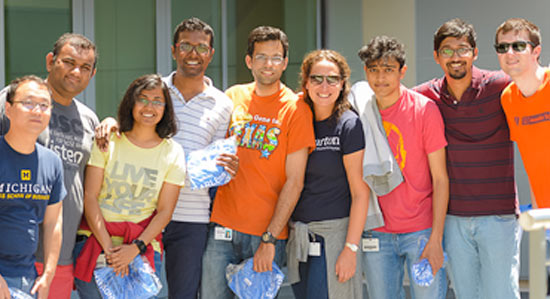 Push us. Amaze us. Inspire us.
University Opportunities
At VMware, you will have the opportunity to challenge yourself, build relationships with the best and brightest in the industry, and prove that together we have the power to do something remarkable.
New Grad – Tech Support - Technical Support Engineer Graduate with French - VMware Global Services Technical Academy (Start date: July 1st 2019)
Cork, Ireland
Apply Now
Job ID R1810046
New Grad – Tech Support - Technical Support Engineer Graduate with French - VMware Global Services Technical Academy (Start date: July 1st 2019)
Location: Cork, Ireland

Start Date: July 2019

As a Technical Support Engineer Graduate within VMware, you will provide technical support to customers who are working to implement VMware products and pursue other related issues. You will experience working with VMware as a key part of the Technical Support team under Global Support Services Organisation, gaining in-depth knowledge about the exciting industry leading Cloud computing and Virtualization solutions and platforms.

Our Technical Support team are elite trouble-shooters, working closely with our customers to keep their environment's delivering value to their internal customers. This Graduate Program will equip you to understand our customers environments.

This Global Program will develop in our Graduates an in-depth understanding of hardware, systems, applications and languages. Generally, graduates in this area will become deeply competent in the technology meaningful to the organisation they work for.

There are many attractive opportunities for promotion and career development plus organisation and global mobility possibilities within our company.

What is in it for you?

You'll be a key member of the VMware team that has built a rare business environment -- one of energy, creativity, collegiality and collaboration.
You will join an atmosphere that is fun, casual and inviting. In keeping with VMware's roots as a successful entrepreneurial, start up.
You'll experience an initial 6-week formal training to prepare you for your role. (Our's is a continuous learning organization where initiative, drive and passion, for progression are nurtured and rewarded. )
You will become highly proficient in Operating Systems, Storage, Networking and Virtualization.
You will get many opportunities for trouble shooting with a range of biggest companies and organizations globally.
You will work as part of a multi-functional team that will collaboratively work to understand and resolve complex customers solutions.
You will experience the opportunity to innovate, create and design, new solutions as new and emergent technologies evolve.
Craft valuable Knowledge Base articles that will be shared with all our customers.
You can achieve a number of industry leading VMware recognized Certifications, including the VMware certified professional exam (VCP6.5)

Responsibilities

Respond to customer inquiries, primarily by telephone and e-mail
Resolve customer technical issues through diligent research, reproduction, and troubleshooting
Work directly with other technical support staff, locally and globally, quality assurance, engineering, sales, marketing, operations, and administration to resolve problems
Document all technical inquiries, collect logs and obtain a clear problem description, with issue resolution as the ultimate goal.
Use Knowledge Bases' to guide the resolution of customer issues.

Requirements:

Basic understanding of TCP/IP networking stack and key networking concepts.
Comprehension of enterprise LAN/WAN environment an advantage
Good user experience with Windows and Linux OS systems
A naturally inquisitive mind for the technologies of tomorrow.
A real passion for sharing and giving to your colleagues and our customers.
A solid ability to communicate with customers and across organizations.
Strong in spoken and written English
Fluent in French
You are studying towards an IT-related degree
Graduates must have graduated within 12 months of the start date (July 2019)

Before you join, VMware will require you to go through a pre-employment screening process. This means that we will want to verify your details and the information you have given us to ensure your suitability for a certain role.We are an equal opportunity employer and value diversity and inclusion at our company. We do not discriminate on the basis of race, religion, colour, national origin, gender, sexual orientation, age, marital status, veteran status, or disability status.
Your saved jobs
You have not saved any jobs.
Recently viewed opportunities
You have not viewed any jobs.