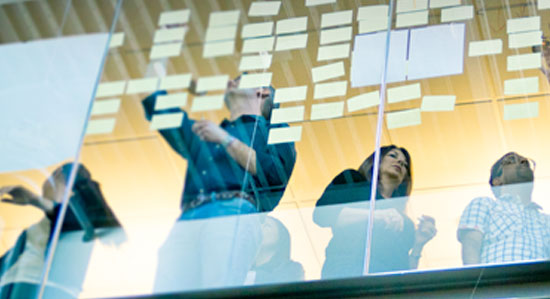 Push us. Amaze us. Inspire us.
Careers in Marketing
Are you a marketing whiz? Dare to communicate around the world as you put strategy into action through integrated marketing plans in digital, print, email, webinars, trade shows and more.
Marketing Business Analyst, EMEA (Contract)
Cork, Ireland
Apply Now
Job ID R171528
Global Marketing Operations (GMO) Business Analyst (Fixed Term Contract)
Objective of Role:
The GMO Business Analyst supports their GEO Field Marketing organization in managing the planning, prioritization and running-of-the-business In this role, the GMO Business Analyst will work closely with their Field Marketing teams on the evaluation of awareness-to response (campaigns) and response-to-lead conversion priorities in their GEO. In parallel, the GMO Business Analyst will work in collaboration with her/his counterparts and GMO driving implementation of consistent standardized (80% standard/ 20% GEO specific), processes, standards, and performance measures across all GEOs and globally. This role reports into the GMO Marketing Operations Business Partner in each GEO.
Primary Responsibilities:
Act as central point of contact for her/his GEO,  on behalf of GMO,  across Campaigns Planning & Management, Response & Lead Management, Marketing Shared Services and Planning and Operations.
Collaborate with and represent her/his GEO in GMO projects & programs  across customer touch/demand gen, management and conversion
Partner with GEO Field Marketing/Ops leader to confirm performance targets and measures.
Represent her/his GEO to facilitate alignment and consistency across all GEOs/globally
Enables business partnership by acting as subject matter expert for her/his GEO's business practices (people, process, systems) for customer touch, demand gen, management and conversion
Represents her/his GEO in development of a single Marketing business architecture and capability roadmap by engaging GEO Field Marketing to ensure alignment and collaboration
Supports the Business Partner in collaborating with her/his GEOs/Global Marketing stakeholders to plan and prioritize Marketing roadmap deliverables
Support day-to-day lead operations to optimize campaigns & leads (follow-up, data quality and performance measurement)
Monitor, analyze and partner with appropriate GMO functions, Sales Operations, Field Marketing to improve lead throughput, quality, visibility to results (reporting).
Support Field end-user with inquiries and troubleshoot issues for leads and campaign in play
Collaborate with GMO functions, Sales Ops and Field Marketing to translate user requests into documented business cases and eventually, business requirements.
Track and analyze operational performance results and provide insights into reports.
Operating Requirements
5 -7 years' experience in marketing or sales operations in a B2B enterprise technology environment with at least 2 years' experience working on leads and campaigns processes
Experience in Lead Scoring desired
Admin experience in

salesforce.com

CRM application (ADM 201 certification)
Experience with marketing automation systems highly desirable; knowledge of Eloqua a plus. Knowledge on other Marketing tools is an added advantage like Marketo & Paradot. 
Knowledge on SFDC reporting, Familiarity with business intelligence (BI) reporting also desirable.
Solid sense of the science and art of driving and measuring business results from campaign execution to lead flow to lead conversion to revenue.
Excellent verbal and written communication skills
Strong team player with ability to develop effective working relationships across organization:  Marketing (regional and global teams), sales, sales operations and IT
Self-driven, leads and strives to improve personal and business acumen within role/team.
Excellent analytical, trouble shooting and problem solving skills
Able to express solutions to problems in a concise and easy to understand manner
Ready to work in shifts to support stakeholders
Proven ability to thrive and deliver in ambiguous and/or fluid business conditions while maintaining a positive attitude.
Ability to work both independently and with global teams to achieve goals
Experience of using  Microsoft Office suite of products – Excel, PowerPoint , word etc
BE/MBA - Education in Marketing and/or General Business Administration
Your saved jobs
You have not saved any jobs.
Recently viewed opportunities
You have not viewed any jobs.