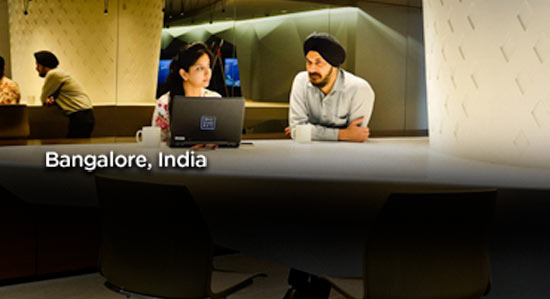 Push us. Amaze us. Inspire us.
Careers in India
When you walk through the doors of one of our state-of-the-art office sites in India, you'll find modern, comfortable, positive spaces that invite our employees to share ideas, spread creativity, innovation, and find balance in their daily lives. We are proud of our presence in the community, proud of VMware's future in India, and proud of our commitment to initiatives that celebrate diversity in the workplace and India's technology industry.
VMware India continues to play a strategic role in VMware's global growth strategy for the mobile cloud era and our operations are currently second in size only to those at VMware's Palo Alto headquarters in the United States.
Member of Technical Staff - QE
Chennai, India
Apply Now
Job ID R1901638
Company
VMware's world-class, award-winning R&D; team is comprised of thousands of top-notch computer scientists and software engineers that are transforming computing through virtualization. Members of the R&D; team voice their creative ideas and watch them become initiatives, participate in exciting short-term and long-term products on the VMware roadmap, initiate advanced research projects, and/or write and test code that ships. At VMware, our engineers continue to learn and grow by working with top professionals from around the world and recent graduates of top universities and by taking advantage of our extensive internal training opportunities and generous external education assistance program. R&D; team members work on the latest computing equipment and have access to the ACM and IEEE libraries. VMware has R&D; offices in: Silicon Valley; Burlington, MA; Cambridge, MA; Broomfield, CO; Sofia, Bulgaria; Aarhus, Denmark; London, UK; Herzliya, Israel; Bangalore, India; and Beijing, China.
GroupDescription(Velocloud-SDWAN)
VeloCloud is solving IT's problem of cost effectively provisioning branch, SMB and mobile users with both high performance and controlled access to Public and Private Cloud Applications. As applications and services migrate from local sites and Data Centres to the cloud, access over fixed and mobile broadband becomes critical. Existing solutions are suited for larger, IT supported sites accessing enterprise Data Centres over private, dedicated networks.
Learn Fast, Trust each other, Have Fun. That embodies the culture of VeloCloud.
Responsibilities
Understanding the key requirements, functional and design specification for the Management plane feature, perform end-end testing and automate the feature

Documentation of the test plan and diligently follow the QA process

Identify test gaps and help close the gaps. Suggest process improvements and drive it to completion

Closely work with Cross functional team for both understanding of the feature and also get the test plans reviewed

Automate test cases on top of existing infrastructure or by developing new infrastructure and reduce the manual effort.
Requirements
5-8 years of QA experience

Good knowledge of L2/L3 networking concepts, routing protocols, VPN, IPSEC, WAN Architecture

Hands on Experience in system level testing and performance testing of TCP/IP stack, QoS, L4-L7 proxy devices or applications like wan optimization devices, server load balancers and/or caching devices preferred

Experience in testing with one of more of the protocols like SSL/TLS, HTTP, HTTPS, SNMP, TCP, UDP, RTSP/RTP, VoIP, Videos preferred.

You should have excellent problem solving and debugging skills required for QA

You should have automation experience in Python/TCL/Perl. Python Preferred.

Experience of performance analysis, benchmarking, and trouble-shooting including data gathering, scalability testing, and system profiling is an advantage.

Familiar with one of the major server virtualization products (ESXi, KVM, XEN, AWS)

Strong analytical and problem-solving skills, attention to detail.

Desire to work in an exciting environment, working on interesting projects and delivering new technologies and products to the marketplace.

Able to demonstrate effective teamwork both within the immediate team and across teams.

Excellent communication (written & spoken) skills
Your saved jobs
You have not saved any jobs.
Recently viewed opportunities
You have not viewed any jobs.