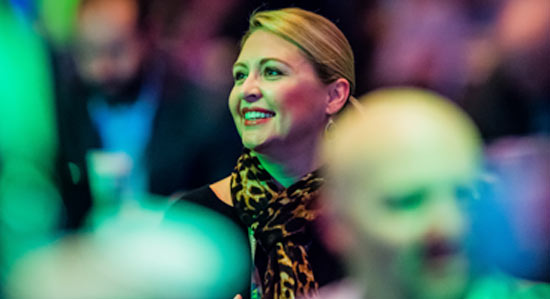 Push us. Amaze us. Inspire us.
Careers in Sales
Innovation is the essence of our brand. Our top-performing sales professionals help our customers—across all industries—revolutionize their businesses to thrive in the digital era by leveraging the power of software. We create exceptional end-user experiences and build customer trust.
Are you ready to work with some of the best and most innovative products on the market?
Enterprise Account Manager, TELCOS
Job ID R1901786
Date posted 02/23/2019
At VMware we live by our EPIC2 values which are Execution, Passion, Integrity, Customers and Community. Our exceptional sales members are improving our customer's journey to a mobile life and workstyle through our portfolio of (Enter Specific Product Portfolio) Solutions. Are you passionate about a groundbreaking technology platform that is disrupting the competition and industry? You can become a member of our (Enter Specific Product Portfolio) team and be a part of this digital workspace transformation.
This is an executive sales position responsible for an internal and external sales team driven to a common goal with a set number of named accounts, managing these accounts in the "location" area, working with channels and distributors
The LATAM team within VMware is a high-energy team of salespeople with a passionate desire to succeed and drive the digital transformation
We want someone who will be able to align, influence and deliver on a department goals through the delivery of the entire VMware portfolio including hybrid and public cloud services, end user computing, software defined datacenter technologies, and open data/standard solutions
JOB ROLES AND RESPONSIBILITIES:
You will learn and understand the assigned accounts extended business model and build offerings and solutions to meet goals
You will be responsible for selling all VMware solutions, products, and services within a set of Enterprise Named Accounts - Telcos
Sell VMware solution as a 'platform' within an account and change the role that IT plays from being considered a cost burden to a strategic BU
Manage complex enterprise sales campaigns while leading a diverse set of partners within the same accounts
Adopt VMware sales strategy utilizing established relationships with channel partners
Match VMware solutions to the needs of Customers, challenges, and technical requirements
Work towards the goal of making accounts standardize on VMware solutions
Utilize VMware EPIC2 values (Execution, Passion, Integrity, Customers, Community) to conduct day to day business
REQUIRED SKILLS:
10+ years of relevant experience with at least 5 years in a selling role to large named accounts
Should be working in a similar role in other large organizations with an aggressive desire to achieve goals
Experience selling in both a direct and an indirect or channel driven model
Experience leading a team of professionals in sales campaigns that include sales executives, field SE's, Inside Sales, Field Marketing, Services, etc.
We are looking for driven professionals with a consistent track record of success selling in a highly competitive environment
PREFERRED SKILLS:
Self-starters with a high energy level; and someone who can communicate at all levels
Excellent communicator, both written and verbal in English and Spanish
Dynamic presenter with the ability to translate technical thoughts to everyday language.
Education/Experience:
BA/BS degree or higher, or equivalent job-related experience
VMware is an equal opportunity and inclusive employer and does not discriminate on the basis of race, sex, age, national origin, religion, physical or mental handicaps or disabilities, marital status, veteran status, sexual orientation, nor any other basis prohibited by law.
Relevant Jobs
Sorry, there are currently no new opportunities near your current location. Try a new search.