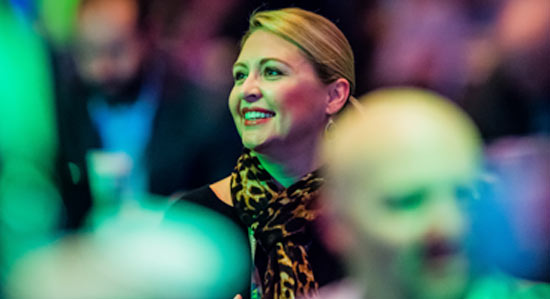 Push us. Amaze us. Inspire us.
Careers in Sales
Innovation is the essence of our brand. Our top-performing sales professionals help our customers—across all industries—revolutionize their businesses to thrive in the digital era by leveraging the power of software. We create exceptional end-user experiences and build customer trust.
Are you ready to work with some of the best and most innovative products on the market?
New Grad - Pre-Sales - Associate Solutions Engineer
Broomfield, Colorado
Apply Now
Job ID R187778
Business Summary:
VMware is a global leader in cloud infrastructure and business mobility. VMware accelerates customers' digital transformation journey by enabling enterprises to master a software-defined approach to business and IT. With VMware solutions, organizations are building extraordinary experiences by mobilizing everything.  Our customers are responding faster to opportunities with modern data and apps hosted across hybrid clouds, and safeguarding customer trust with a defense-in-depth approach to cybersecurity.
At the core of what we do are our people who deeply value execution, passion, integrity, customers, and community. Do you dare to do the stuff you've always dreamed about? Dare to explore at https://careers.vmware.com.
VMware offers cutting-edge cloud infrastructure and security services to companies of all shapes and sizes. Our world is all about technology, and that world is growing because the imagination, ingenuity and talent of our teams knows no bounds. We believe that creativity sparks innovation and inspires our employees to think of VMware differently and change the world around them.
Job Role and Responsibilities:
VMware Academy:
VMware Academy is a global development program that is designed to fast track new graduates from in-depth training into successful careers within the Worldwide Sales and Services organization. As a part of VMware Academy, you will begin your journey by being immersed in several weeks of collaborative training known as Foundation (classroom) at a designated VMware location. Upon completion of Foundation training, you will return to your home office and move into Role-Based (on-the-job) training over the course of 4-6 months depending on role and location. During your Role-Based training, you will continue to develop your skills and product knowledge while creating meaningful mentor relationships that will ignite your career. After Role-Based training, you will have completed Academy and transition into your role and business unit. With continued development, manager support, and ongoing mentorships, your growth is limitless. We look forward to seeing you in Worldwide Sales and Services.
Associate Solutions Engineer (Pre-Sales) - U.S. Enterprise:
The Academy Solutions Engineer (SE) will provide support to the VMware U.S. Enterprise Sales Organization in pursuit of transforming customers leveraging VMware solutions. In this role, you will use your technical and communication skills to build relationships with customers; help accelerate the closure of business within a geographic territory or defined set of accounts; and assist in the transformation of our customers. Typical duties include creating customized remote and onsite presentations and demonstrations; assisting customers and partners with product evaluations and product feature/benefit discussions; assisting with solution designs and/or proposal development (products and services) and responses; and enabling VMware Partners. 
Responsibilities include:
Ability to obtain and maintain, at minimum, a VMware Datacenter Virtualization Certification; expectation is that the candidate(s) will possess advanced certifications following the first full year on the job
Must learn and maintain current knowledge of complete VMware product set and be able to describe key features and benefits of each
Provide pre-sales technical support to sales teams, partners, and ultimately customers
Deliver onsite and remote product and solution presentations and demonstrations
Assist with the training of sales and VMware Partner personnel
Develop and deliver responses to customer and prospect technical inquiries
Provide evaluations and proof-of-concept assistance to partners and customers
Participate in SE discussion forums
Document customer feature requests and issues
Assist product development in testing new products
Stays informed and on top of developments within industry and the organization
Establish positive working relationships – internal and external
Required Skills:
Currently pursuing a Bachelor's degree in any relevant field of study
Strong analytical and problem-solving skills
Excellent social and communication skills (both written and verbal)
High interpersonal skills with the ability to work well in a team and customer-facing environment
Strong customer / partner relationship building skills
Must be effective in working both independently and in a team setting
Strong listening and question-based selling skills
Ability to uncover business and technical challenges to develop a solution to solve those challenges
Available to start in July 2019
Ability to travel as required – anticipate up to 25% travel across assigned territories
Preferred Skills:
Hands on IT experience from either Internships, Co-Ops, Work Experience, and/or Projects
Direct VMware or presales engineering a plus
Client-facing work experience a plus
Application development experience a plus
Development of Integrative Solutions through either previous internships or Capstone project(s)
Leadership experience through either leading campus extracurricular activities (e.g. clubs) or volunteer work
*VMware will not sponsor a visa for this role.
Your saved jobs
You have not saved any jobs.
Recently viewed opportunities
You have not viewed any jobs.