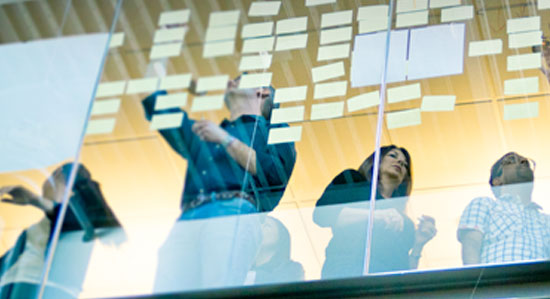 Push us. Amaze us. Inspire us.
Careers in Marketing
Are you a marketing whiz? Dare to communicate around the world as you put strategy into action through integrated marketing plans in digital, print, email, webinars, trade shows and more.
Director, Integrated Marketing
Job ID R1904527-3
Date posted 04/19/2019
VMware is looking for a talented and high-energy Director of Integrated Marketing to join our Transform Networking & Security "TNS" Integrated Marketing team.  Reporting to the Sr. Director of Integrated Marketing for Hybrid Cloud and TNS, you will have key responsibilities ranging from developing end-to-end marketing strategies in support of networking and security, crafting audience-first programs and driving execution across a cross-functional and distributed team of marketers.
Integrated Marketing is a cross-functional team of marketers chartered to develop, drive and execute integrated, go-to-market strategies for our solutions and products.  We are a global team which we call a "hub" that includes campaigns and programs, communications, customer advocacy and references, digital marketing, marketing operations, partner marketing, product marketing, regional/field marketing, solutions marketing and reporting and measurement.
 In this role you will have a deep understanding the impact of different types of programs/strategies/messaging and content throughout the customer journey to help accelerate the buying decision and support the entire customer lifecycle:  from acquisition to advocacy. Based on data and insights that are continually evolving, you will strive to refine and optimize our GTM marketing strategies to improve the customer experience and drive greater customer engagement while achieving key business outcomes.
Integrated Marketing serves as "air traffic control" for all hub-specific marketing strategies and execution.  This team provides GTM insight to our cross-functional teams around the world and helps with prioritization of marketing efforts against our aligned KPIs.  We are a team committed to worldwide line of sight/alignment and consistent, measurable investment and execution. This is a player-coach role – perfect for someone who can roll up their sleeves as well as provide mentorship to others.
Integrated Marketing requires a versatile skillset. We touch and support programs spanning the entire sales cycle including customer acquisition, events, digital marketing, social and community, customer references and loyalty, thought leadership, product adoption, and everything in between. Our hub marketing team is the strategic lead for program development and we share execution responsibilities with our extended teams in the field. We work collaboratively and cross-functionally well outside of our time zone to deliver marketing programs, content and guidance to the teams driving marketing execution in the regions and across functions.
In this role, you must demonstrate confidence and authority as a global marketing lead and voice of the business/portfolio into the rest of the organization. In doing so you must be able to juggle the requests of regional and global marketing teams and marry those to the business needs to ensure ongoing alignment. This often means dealing with conflicting priorities, managing urgent timelines, and the ability to do so in a rational, collaborative and effective manner.
To succeed here, you must be able to develop a cohesive marketing strategy and programs while simultaneously supporting a series of team members around the globe to achieve the shared and determined goal. Executive presence coupled with related presentation skills is a must, as you will hold a seat at the table for business reviews with senior leadership and executive audiences to discuss the business at large as well as the impact of the global marketing programs to the business and bottom line.
Requirements
12+ years in integrated marketing, marketing consulting or a combination of corporate and field marketing. Account strategy positions at agencies or consulting experience are preferred.
Experience in leading cross-functional, global teams required.
Outstanding communication and interpersonal skills; ability to influence and work collaboratively across organizations
Comfortable as an individual contributor as well as manager of a Sr. team
Experience in Networking/Security marketing preferred.
Possess strong people and organizational skills with the ability to effectively assign, delegate, coordinate and monitor the work of multiple stakeholders across departments and the globe 
A self-starter who sets and keeps the pace for a global, extended team
An innate sense of urgency, and being able to create urgency for others to drive a program forward
Thorough knowledge of demand generation and marketing ROI including best practices, reporting and data analysis

Regular reporting on and interpretation of KPIs, both for specific campaigns and for overall marketing pipeline efforts 

Ability to turn data into marketing intelligence, and drive insights from past performance that lead to revenue-generating outcomes.


Demonstrate a clear, comfortable and persuasive presentation style for both formal and informal settings; with supporting presentation materials
Detail-oriented and can always see the big picture. You have no trouble turning a multi-dimensional program tracker into an executive or top-line summary.

A demand for excellence in all forms of communication
Accountability and dependability – a reputation for doing what you say you are going to do and a willingness to go beyond the call of duty
BA/BS required
Relevant Jobs
Sorry, there are currently no new opportunities near your current location. Try a new search.