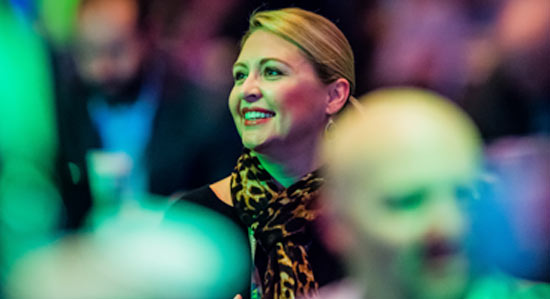 Push us. Amaze us. Inspire us.
Careers in Sales
Innovation is the essence of our brand. Our top-performing sales professionals help our customers—across all industries—revolutionize their businesses to thrive in the digital era by leveraging the power of software. We create exceptional end-user experiences and build customer trust.
Are you ready to work with some of the best and most innovative products on the market?
Systems Engineer Telco SD-WAN CEMEA
Job ID R1903283
Date posted 03/08/2019
The SD-WAN market is very hot. Do you want to be part of a dynamic, self-starter, and talented group of Systems Engineers (SE)? This position presents unique opportunity to help our customers in their journey to transform their Wide Area Network (WAN), as they move more and more applications to the cloud. We learn something new every day and have lots of fun doing it.
You will be the primary contact for all things technical with VMware's Telco partners and customers. You will work closely with VMware's Telco partners and clients to understand their business problems and help them develop the right technical solutions. As a result, you will form and further your relationship with technical decision makers.
You will lead the discussions to make VMware Telco clients understand the value of our SD-WAN solution, how it fits into their network, and show them how to have a successful implementation as they take on the SD-WAN journey. You will have the full support of our product team, the rest of the sales organization and executive, to make great things happen.
Focus and passion of our SE:
Lead our clients through their SD-WAN network transformation
Articulate both business and technical benefits of our solution
Enjoy presenting technical solutions, performing technical demonstration, explaining the use cases, and being the smart guy in the room
Build SD-WAN network design that enables Telcos to make their clients' networks simpler to manage, operate, and maintain
Land and expand the size of the deployment, hence increase the recurring revenue and hit the sales objectives
Foster long-term relationship with Telco partners and our internal teams
Listen to Telco partner challenges and come up with creative ways to solve their problems, and bring the feedback to product team to continue improving our product
Get to play with cool and cutting edge technologies every day
Hustle and make things happen for VMware and our our Telco environment
Craft realistic account plans and meet project criteria
Present VMware vision, strategy and product roadmaps to executives and technical management
Be resourceful and up to date on the market and competitive landscape so we can help to make the right decision
Coordinate and respond to the customer RFI, RFP, and sales proposal
Lead the POCs, lab and field trials, and beta program
Participate and present at roadshow and tradeshow, customer and partner training
Qualifications
Network Industry Certification preferred such as CCIE is preferred. BGP and OSPF routing knowledge and experience are a requirement.
7+ years of experience with data centers, networking, WAN technologies, and Cloud services, particularly with Telcos or through Value Added Resellers (VARs) and Systems Integrators for enterprise markets.
3+ years of experiences in customer facing roles, such as Sales Engineer, Technical Marketing Engineer, Consulting Engineer, or Solution Architect
Hands on experience with different products and technologies commonly seen in modern large network environments, including but not limited to routers, switches, firewall, hypervisors, Windows, Linux, etc.
Exceptional communication and listening skills, ability to build rapport and credibility and clearly articulate a value proposition.
Ability to effectively and energetically present technology and business propositions to customers, peers, and management.
Analytical abilities, coupled with a strong sense of ownership, urgency, and drive.
Experience in a high-volume or critical production service environment.
Ability to understand and explain many different technologies and to communicate technical concepts in non-technical terms.
Expect 50% travel requirements
BS Computer Science or higher required
Relevant Jobs
Sorry, there are currently no new opportunities near your current location. Try a new search.