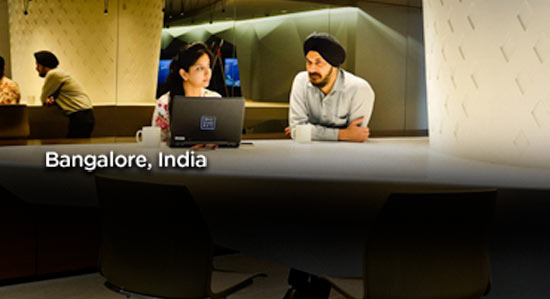 Push us. Amaze us. Inspire us.
Careers in India
When you walk through the doors of our new, state-of-the-art campus in Bangalore (opened in April 2015), you'll find a modern, comfortable, positive space that invites our employees to share ideas, spread creativity, innovation, and find balance in their daily lives. We are proud of its presence in our community, proud of the promise it means for the future of VMware in India, and proud of our commitment to initiatives that celebrate diversity in our workplace and India's technology industry.
Currently, our operations in India are second in size only to those at VMware's Palo Alto headquarters in the U.S and we are continuing to grow each year. VMware India plays a strategic role in VMware's global growth strategy for the mobile cloud era and is in line with the company's commitment to invest $500 million in India by 2017.
Technical Support Engineer – AirWatch
Bengaluru, India
Apply Now
Apply Now with Linkedin Profile
Apply As An Employee Referral
Job ID 80502BR ABOUT AIRWATCH:

AirWatch is the global leader and innovator in enterprise-grade Mobile Security, Mobile Device Management, Mobile Application Management, Mobile Email Management, and Mobile Content Management solutions designed to simplify mobility.

AirWatch empowers organizations across a wide variety of industries to deploy, secure, track and manage all of their mobile assets with advanced analytics and reporting. With AirWatch, corporate IT departments can streamline and automate the management and support of mobile devices; reduce the cost and effort of device deployments; and increase IT efficiencies and response times.

As the largest mobile device management provider, AirWatch offers the most comprehensive mobility management solution and delivers an integrated, real-time view of an entire fleet of corporate and employee-owned Apple iOS, Android, BlackBerry, Symbian and Windows devices.

AirWatch Video Library

EQUAL EMPLOYMENT OPPORTUNITY STATEMENT:

AirWatch is an Equal Employment Opportunity Employer and is committed to workplace diversity. AirWatch provides equal employment opportunities (EEO) to all employees and applicants for employment without regard to race, color, religion, gender, sexual orientation, national origin, age, disability, marital status, in accordance with applicable state and local laws. This policy applies to all terms and conditions of employment, including, but not limited to, hiring, placement, promotion, termination, layoff, recall, transfer, leaves of absence, compensation, and training.

Air Watch Technical Support Engineer
Job Summary:
As an Air Watch Technical Support Engineer you will be providing support to VMware customers, using Air Watch solutions, in isolating, diagnosing, reproducing and fixing technical issues in a timely manner. To be successful in this role, you must be a motivated self-starter and self-learner, possess strong customer service and technical problem solving skills; and be someone who embraces challenges.
Essential Functions:
• Resolve customer's issues via the telephone, email or Webex session
• Reproducing issues in-house and responding back in a timely manner.
• Regular follow ups with customers with recommendations, updates and action plans.
• Escalate issues in a timely manner according to Standard Operating Procedures.
• Leverage internal technical expertise, including peers, mentors, knowledge base, community forums and other internal tools, to provide the most effective solutions to customer issues.
• Create new knowledgebase articles to capture new learning's for reuse throughout the organization.
• Participate in technical communications within the Technical Support Team to share best practices and learn about new technologies.
• Focus on an area of technical specialization and attend technical trainings
• Read and work with other Technical Support Engineers on cases which will help cultivate that expertise
Requirements:
• Windows Active Directory and Certificate Management
• Excellent verbal and written communication skills; is able to explain technical topics in simple terms; is able to think quickly and react to client-impacting situations
• Good interpersonal communication and customer service skills are needed in order to work successfully with customers in high stress and or ambiguous situations
• Strong understanding of specific mobile device platforms - any one of the following Mobile platforms (IOS, Windows and Android)
• Understanding of mobile device communication and web application structure
• Knowledge of current mobile device trends
• Understanding of Mail clients, share point, proxy servers
• Overall Work experience of 1 to 4 Years in Technical domain
• Willingness to work in a 24/7 shift environment
Desirable:
Basic understanding of some of the following technologies:
• MS-SQL, Mail Server – Added Advantage
• Wireless hardware, networks and respective components
• Client Server architecture
• Experience with server configuration a plus: Windows Server 2008 / 2003, Linux Forms (Ubuntu, Fedora, Red Hat, OpenSuse), Web server platforms (IIS, Apache)
• Exchange 2010/2013/O365 or Google apps for business
Strong aptitude for learning new technologies and understanding how to utilize them in a customer facing environment
Logical approach to problem solving

Educational Qualification:
• Bachelor's Degree / Diploma in Engineering / Computer Science
• Experience in providing voice based Technical Support is a key requirement.
• Experience of working with global customers is an asset
Your saved jobs
You have not saved any jobs.
Recently viewed opportunities
You have not viewed any jobs.