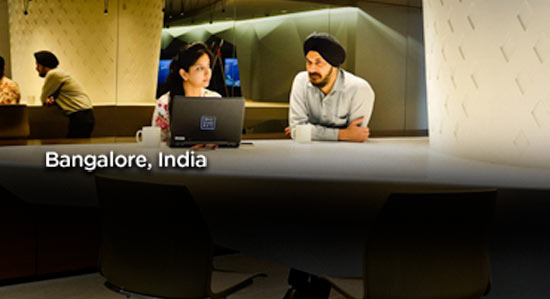 Push us. Amaze us. Inspire us.
Careers in India
When you walk through the doors of our new, state-of-the-art campus in Bangalore (opened in April 2015), you'll find a modern, comfortable, positive space that invites our employees to share ideas, spread creativity, innovation, and find balance in their daily lives. We are proud of its presence in our community, proud of the promise it means for the future of VMware in India, and proud of our commitment to initiatives that celebrate diversity in our workplace and India's technology industry.
Currently, our operations in India are second in size only to those at VMware's Palo Alto headquarters in the U.S and we are continuing to grow each year. VMware India plays a strategic role in VMware's global growth strategy for the mobile cloud era and is in line with the company's commitment to invest $500 million in India by 2017.
Supervisor- Sales Operations, Global Centers of Excellence
Bengaluru, India
Apply Now
Apply Now with Linkedin Profile
Apply As An Employee Referral
Job ID 81551BR Supervisor- Sales Operations, Global Centers of Excellence

This candidate is responsible for supporting several of the global Sales Centers of Excellence (CoE) under the Sales Operations Shared Service in India supporting Global CoE Leaders and the extended CoE Teams. Ideal candidate would lead and manage a team of appx 2 to 3 people responsible for programs and processes supporting Forecasting, Pipeline Management, and Account and Territory Planning CoEs. This candidate would report directly to the Manager, Shared Services and work closely with Global CoE Leaders in addition to the regional & segment Business/ Sales Operations leaders.


Position Overview
Sales Operations Shared Services directly influences the success of each GEO's sales operations function. This organization performs various activities that directly influences and impacts the GEO's Account & Territory planning, Pipeline & Opportunity execution, Sales Forecasting and Quota & Commissions process. This organization is responsible to deliver the 90-day Q-end cycle supporting the sales organization with various operational needs (Transactional, Reconciliation, Operational Reporting).


Role description
This hands-on supervisory position will manage a team of sales operations analysts responsible for supporting the creation, and execution, of CoE programs and processes. Responsibilities include (not limited to) operations management, team management & development, on boarding, training, performance evaluation, stakeholder management.


Primary Responsibilities include, but are not limited to the following:


Operations

• Build strong operations management culture and execute against agreed KPI, SLA with high quality.
• Building transparent operations management culture & dashboards to reflect backlog, identify issues proactively (quality assurance process), backlog management etc…
• Provide inputs and collaborate with peers & business partners to leverage and share best practices.
• Responsible for CoE process, programs, projects, partnering and supporting Global CoE Leaders with their specific needs around pipeline, forecasting, and territory planning.
• Participate and contribute in projects/initiatives for process transformation.
• Collaborate and share best practices across GEOs and teams
• Responsible for building strong partnerships with our Business and GEO partners, allowing the shared services to support the various changing business priorities.
• Quickly understands and resolves the business issues and data challenges
• Experience on task prioritization, workload, and escalation management



People

• Responsible for individuals & team development (coaching, performance evaluation and appraisals, career development)
• Maintain knowledge management resources (Training Documentation), responsible for individual development to build a strong SME layer.
• Overall team engagement and motivation through various initiatives.
• Build strong team culture, collaborate with other teams within the shared services (resource sharing models, project support etc…)
• Develop cross-functional and strategic partnerships


Requirements


• 5-7 years of experience, at least 1-2 years of team management/people management experience, preferred in the Sales Operations, Partner/Channel Operations/ Deal Desk functions.
• Good communication and interpersonal skills, demonstrated ability to collaborate and build relationship with peer groups, team members, and other departments.
• Must be a self-starter, detail oriented, with good organization skills
• Willing to work in shifts depending on the stakeholders needs.
• Demonstrated operational and Team leadership
• Excellent written and verbal communication skills (English) with all levels of management
• Effective presentation skills
• Customer service approach
• Excellent team building skills
• Analytical and logical thinking skills.
• Problem solving skills
• Good exposure on interviewing and recruitment process leading to team set up
• Exposure to knowledge management initiatives.
• Ability to inspire team with a clear goals and deliverables.
• Ability to work independently and resolve business issues proactively.
• Ability to work successfully in a fast paced, changing environment and adapt to and meet constantly evolving business needs.
• Creativity, initiative, high energy level.
• Flexible and resilient, adaptable to a high-change environment and open to new concepts and/or processes
• Supporting remote stakeholders


Technical & Soft skills


• Hands on experience on SFDC, Oracle 11i is desired
• MS Office suite is desired
• Strong decision making skills
• Influencing skills
Your saved jobs
You have not saved any jobs.
Recently viewed opportunities
You have not viewed any jobs.