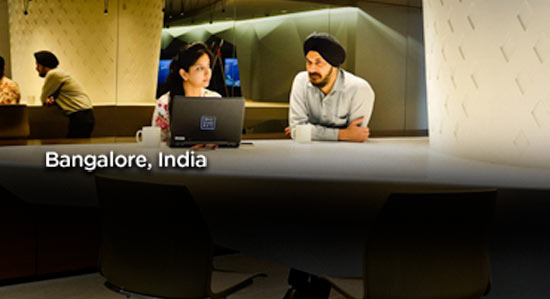 Push us. Amaze us. Inspire us.
Careers in India
When you walk through the doors of one of our state-of-the-art office sites in India, you'll find modern, comfortable, positive spaces that invite our employees to share ideas, spread creativity, innovation, and find balance in their daily lives. We are proud of our presence in the community, proud of VMware's future in India, and proud of our commitment to initiatives that celebrate diversity in the workplace and India's technology industry.
VMware India continues to play a strategic role in VMware's global growth strategy for the mobile cloud era and our operations are currently second in size only to those at VMware's Palo Alto headquarters in the United States.
Supervisor, Operations
Bengaluru, India
Apply Now
Job ID R1812363
About Us
VMware is the leader in cloud infrastructure, business mobility and virtualization software. A pioneer in the use of virtualization and policy-driven automation technologies, VMware simplifies IT complexity across the entire data center to the virtual workplace, empowering customers with solutions in the software-defined data center to hybrid cloud computing and the mobile workspace.
With 2014 revenues of $6.04 billion, VMware has more than 500,000 customers, 75,000 partners, and 18,000+ employees in 120+ locations around the world. At the core of what we do are our employees who deeply value execution, passion, integrity, customers, and community. Want to be part of a compassionate community that thrives on architecting what's next in IT? Learn more at
Why work for our Division
The VMware Global Support Services (GSS) team supports over 250,000 companies running VMware in over 100 different countries. GSS provides time-zone optimized coverage throughout five support centers globally. The GSS team supports the entire suite of VMware products for global customers and partners and participates in developing new products and new versions of current products. GSS team members also participate in product delivery strategy, product documentation, discussion forums with customers, and expert documents publishing. A commitment to excellence and customer advocacy pervades the GSS team, and the work environment fosters intellectual stimulation through exchanges with internal and external customers. The VMware GSS team members are the "best of the best" supporting business-critical applications in a virtual infrastructure.
Job Description
As Operations -Supervisor, you will have the responsibility to leverage techniques and processes to manage day to day operations, project / programs. Improve operational management systems, processes and best practices that guarantee organizational well-being
Working with the management team, the position also contributes to the development and implementation of organizational strategies, policies and practices
Roles & Responsibilities
Cross-Functional Management
Facilitate Conversation: Create opportunities for synergies across the business ecosystem on topics such as developing business models, organizational design and cross-functional initiatives to drive long term business sustainability
Decision Making: Build consensus among cross-functional teams and influence decision making with leadership audiences
Build Relationships: Build productive and positive relationships across the organization at all levels to drive influence
Operations
Execution: Lead day to day operations and deliver on strategy and operational plans from the planning process against the strategic vision for the company
Operational Cadence/Rhythm of Business: Establish an operating rhythm of the business to ensure the organization is running effectively and efficiently to meet goals and objectives
Cost Reduction: Find and pursue cost reduction opportunities
Business Process Improvement: Manage centralize repository of processes and improve processes to minimize complexities and optimize to promote effective operations
Data
Collection & Insights: Gather and analyze data, formulate and test hypotheses, synthesize findings, develop go-forward plans and help drive and translate recommendations into results
Reporting, Metrics, and KPIs
Reporting: Author, manage, and deliver executive level reporting, including weekly, monthly, quarterly status reports to manage risks and issues and improve team communication and collaboration
Metrics: Lead creation, identification, and insights of metrics to improve business performance and drive business actions
KPIs: Develop and track key KPIs across the team to track strategic goals, milestones and accomplishments
Strategic Planning
Insights Framework: Build the framework for the analysis behind company-wide strategic decisions related to all functions
Planning and Business Rhythms: Run organizational planning and business rhythm process in alignment with all other functions to develop vision, mission, goals, objectives and key results
Programs
Special Projects Identify and implement new initiatives with key stakeholders to develop, champion, and launch new initiatives
Internal Consultant: Act and operate as an internal consultant, working directly with multiple stakeholders, management, and various related departments be able to optimize team performance
Project Management: Take complete ownership of projects/ programs from cradle to grave: business case, scope, cost, schedule, action cycles, risks, issues, decisions, interdependencies and milestones
People
Resource Management: Implement and maintain resource management system to effectively manage resource utilization.
Culture & Engagement: Maintain harmony and ensure shared responsibility of business objectives with focus on team development and employee career growth
Recruiting & Onboarding: Help with recruiting operations and assist in new employee onboarding and training programs
Training: Engage employees through meaningful trainings wrt to operational process improvements
Communications and Change Management
Communication Calendar: Create, manage and maintain specific communications and cadence for All Hands meetings, QBRs, team meetings, ongoing communications, etc.
Framework: Establish a structure and cadence of program and function reviews to increase visibility, drive alignment, and resolve blockers.
Change Management: Develop strategic change and drive change management and business transformation efforts
Requirements
An ability and desire to work in a global, fast-paced, and dynamic work environment that requires constant multi-tasking
Minimum of 4 years of related experience in operations environment preferable with a bachelor's degree or equivalent
Strong analytical skills to extract, collect, merge, manipulate, transform, test and create datasets. Should be able to translate data to define programmatic strategy and build scalable, efficient processes
Experience with CRM and enterprise caliber automation tools, ideally SalesForce.com, Eloqua, SAP HANA, Tableau, ODBC, SQL etc.
Advanced Excel and Power Point knowledge
MIS Skills
Use of formal operations and project management tools (e.g., MS-Excel, MS-Project and Visio, etc.)
Strong oral and written communications skills
Self-motivated and able to work under pressure to deliver high-quality deliverables.
Proven experience of successfully managing business operations and multiple projects
Flexible to work in shifts in a 24x 7 environment
Customer Service attitude
Attention to details and ability to embrace change
Six Sigma, Lean, PMI or Prince experience/knowledge/certification will be an added advantage
Your saved jobs
You have not saved any jobs.
Recently viewed opportunities
You have not viewed any jobs.