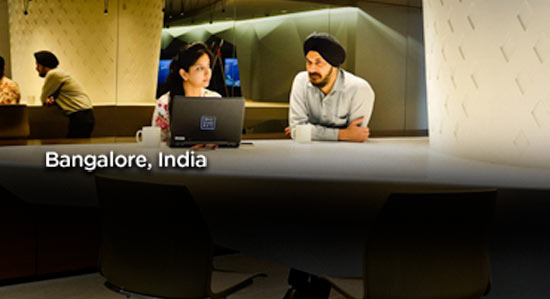 Push us. Amaze us. Inspire us.
Careers in India
When you walk through the doors of one of our state-of-the-art office sites in India, you'll find modern, comfortable, positive spaces that invite our employees to share ideas, spread creativity, innovation, and find balance in their daily lives. We are proud of our presence in the community, proud of VMware's future in India, and proud of our commitment to initiatives that celebrate diversity in the workplace and India's technology industry.
VMware India continues to play a strategic role in VMware's global growth strategy for the mobile cloud era and our operations are currently second in size only to those at VMware's Palo Alto headquarters in the United States.
Staff Engineer QE [SCSI, FC, NVMe, File Systems] - Core Storage
Job ID R1903265
Date posted 03/13/2019
The vSphere Core Storage team engages in every phase of the software development life cycle acting as trusted advocate for the customers.
VMware storage stack caters to the diverse storage needs in the virtualized storage world, including block, file and object storage over multiple transports and protocols. 
We are looking for engineers who are passionate about building engineering systems, tools and devising strategies for delivering a complex and high-quality storage subsystem for VMware products. 
Engineers are expected to collaborate with all stakeholders including Engineering teams, Product Managers, Release Managers and various cross functional teams to deliver state of the art solutions for the emerging cloud market.
As part of vSphere Core Storage, you will be a leader and evangelist for best engineering practices. You will work at conceptual and code level to create practical and cost effective solutions for product engineering.
You will be working closely with multiple engineering teams to participate in design reviews as well as coordinate the smooth integration of features into the product and help ship high quality VMware products.
Your role involves working alongside multiple product development teams to build tools to be used by development team as well as used in product test lifecycle. You will be responsible for designing and delivering an end to end system which is sustainable and scalable.
It's an opportunity to be part of building technologies like NVMe,Hyper Converged Infrastructure and Storage, SDDC as a Service and Cloud Computing Infrastructure.
If you thrive in a creative, fast paced and dynamic environment come join our team!
This requirement is primarily for a candidate in storage domain with hands on programming experience.
As a senior individual contributor of the team we expect that:
You have passion for high quality product delivery.
Able to articulate the customer view point.
Able to drive directions by leveraging data to make your case
You are a self-driven, resourceful individual who takes ownership & pride on his/he work
You have strong mentoring skills and lead by example
You fully engage and collaborate with cross functional and cross locational teams
You have the ability to negotiate and influence the decisions to best support the customer needs
As a senior individual contributor you will:
Be part of designing and developing storage stack with multiple protocols e.g. FC, NVMe etc
Be able to accurately define and formulate problems from complex situations.
Strategize, Design, develop and execute in a large-scale framework that tests multi-dimensional aspects of storage virtualization for VMware vSphere products.
Continuously innovate ways to deliver high quality products to customers.
Contribute to the definition and implementation of key processes and participate in continuous improvement activities like RCCA, project retrospectives, and related Initiatives.
Define/develop/evangelise adoption of new tools and practices to improve quality and efficiency.
Analyse and root-cause issues and report product defects and collaborate with other engineering groups towards resolution.
Competencies & Technical Skills:
Master's degree in Computer Science or equivalent with more than 4 years in Storage domain and 10+ years overall IT experience.
Technical leadership in test design, building test strategy and Test Automation frameworks (preferably low level)
Strong communication and influencing skills to drive your technical perspective across teams
Strong understanding of Windows/Linux operating systems/networking
Proficiency in one or more programming languages (Ex. C, Python, C++, Java)
Exposure to High-Fidelity test environments.
Broad technical knowledge including:
- Deep understanding of storage technologies (SCSI/ RAID/ NVMe/FC/ iSCSI/ NAS/SAS) on various storage device
- Operating system fundamentals (task scheduling, memory management)
- Software Development lifecycle - Good software engineering practices
- Software design principles and practices
Relevant Jobs
Sorry, there are currently no new opportunities near your current location. Try a new search.