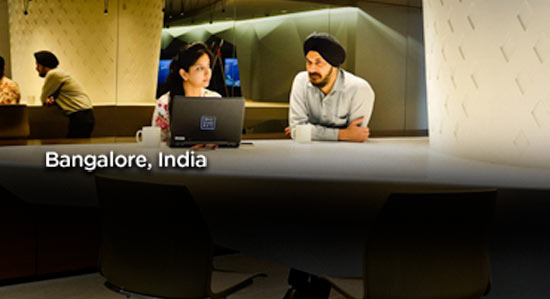 Push us. Amaze us. Inspire us.
Careers in India
When you walk through the doors of one of our state-of-the-art office sites in India, you'll find modern, comfortable, positive spaces that invite our employees to share ideas, spread creativity, innovation, and find balance in their daily lives. We are proud of our presence in the community, proud of VMware's future in India, and proud of our commitment to initiatives that celebrate diversity in the workplace and India's technology industry.
VMware India continues to play a strategic role in VMware's global growth strategy for the mobile cloud era and our operations are currently second in size only to those at VMware's Palo Alto headquarters in the United States.
Staff Engineer - 1
Bengaluru, India
Apply Now
Job ID R1900169
Job Description
We are seeking an Android Developer to join the VMware Workspace One SDK team. The VMware Workspace ONE® SDK is a set of tools allowing organizations to incorporate a host of features and functionality into their custom-built Android applications. The Workspace ONE SDK enhances the security and functionality of those applications and in turn helps save application development time and money.
We are constantly looking to improve the enterprise experience by adding new security features, also add features to match new Android capabilities.  In each release, we aim to make SDK more developer (internal and 3rd party) friendly by improving ease of integration and testing.
We are passionate about delivering high quality and highly secure product. You will work on a product that users may engage on daily basis. You will work with a highly motivated and dynamic team and report into a Senior Manager.
You will have the opportunity to participate in all phases of the software development process.
Position Responsibilities
You will provide technical leadership to the team by driving/guiding the design and development of major architectural components.
You will take ownership of product quality, user experience, and security - every member of the team is responsible for delivering a best-in-class product that users love.
Design, build, and test product features and components, while working with our security and UX teams to ensure that SDK is both secure and easy for developers to use.
You are expected to help maintain and improve our automated test suite and CI pipeline.
You will participate in code reviews and design reviews for building a robust and scalable product that does not require rework.
Play an active role in debugging and addressing critical product issues. Our product is critical to our customers, and every developer will cooperate with our support team to make sure our customer needs are met.
In this role, you will be involved in coordinating work across teams, architects and business units. This involves UI/UX, Security and Architecture teams. You will establish networks outside own area of expertise.
You will be actively mentoring team members and play an active role in addressing or helping the team with critical issues/escalation.
You will proactively work on identifying issues and exercise judgment in selecting methods, techniques and evaluation criteria for obtaining results. Perform analysis of complex tasks or situations that required in-depth evaluation of variable factors.
Generate technical innovation ideas. Champion the culture of creativity and excellence through technical innovations and attention to quality and integrity.
Personal growth is important to our team. We want our team to be constantly learning and staying up to date with the latest Android technologies, libraries, and frameworks. You will receive educational budget and time to continue to get better at your craft.
Position Requirements
Bachelor's, master's or PhD from an accredited university in Computer Science or related field. Typically, 10+ years of experience with a bachelor's degree, this is relaxed for someone with higher academic qualification.
Strong knowledge of Android SDK and different versions of Android.
Familiarity with RESTful APIs to connect Android applications to back-end services.
Knowledge of Android UI design principles, Material design guidelines, patterns, and best practices.
Experience with offline storage, threading, and performance tuning.
Familiarity with cloud message APIs and push notifications.
Knowledge of the open-source Android components and the libraries available for common tasks.
Highly proficient in object-oriented methodologies, design patterns, data structures, algorithms and quality coding skills, excellent debugging skills.
Experience working in Git, Stash, Jira and other productivity tools.
Good to Have
Experience in building and debugging network driven apps is highly valued.
Familiarity with DevOps will be helpful.
Excellent command over the English language - verbal and written. Good interpersonal skills.
Familiarity with Kotlin is helpful.
Cross platform development (iOS).
Experience in Xamarin/Cordova/React/React native is a big plus.
Work experience in an energizing environment, following agile practices. Successfully handled multiple, high priority projects and tasks.
Other Competencies
Ability to work independently and in a team environment, including quickly getting up to speed with new technologies. Be able to address issues fast and authoritatively.
Proficient organizational skills with the ability to lead challenging demands.
Having a creative mindset and decision-making skills is essential.
VMware offers
Attractive compensation package - competitive salary, flexible bonus scheme, company sponsored mobile phone plan and additional long-term incentives.
VMware is always looking for ways to promote and inspire innovation. So, come build your dream with us.
Individual career path - management and technical career growth, enhanced by learning and development program, regular performance assessment, teams of world-wide IT professionals.
Healthy work environment - company sponsored medical program, food and beverage program, sport activities, open communication.
Friendly policies to support Work-life balance, team building and celebrations.
We are an equal opportunity employer and value diversity at our company. We do not discriminate on the basis of race, religion, color, national origin, gender, sexual orientation, age, marital status, veteran status, or disability status.
Your saved jobs
You have not saved any jobs.
Recently viewed opportunities
You have not viewed any jobs.