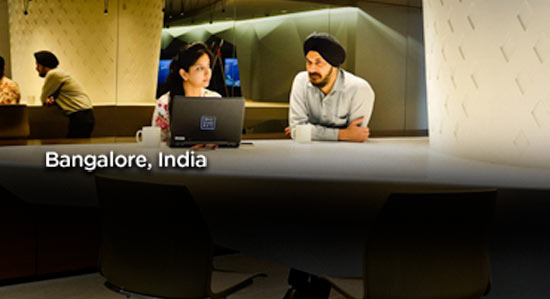 Push us. Amaze us. Inspire us.
Careers in India
When you walk through the doors of one of our state-of-the-art office sites in India, you'll find modern, comfortable, positive spaces that invite our employees to share ideas, spread creativity, innovation, and find balance in their daily lives. We are proud of our presence in the community, proud of VMware's future in India, and proud of our commitment to initiatives that celebrate diversity in the workplace and India's technology industry.
VMware India continues to play a strategic role in VMware's global growth strategy for the mobile cloud era and our operations are currently second in size only to those at VMware's Palo Alto headquarters in the United States.
Sr. Technical Support Engineer
Bengaluru, India
Apply Now
Job ID R1901648
Workspace ONE (Previously called AirWatch) is the global leader and innovator in enterprise-grade Mobile Security, Mobile Device Management, Mobile Application Management, Mobile Email Management, and Mobile Content Management solutions designed to simplify mobility. 
Workspace ONE empowers organizations across a wide variety of industries to deploy, secure, track and manage all of their mobile assets with advanced analytics and reporting. With Workspace ONE, corporate IT departments can streamline and automate the management and support of mobile devices; reduce the cost and effort of device deployments; and increase IT efficiencies and response times.
As the largest mobile device management provider, Workspace ONE offers the most comprehensive mobility management solution and delivers an integrated, real-time view of an entire fleet of corporate and employee-owned Apple iOS, Android, BlackBerry, Symbian and Windows devices.
EQUAL EMPLOYMENT OPPORTUNITY STATEMENT:
Workspace ONE is an Equal Employment Opportunity Employer and is committed to workplace diversity.   Workspace ONE provides equal employment opportunities (EEO) to all employees and applicants for employment without regard to race, color, religion, gender, sexual orientation, national origin, age, disability, marital status, in accordance with applicable state and local laws. This policy applies to all terms and conditions of employment, including, but not limited to, hiring, placement, promotion, termination, layoff, recall, transfer, leaves of absence, compensation, and training.
As Technical Support member, you will have the responsibility to support Workspace ONE (previously Workspace ONE) customers .You will work closely with our Global Support Services teams, Engineering, Sales, and Product Marketing teams to ensure that VMware is delivering overall superior service and support to our customers.
Role: Sr. Technical Support Engineer
Location: Bangalore, India
Note: The team supports customers across different geographical regions (24*7), hence shifts may be determined based on business requirements.
Role Description 
Liaisons between different technical groups - GSS and R&D for resolving customers
Work with QE and raise QE escalations
Work with DBA on DB related issues
Engage with REM teams on critical escalations
Engage with development team on product bugs and PRs
Identify training needs of the team
Facilitate technical training sessions to New Hires and existing teams
Facilitate Tech Talks, Knowledge sessions to empower engineers
Publish KB articles
Train or mentor Level 2 members
Handle technical escalations in collaboration with Senior Leadership
Communicate technically complex remedies, solutions or work-arounds in a clear and concise manner to customer or partner first line manager
Solutions or work-arounds in a clear and concise manner to customer or partner first line manager
Eligibility Criteria
Overall 6+ years industry experience
2+ years of experience in escalation management
Good understanding of Networking, Database and WS1 components
Excellent written and verbal communication
Preferred Attributes:
VCP – Digital Workspace Certified
Good track record of customer relationship management – KPI, Unsolicited Kudos, Awards and Appreciations
Contributions to business in way of initiatives, projects etc.
Additional certifications – CCNA, CCNP, MCP,MCSA,MCSE etc.
Exposure on Android, iOS or Windows platform
Exposure to Linux platform
Eligibility Criteria for VMware Employees:
Open for TSE 2 and above
Overall 6+ years industry experience
2 year experience at current role
Good understanding of Networking, Database and WS1 components
Currently not on Performance Improvement Plan or documented behavior feedback for last 6 months
Note: Shortlisted members will need to go through Workspace One Technical training to understand the mobility technology.
Your saved jobs
You have not saved any jobs.
Recently viewed opportunities
You have not viewed any jobs.