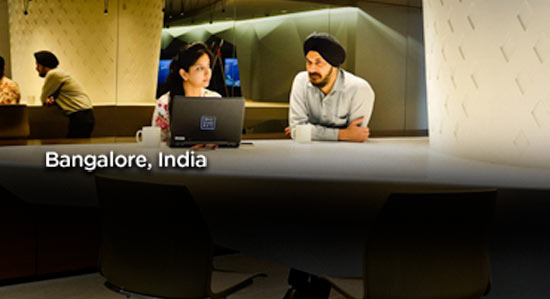 Push us. Amaze us. Inspire us.
Careers in India
When you walk through the doors of one of our state-of-the-art office sites in India, you'll find modern, comfortable, positive spaces that invite our employees to share ideas, spread creativity, innovation, and find balance in their daily lives. We are proud of our presence in the community, proud of VMware's future in India, and proud of our commitment to initiatives that celebrate diversity in the workplace and India's technology industry.
VMware India continues to play a strategic role in VMware's global growth strategy for the mobile cloud era and our operations are currently second in size only to those at VMware's Palo Alto headquarters in the United States.
Senior Software Engineer - .NET
Bengaluru, India
Apply Now
Job ID R183647
Role & Responsibilities:
· Design and develop highly scalable Web Applications
· Develop automated unit tests and integration tests for all features and facilitate automated testing
· Work closely with the Engineering Lead, Test engineers and Product Managers to develop and deliver high-quality products
· Analyze performance of .net applications, develop multi-threaded applications
· Participate in code reviews and be able to provide recommendations to improvise
· Work independently and effectively in a team
· Follow & Promote standard Software methodologies
Requirements(Must have):
. Relevant experience of 8 years or more
· Strong problem-solving skills
· Bachelors or higher Engineering degree in Computer Science or Information Technology or related discipline.
· Ability to work fully independently on assignments as well as a part of a distributed team
· Deep understanding of core computer science fundamentals - algorithms, data structures, design patterns, multi-threaded programming and Distributed Systems
· Thorough understanding and Experience in development of client/server architecture, Web Application, Web Services, Windows Services, RESTful APIs
· Experience with client-side MVC/Angular Frameworks and HTML5/JavaScript/CSS
· Extensive experience with large relational databases, T-SQL and writing high performing complex queries
· Excellent debugging, troubleshooting and performance fine-tuning skills
· Flexibility in learning new frameworks and tools
· Proven record of accomplishment of challenging projects, showing experience developing software using C#
· Strong verbal and written communication skills
Requirements(Good to have):
· Flexibility in learning new Programming Languages
· Familiarity with CI/CD driven processes
· Experience using GIT repository
Your saved jobs
You have not saved any jobs.
Recently viewed opportunities
You have not viewed any jobs.