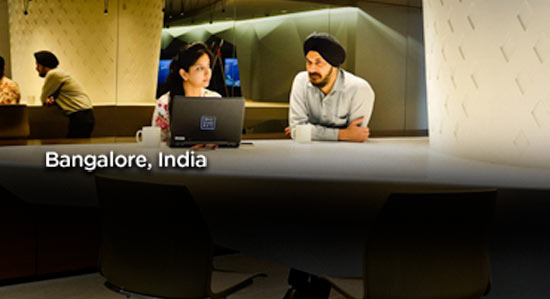 Push us. Amaze us. Inspire us.
Careers in India
When you walk through the doors of one of our state-of-the-art office sites in India, you'll find modern, comfortable, positive spaces that invite our employees to share ideas, spread creativity, innovation, and find balance in their daily lives. We are proud of our presence in the community, proud of VMware's future in India, and proud of our commitment to initiatives that celebrate diversity in the workplace and India's technology industry.
VMware India continues to play a strategic role in VMware's global growth strategy for the mobile cloud era and our operations are currently second in size only to those at VMware's Palo Alto headquarters in the United States.
Senior Product Manager, Cloud Platform
Bengaluru, India
Apply Now
Job ID R1812093
Job Description
Do you love to work on technically significant problems by bringing to bear both your business insight and technical experience? Does it bother you when you see a customer need that's not being addressed and have a burning dream to do something about it? Do you get energized when you get teams working together and ultimately deliver an extraordinary product? Do you have operating system, x86 virtualization, and/or security engineering experience? If you answered YES to any of the above, Read on!
Business summary:
Product managers are responsible for defining, prioritizing, planning and driving the execution of the vision for their product lines. They should possess business insight as well as engineering wherewithal in order to be able to strategize, drive and bring their product to market. Product Managers work extensively with customers and multi-functional with product marketing, engineering, sales, corporate marketing and alliances to ensure whole product success.
VMware vSphere is the leading cloud platform in the market. We are looking for Senior Product Managers to expand on the strategy and execute for the next generation cloud infrastructure.
As a Senior Product Manager for vSphere Platform, you will have the overall responsibility for understanding a wide variety of customer's needs as they relate to VMware's vSphere product line. You will be able to expand on the strategy, driving requirements for next generation cloud infrastructure platform. You will be responsible for finding, generating, and surfacing innovation around cloud infrastructure capabilities, and collaborating with other product management teams to drive solutions in the VMware platform as well as VMware Cloud on AWS (VMC on AWS). You will define product capabilities, drive product requirements, work across engineering, product marketing, and sales teams to deliver successful product to market.
Job role and responsibility:
The Platform Product Manager will be responsible for the cloud infrastructure-related product investments throughout VMware's Cloud Infrastructure products including VMware Cloud on AWS (VMC on AWS).
Define and drive use cases, user personas, product

features/requirements,

roadmaps and release plans for product features.

Identify a variety of customer needs across the product stack, drive feature prioritization and work closely with engineering to deliver successful products.

Lead the product feature planning process; ensure that the product set meets the requirements of all applications which will run in, on, or be led by the Cloud Infrastructure products.

Conduct competitive analysis and market research to guide product planning

Understand customer needs and requirements and represent them in MRDs & PRDs.

Work closely with VMware customers, developers, and key VMware partners including Engineering, Support/Services, Product Management & Marketing, and Sales.

Understand the market and competition for the product set and develop product and aggressive positioning.

Define, track, interpret and report on key business metrics and drive activities which support continued deployment of applications on the VMware Cloud Infrastructure platform

Support planning, execution and go-to-market activities by closely working with the Product Marketing team.
Required skills:
4-6 years in a technical role or product management/marketing role, in a cloud infrastructure related field.

Experience in leading and operating cloud infrastructure platforms at large organizations desirable.

Validated experience building product specifications, performing competitive analysis and/or market research

Excellent leadership skills to influence and drive multiple teams toward a common vision and roadmap

Especially strong analytical skills and a natural predisposition toward data-driven decision-making. You should nevertheless be able to make reasoned decisions in the face of uncertainty or imperfect data.

Expertise in Datacenter and Cloud Infrastructure Products & technologies.

Superb written and verbal interpersonal skills characterized by clarity and brevity

Excellent social skills to juggle many tasks without losing sight of what's most meaningful

Dynamic and engaging speaker appropriate in front of audiences of all sizes

BS or MS in Computer Science or Electrical Engineering or equivalent work experience desired. MBA is a plus.

Willing to travel to meet customers and partners up to 10-15% time
We are an equal opportunity employer and value diversity at our company. We do not discriminate on the basis of race, religion, color, national origin, gender, sexual orientation, age, marital status, veteran status, or disability status.
Your saved jobs
You have not saved any jobs.
Recently viewed opportunities
You have not viewed any jobs.