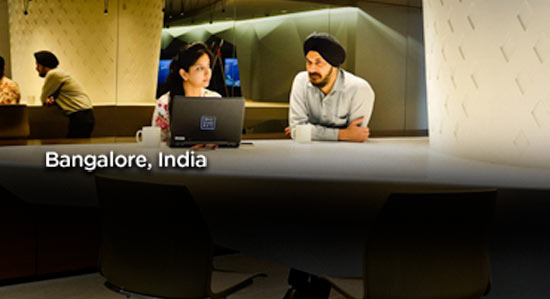 Push us. Amaze us. Inspire us.
Careers in India
When you walk through the doors of one of our state-of-the-art office sites in India, you'll find modern, comfortable, positive spaces that invite our employees to share ideas, spread creativity, innovation, and find balance in their daily lives. We are proud of our presence in the community, proud of VMware's future in India, and proud of our commitment to initiatives that celebrate diversity in the workplace and India's technology industry.
VMware India continues to play a strategic role in VMware's global growth strategy for the mobile cloud era and our operations are currently second in size only to those at VMware's Palo Alto headquarters in the United States.
Senior MTS - Internet of Things - Photon OS Linux Engineering
Job ID R1900708
Date posted 02/15/2019
The Photon OS team is part of the IoT Business Unit and is responsible for delivering the groundbreaking Photon OS which forms a standard platform for IoT Edge gateways. The team focuses on cutting edge engineering and advanced projects around containers and operating systems engineering with a specific focus on security, performance and interoperability for linux containers.
Building an operating system distribution involves various sub processes distributed among various servers in the data center. The primary role for this position is to be responsible for the build and test framework for building and testing Photon OS. We are looking for applicants with a passion for distributed systems and Linux in general.
This team is seeking engineers with hands on experience in the following areas:
Intimate familiarity with Linux OS (kernel, systemd, system configuration, common open-source packages)
Previous experience with distributed build and test Frameworks.
Strong experience and interest in distributed systems.
Experience with python and bash desirable.
Experience with kernel code/drivers a plus.
Responsibilities:
Take ownership of, improve and add features to existing OS Build/Test framework in Python
Add new packages and tests for packages to the Photon OS repository. Some of these will need adding features to the framework.
Improve and develop to unit tests (opensource package tests) for packages critical to our customers.
Triage and root cause regressions, add test coverage on a package/system layer for bugs reported by our customers.
Own inhouse package frameworks and test for c-rest-engine, tdnf, pmd and other open-source packages owned by Photon OS.
Required Skills:
Bachelors, Master's or PhD in Computer Science or equivalent
Completed coursework in operating systems, computer architecture, distributed and security systems, compilers, networking, and kernel development
Strong skills in C, bash, python
8 years experience working in system services/ usermode applications on a Linux platform
Preferred Skills:
Validated knowledge of operating systems (kernel level)
Validated understanding of the Networking Space
Understanding of and I/O architectures, storage stack, resource management, performance profiling technologies is nice to have
Strong analytical, diagnostic and problem-solving skills with ability to work independently
Relevant Jobs
Sorry, there are currently no new opportunities near your current location. Try a new search.