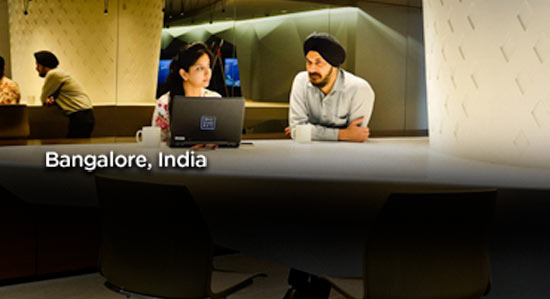 Push us. Amaze us. Inspire us.
Careers in India
When you walk through the doors of one of our state-of-the-art office sites in India, you'll find modern, comfortable, positive spaces that invite our employees to share ideas, spread creativity, innovation, and find balance in their daily lives. We are proud of our presence in the community, proud of VMware's future in India, and proud of our commitment to initiatives that celebrate diversity in the workplace and India's technology industry.
VMware India continues to play a strategic role in VMware's global growth strategy for the mobile cloud era and our operations are currently second in size only to those at VMware's Palo Alto headquarters in the United States.
Senior Member Technical Staff
Bengaluru, India
Apply Now
Job ID R1902917
VMware is looking for a Software Engineer to work on large scale, highly available, web-based
SaaS identity and access management services. You will learn our current use of AWS services and drive improvements to both the application and supporting service stacks. You will have and grow your knowledge of AWS service offerings and be able to communicate advantages and trade-offs as they relate to the application. This role will be a high impact position as the SaaS identity offering is leading the way within EUC and VMware as the company shifts to a SaaS first, Cloud based practices. The successful candidate will be someone who can solve problems across the whole service stack and is passionate about developing Cloud Services. He or she will understand which approaches, tools, and services are most effective and up-level knowledge and skills of others. This role has opportunity to grow into significantly impacting architecture and development practices of entire organization.
Required Skills/Experience:
• Masters degree preferred, Bachelors in Computer Science or EE from reputable institutes is required
• Must be motivated, detail-oriented, have the ability to thrive in a team environment and work
independently
• Strong design, coding, and communication skills
• Strong Java development background 
• Passion for collaborative development and support of quality hosted software services
Desired Skills/Experience: 
• Experience working on live enterprise-grade services at scale in the cloud
• Understanding of deployment issues in a complex environment (security, networking, load balancers, service dependencies, disaster recovery etc.)
• Ability to understand the bigger picture of a service product, communicate with others how
components of a complex system interact, solve problems holistically
• Experience with AWS services and architectural practices
• Security and compliance consciousness
• Experience with asynchronous programming in Java
• Experience developing large-scale projects
• Experience with continuous integration and continuous delivery practices and tools
• Bug tracking, project management, agile methodologies 
• Very strong analytical skills, good judgment, passion for your work 
• Good design skills and insight about usability 
• Passion for robust automation and not repeating manual procedures
Your saved jobs
You have not saved any jobs.
Recently viewed opportunities
You have not viewed any jobs.