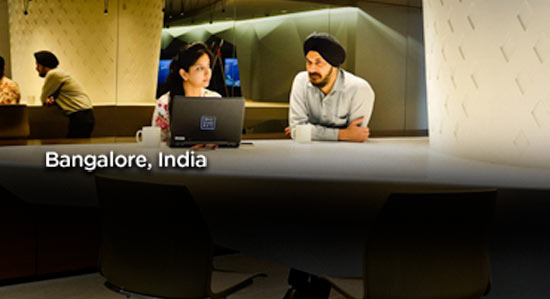 Push us. Amaze us. Inspire us.
Careers in India
When you walk through the doors of one of our state-of-the-art office sites in India, you'll find modern, comfortable, positive spaces that invite our employees to share ideas, spread creativity, innovation, and find balance in their daily lives. We are proud of our presence in the community, proud of VMware's future in India, and proud of our commitment to initiatives that celebrate diversity in the workplace and India's technology industry.
VMware India continues to play a strategic role in VMware's global growth strategy for the mobile cloud era and our operations are currently second in size only to those at VMware's Palo Alto headquarters in the United States.
Senior Member of Technical Staff- UI development
Job ID R1902882
Date posted 04/09/2019
VMware (NYSE: VMW), the global leader in Business Infrastructure Virtualization, delivers proven virtualization solutions —from the desktop through the datacenter and to the cloud—that energize business, while saving energy. IT organizations in companies of all sizes rely on VMware and its industry-leading platform, VMware vSphere™, to achieve a more efficient, controlled and flexible IT environment. With 2009 revenues of $2 billion and more than 170,000 customers and 25,000 partners, VMware delivers the world's most trusted solutions for virtualization, a strategic initiative that consistently ranks as a top priority among CIOs. VMware's award-winning technology, market-leading position and culture of excellence provide our 7,000+ employees in 40+ locations worldwide with a platform for professional growth and the excitement of being an early-stage innovator.
"This R&D team is part of CMBU and is one of the most versatile team working across products from vRA/VRO to vRealize Suite Lifecycle Manager(vRSLCM) to Content Management". We work on Product Development from scratch (all layers, UI, middle layer and backend), perform customer oriented R&D, new innovations, PoCs, Patents, Ideas, new Tools, Customer Support, Customer Success Programs etc……Out technology stack includes Java, JEE, Spring, .net, Angular JS, GWT, Cloud, AWS, Azure, Postgres, SQL server etc. We actively participate in Hackathons, RADIO and other innovation events throughout the year spanning from IoT, Cloud to Machine Learning"
The Engineer in the R&D Org team will be responsible for providing deep technical expertise and drive Cloud Automation products to a next generation cloud management initiative. In addition to technical architecture support, the Engineer will collaborate with distributed cross-functional teams - Engineering, GSS, Professional Services, RM, QA and Product Management to distill customer needs into workable tasks. The Engineer would work on developing algorithms, building distributed applications, APIs, fault-tolerant computing and use virtualization as a key technology to design and implement applications that solve real-world problems. He would work on developing scalable software capable of automatic provisioning of infrastructure (IaaS) in a datacenter. The candidate will be part of the innovative team of engineers with strong technical background and will be working in highly challenging and state of the art technologies.
Responsibilities
Provide technical design & architectural leadership for next generation UX wrt Cloud Management products
Draft, author and implement new UI mockups from scratch for better UX
Innovate, Research & Evaluate new technologies and tools for a quality/flexible output.
Code and implement new algorithms to solve complex problems.
Triage, Analyze and Fix customer issues with quick turnaround time.
Participate in architectural decisions, design and code reviews.
Maintain deep technical and business knowledge of Cloud Management industry directions and trends
Work collaboratively with cross-functional distributed teams Core Engineering, GSS, QA and Product Management in all phases - Requirements, Development, Testing, Launch/Release and continue refinement of VMware Cloud Management related technologies
Document best practices and architectural references in developing and deploying product solutions
Work in an Agile development environment while continuously evaluate and improve engineering processes
Should have technology independent mindset and juggle priorities on daily basis.
Requirements:
BTech/MTech Degree or equivalent in Computer Science
6–12 years of experience with significant depth around designing and programming enterprise class products.
4+ years of experience in developing enterprise-class management software
Min 4+ years of hands-on experience in building latest UX/GUI using either of one Javascript /Angular/GWT/React.js etc
Min 4+ years of strong coding experience in any OO programming language Java/C++/Python etc
Min 1+ years of strong experience in J2EE stack (Spring Core, JSP/Servlets/MVC frameworks-Struts/Spring)
Min 1+ years experience in J2EE Application Severs – JBoss/Tomcat or similar
Preferred Skills :
Experience in React.js or Angular.js is a big plus
Exposure to Cloud computing, workflow domain and VMware technologies is a big plus
Experience in developing RestFull Web Services
Good understanding of SDLC, Agile methodologies, experience of working in product development companies
Relevant Jobs
Sorry, there are currently no new opportunities near your current location. Try a new search.