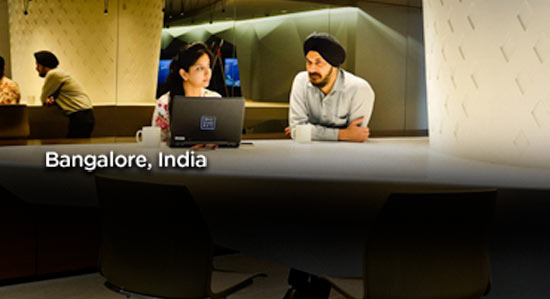 Push us. Amaze us. Inspire us.
Careers in India
When you walk through the doors of one of our state-of-the-art office sites in India, you'll find modern, comfortable, positive spaces that invite our employees to share ideas, spread creativity, innovation, and find balance in their daily lives. We are proud of our presence in the community, proud of VMware's future in India, and proud of our commitment to initiatives that celebrate diversity in the workplace and India's technology industry.
VMware India continues to play a strategic role in VMware's global growth strategy for the mobile cloud era and our operations are currently second in size only to those at VMware's Palo Alto headquarters in the United States.
Senior Member of Technical Staff
Job ID R1901759
Date posted 02/15/2019
VMware is seeking talented entry/mid-level/senior-level engineers to work on large scale, highly available systems. As a member of this team, you will be an active and integral member of the development team throughout the entire product development cycle and will participate in many innovative projects, with the authority and scope to apply your expertise in a SaaS-first, fast-paced and technically driven environment. You will be responsible for developing, deploying and supporting components in our SaaS offering as well as being used by other product teams.You will be getting in on the "ground floor" of this new Bangalore Engineering team. You'll be part of a seasoned and bright engineering team with a culture of open communication, empowerment, innovation, test-driven development (TDD), teamwork and customer success. We are looking for engineers who have a strong self-directed work ethic, a nimble mindset, and a strong personal ownership of system quality.
Responsibilities
•

Working within a collaborative team setting with other developers to architect, design, implement and integrate new and enhanced features with the highest possible quality. At this level this includes collaborating across teams and geographies

•

Owning quality of software components deployed in SaaS and On-Premises environments. This includes:

o

Develop distributed unit tests and integration tests for the features you develop

o

Understanding how components fit into our SaaS offering, other products, and our On-Premises delivery; and determining and ensuring that appropriate testing is done to ensure quality in all environments.

o

Supporting components as deployed in SaaS and On-Premises environments.

•

Taking responsibility for the specification, design, implementation, testing and deployment of key product features

•

Writing well-documented, high performance, reliable, maintainable Java code.

•

Push the envelope in adopting new technologies and adopting best practices in design and test

•

Play a significant role in design and code reviews with a major focus on modularity, performance, scalability and future expansion
Requirements
•

Masters degree preferred, Bachelors in Computer Science or EE from reputable institutes is required

•

14+ years of experience in developing distributed enterprise and/or SaaS applications, REST APIs.

•

Experience/Knowledge of modern loosly coupled service architectures a plus

•

Strong Coding, Design and Deployment skills

•

7+ years industry development experience in Java or another OO language

•

Full stack development capabilities, including Javascript, jQuery, HTML, and CSS

•

Experience with continuous integration and continuous deployment

•

Experience with modern configuration management tools such as Chef or Puppet is a plus

•

A passion for building quality software and quality systems

•

Knowledge of Spring framework and Hibernate

•

Experience with networking frameworks like Netty a significant plus

•

Experience with security and authentication technologies and networking protocols that relate to distributed computing isan advantage

•

Strong analytical and problem solving skills, attention to detail

•

Able to demonstrate effective teamwork both within the immediate team and across teams

•

Excellent verbal and written communication skills

•

A strong desire and ability to mentor and encourage team members

•

A roll up the sleeves attitude and a hands-on style

•

The flexibility and adaptability to be able to change direction quickly to meet the dynamic needs of the business
Relevant Jobs
Sorry, there are currently no new opportunities near your current location. Try a new search.