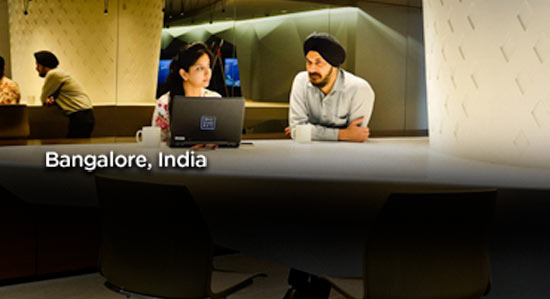 Push us. Amaze us. Inspire us.
Careers in India
When you walk through the doors of one of our state-of-the-art office sites in India, you'll find modern, comfortable, positive spaces that invite our employees to share ideas, spread creativity, innovation, and find balance in their daily lives. We are proud of our presence in the community, proud of VMware's future in India, and proud of our commitment to initiatives that celebrate diversity in the workplace and India's technology industry.
VMware India continues to play a strategic role in VMware's global growth strategy for the mobile cloud era and our operations are currently second in size only to those at VMware's Palo Alto headquarters in the United States.
Senior Manager, R&D
Job ID R1902255
Date posted 04/17/2019
The VMWare Internet of Things R&D team is seeking to build the next generation IoT management platform. This is a unique opportunity to understand the upcoming field of IoT and potentially shape the market for IoT management  products and services.
It is an exciting opportunity for an individual to lead feature development using innovative technologies, for a large application domain, working in cross-team and cross-geo environment and grow along with the business.
The team is looking for a successful engineering manager, who is an innovative and seasoned software leader with a proven track record in managing and delivering complex on-premise and cloud hosted products and services. 
The ideal candidate for this position would,
Bring broad technical experience, creative problem-solving skills, a passion for technology and coding, and a healthy dose of self-motivation. 
Thrive in fast-paced environments and can take calculated risks by balancing short-term and long-term imperatives.
Passion for building software with great user experience; you have experience in building distributed systems, blended with a strong systems background.
Be a technical expert and hands-on with software design and development and process engineering with deep understanding of software design, distributed systems, infrastructure software, private/public clouds services.  
Have strong interpersonal and organizational skills to build, mentor, motivate and manage multiple teams of high-calibre developers and technical leaders.
Work closely with internal and external partners to achieve the team's goals in a dynamically changing market.
Hold themselves personally accountable to product and customer success and take ownership of problems.
Background
Demonstrable knowledge of running Agile practices
Strong analytical and problem-solving skills, attention to detail
Excellent communication (written & spoken) skills
Proven track record recruiting and retaining top engineering talent and managing in a geographically and culturally distributed organizations
Ability to distill customer specific user-cases and feature asks into generalized platform features.
Demonstrated leadership, people management and communication skills including conflict resolution
Comfortable interacting with executives, peers and engineers and advocating for the right outcome
Required Skills
BS/BE/MS in Computer Science
15+ years working in the software industry with at least the last 5+ years' experience in managing top notch software development teams
Proven track record of building and shipping highly scalable, distributed applications, cloud services, protocols or Web Services & API development
Strong CS Fundamentals, Data Structures, Algorithms and Coding skills in Java/C/C++
Good knowledge of TCP/IP networking and internet protocols such as NTP, DNS, HTTP
Demonstrated ability to understand and solve deep technical issues
Strong software development and project management fundamentals
Good understanding of testing and deployment tools and CI/CD

Preferred Skills
Experience in managing full-stack/UI projects is a plus
Familiarity with agent-based architectures and full stack development 
Working knowledge of virtualization technologies and software-defined data centers
Experience working with large scale internet deployments and traffic engineering

Relevant Jobs
Sorry, there are currently no new opportunities near your current location. Try a new search.