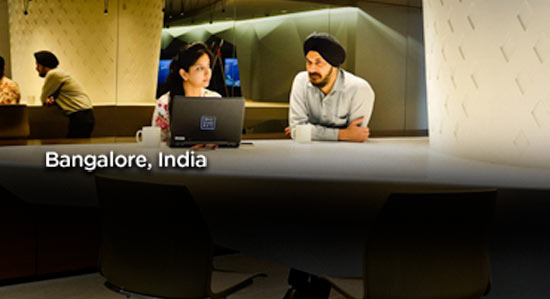 Push us. Amaze us. Inspire us.
Careers in India
When you walk through the doors of one of our state-of-the-art office sites in India, you'll find modern, comfortable, positive spaces that invite our employees to share ideas, spread creativity, innovation, and find balance in their daily lives. We are proud of our presence in the community, proud of VMware's future in India, and proud of our commitment to initiatives that celebrate diversity in the workplace and India's technology industry.
VMware India continues to play a strategic role in VMware's global growth strategy for the mobile cloud era and our operations are currently second in size only to those at VMware's Palo Alto headquarters in the United States.
Senior Finance Manager, Corporate & Business Operations, India
Bengaluru, India
Apply Now
Job ID R1810222
Job Description
Do you want to help shape decisions that impact an $8+ billion dollar technology business?  Do you want to help drive the future at one of the best known cloud infrastructure and business mobility solutions companies?  Do you thrive in a fast-paced, high-impact, data-driven team that works closely with the company's executive team?  If so, VMware FP&A team may be the perfect place for you!
Our team is seeking a talented Senior Manager of Finance to lead the overall expense side of VMware's Corporate and G&A spend including financial planning, ongoing reporting, forecasting and long range outlook.  As an integral member of the corporate and business operations finance leadership team, this Senior Manager's overarching responsibilities are to provide financial information that is relevant, trusted, and insightful, which enables the company to make effective, financially prudent business decisions.  You will also provide critical inputs to Corporate and business partners to drive efficiency improvements.
In this role you will also manage, mentor and develop team members, helping build an extraordinary team that delivers big results. You should be hands on with the fundamentals of finance, accounting, financial planning, annual planning, budget planning, direct & indirect taxation, highly analytical and a good team leader. The position will be based out of Bangalore.
Key responsibilities:
Overall business partnering.  Partner closely with VMware's Corporate and Functional leadership team.  Advise on capital and operating investment opportunities, trade-offs, resource prioritization, and risks, all with a mind-set to optimize the company's ROI and improvement of key financial metrics. 
Lead the Team.  Recruit, develop and retain a team of 15-20 finance professionals ranging from Finance Managers to Analysts.  Motivate the team to take ownership and deliver results in an accurate and timely manner.  Build a world class FP&A culture, while enabling the teams' objectives and supporting individual development opportunities.  Responsible for ongoing Team appraisals, defining career paths & Talent Reviews with Leadership. 
Process Efficiency.  Lead process, system, and control improvements for increased efficiency and effective financial analytics.  Partner with IT and finance operations team to implement these improvements.
Manage the VMware Rhythm of Finance.  Provide financial insights, executive level explanations, and analytics on the performance of the various businesses within the VMware rhythm of finance including close reporting, forecasting, headcount management, and scorecard management.  Drive accountability for forecasting accuracy on opex, capex and headcount.
Conduct analysis and support decisions.  Provide ad-hoc analytics for business and finance stakeholders.  Manage deep-dives into spending categories to identify optimization opportunities.  Support development of frameworks that shape decision making for IT, REW, HR, Workforce Planning and other stakeholders.  Orchestrate the aggregation of data from many different sources to provide insights and dashboarding.
Drive compliance with processes and policies.  Jointly with business and India team, ensure compliance with processes and company policies.  Orchestrate training for business partners and team related to processes and policies.
Track and manage performance.  Provide financial insights and metrics, executive level explanations, and analytics on the performance of the business within the VMware rhythm of finance including close reporting, forecasting, headcount management, and scorecard management.  Drive accountability for forecasting accuracy on Opex, Capex and headcount
Desired skills and experience:
Minimum of 12 years of finance experience, including at least 5 years in the FP&A (financial planning and analysis) function, with a strong record of career progression and managing budgets.
Track record of showing leadership in a fast-paced, high-growth environment
Partnering, influencing and collaboration:

Skilled at building relationships with executive business partners
Strong and confident presence.  Effective presenter
Strong and independent analytical thinker and influencer

Financial and Business Analysis:

Experience in data presentation and deep analytics of data to "tell the story" behind the numbers
Strong financial modeling, spreadsheet, and database skills
Ability to do to analyses "on-the-spot" with senior management
Proficiency in computer-based analysis and complex financial modeling
Experience with SAP Financials and Hyperion Planning or other planning tools is a plus

People management:

Ability to attract, develop and retain the best finance professional talent
Proven ability to develop a team culture that fosters learning, team work, work-life-balance and fun

Management:

Strong interpersonal and collaboration skills; ability to work with a diverse team and influence/drive change across functional and business boundaries
Strong project management, planning, and organization skills, including ability to handle multiple projects simultaneously in a fast-paced environment
Ability to take charge of complex projects with minimal direction and develop new strategies and new ways of approaching business challenges independently
High energy and motivation
Unquestionable integrity

Strategic Thinking and Communication:

Demonstrated strategic thinking
Ability to solving ambiguous problems applying proven or newly developed frameworks
Excellent verbal and written communication skills

Bachelor's Degree in Business or Finance; a CA is preferred
Why work for our Division
Finance is a global organization that's dedicated to the short- and long-term growth and success of VMware – and to using analytical tools and collaboration to build connections internally and externally. It's a fast-paced environment, with lots to learn. We're looking for people with strong critical thinking skills, who want to work collaboratively, serve our customers and make good choices. Uncompromising ethics and integrity are hallmarks of our organization. We're a diverse group, covering the areas of corporate finance, FP&A, pricing, mergers and acquisition integration, revenue, investor relations, treasury, license compliance, tax, internal audit and the many corporate accounting functions. Come, join our team of motivated professionals, and grow with VMware.
Your saved jobs
You have not saved any jobs.
Recently viewed opportunities
You have not viewed any jobs.