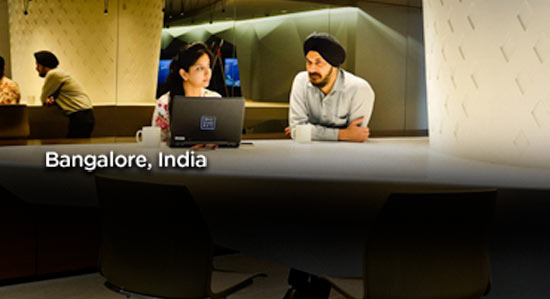 Push us. Amaze us. Inspire us.
Careers in India
When you walk through the doors of one of our state-of-the-art office sites in India, you'll find modern, comfortable, positive spaces that invite our employees to share ideas, spread creativity, innovation, and find balance in their daily lives. We are proud of our presence in the community, proud of VMware's future in India, and proud of our commitment to initiatives that celebrate diversity in the workplace and India's technology industry.
VMware India continues to play a strategic role in VMware's global growth strategy for the mobile cloud era and our operations are currently second in size only to those at VMware's Palo Alto headquarters in the United States.
Senior Director, HR Management Partners
Bengaluru, India
Apply Now
Job ID R1811258-2
Senior Director, HR Management Partners
Our Company
VMware is a global leader in cloud infrastructure and business mobility. Built on VMware's industry-leading virtualization technology, our solutions deliver a brave new model of IT that is fluid, instant and more secure. Customers can innovate faster by rapidly developing, automatically delivering and more safely consuming any application. With Fiscal 2018 revenues of $7.92 billion, VMware has more than 500,000 customers and 75,000 partners. The company is headquartered in Silicon Valley with offices throughout the world and can be found online at www.vmware.com.
At its best, VMware is a place, where we are valued for the complete people we are, where extraordinary progress is achieved for ourselves, our teams, our company, our customers, and our communities – and where even more progress is desired and expected. VMware is a powerful platform for all of who we are – individual, colleague, pioneer, citizen – a place where empowerment, accountability, and responsibility become the traits of ownership, and where each of us can own our future and achieve success through our own actions, on our terms.
With 20,000+ employees and 50+ locations worldwide, we are a passionate, innovative and driven group inspired to make a difference in the industry and our communities.
Job Role and Responsibility:
Managers are the critical link between employees and their employer. They set the foundation for how an employee experiences a Company, are the primary reason an employee stays with or leaves their employer and are responsible for driving business results through their teams and team members. Building stronger manager and leadership capability means building improved business performance and shareholder value. VMware has an opportunity to better use its managers, at all levels of the organization to motivate, inspire and drive higher performance through their teams and organizations. Growing manager and leader capabilities will ensure that VMware is best positioned to hire, develop, engage and retain the most innovative and productive employees, driving higher performance and shareholder value than our talent and business competitors. To propel this need, we have strategically aligned a global team of HR Management Partner to provide coaching, direction and performance support to our people managers.
As the leader of the HR Management Partner team, you will partner across Human Resources and with Business Leaders to enable the growth and development of VMware managers and leaders globally. You will be responsible for building a global, scalable approach to growing manager effectiveness, providing a consistent Management Partner experience for all people managers, and partnering with HR Centers of Excellence to influence the processes, systems, and tools that deliver an impactful manager journey.
As your team is successful, VMware will realize efficient resource utilization and impactful business results. This may be seen specifically through:
An aggregate improvement in Manager Effectiveness survey scores over time
Reduction in the number of employees who voluntarily resign from VMware primarily based on their manager's capability as measured through the exit survey
Lower incidence of ER cases related to "poor" manager capability, including higher quality outcomes of performance improvement plans
Higher quality manager journey/experience including ease of accessibility, consistency, and integration with related processes, programs and solutions.
Stronger correlation of strong managers with employee performance, productivity and goal achievement
Required Skills:
In this role, you will own and lead a global team of regionally organized Management Partners. As this is a relatively new capability within the HR organization, you will continue the momentum of transforming the function to achieve a high performing team. You will partner closely with the leader of Global Management Development to turn management principles and development strategies into business results.
Additionally, you will need to:
Have a demonstrable track record of leading people and enabling teams to achieve impactful results
Have a depth of professional experience coaching individual contributors, managers and leaders
Be a skillful collaborator and integrator with both a cross functional and global lens, bringing together diverse views and experiences
Be able to identify roadblocks to success and craft effective solutions for a path forward
Turn strategies into execution on a global scale
Other Qualifications
BS required in a business-related field
10+ years of relevant experience and 5+ years leading a global team
Experience working in a fast paced, growth-oriented company preferred
You will have worked in global, multi-cultural environments
Experience in implementing large-scale organizational change initiatives
Your saved jobs
You have not saved any jobs.
Recently viewed opportunities
You have not viewed any jobs.