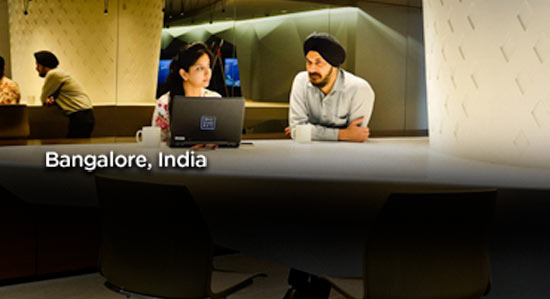 Push us. Amaze us. Inspire us.
Careers in India
When you walk through the doors of one of our state-of-the-art office sites in India, you'll find modern, comfortable, positive spaces that invite our employees to share ideas, spread creativity, innovation, and find balance in their daily lives. We are proud of our presence in the community, proud of VMware's future in India, and proud of our commitment to initiatives that celebrate diversity in the workplace and India's technology industry.
VMware India continues to play a strategic role in VMware's global growth strategy for the mobile cloud era and our operations are currently second in size only to those at VMware's Palo Alto headquarters in the United States.
Senior DevOps Engineer
Job ID R1902898
Date posted 03/18/2019
Why work with our Group
Do you want to be part of a growing team in Bangalore?  Do you want to be at the intersection of the latest technologies in mobile and cloud?  The VMware Workspace team is developing and delivering core mobile-first, cloud-first technology used across businesses.
In today's workplace, Mobile is the new normal, SaaS is growing rapidly and People want to work from anywhere, with any device.  IT is challenged with the diversity, the rate of change and by how to make people productive while protecting the businesses information.  The Identity Management team is building the next generation platform for the modern mobile workforce.
The Workspace  family of offerings is developed around the goal of empowering end-user freedom and productivity without sacrificing the management and control needed by IT.  We are at the cutting edge of enabling users with a simple, self-service, single sign on experience that's independent of the device or application being used.  We are creating centralized control for IT to securely deliver resources in a world that's quickly becoming a hybrid of on-premise data centers and cloud environments. With Organizations striving to enhance the productivity of their Workforce by embracing Mobility, and the Applications/Services landscape changing from pure On-Premise to Cloud, and with the constant need to protect your Corporate assets, Identity Management and Mobility are paramount in the changing landscape.  We are helping build the next generation in workforce mobility and productivity: be a part of what's next by delivering tomorrow, today.
Vmware's Workspace One offering is the simple and secure enterprise platform that delivers and manages any app on any smartphone, tablet or laptop. By integrating app access management, unified endpoint management, and real-time application delivery, Workspace ONE engages digital employees, reduces the threat of data loss, and modernizes traditional IT operations for the mobile-cloud era. As we evolve this Workspace Platform, Intelligence and Security are next major thrust areas. With these capabilities, the platform would be able to deliver next generation Digital Workspace that manages everything from Device to Desktop, delivering any app from any where with security woven in.

VMware is seeking talented entry/mid-level/senior-level engineers to work on large scale, highly available systems. As a member of this team, you will be an active and integral member of the development team throughout the entire product development cycle and will participate in many innovative projects. We are looking for engineers who have a strong self-directed work ethic, a nimble mindset, and a strong personal ownership of system quality.
As a member of our DevOps team, you will help develop and support our next-generation deployment and delivery system. The next-gen deployment platform will enable the dev teams to configure, provision and deploy our entire AWS-hosted cloud platform at the click of a button.
DevOps powers our business by building a great platform as a team. We work alongside Development on every project. We design. We code. We deliver. If this sounds interesting to you then contact us. We want to learn more about you.
Role Description:
VMware is looking for a talented DevOps engineer to work on large scale, highly available web-based systems.  The candidate will bridge the gap between the development/quality team and the operations team.  They will be responsible for adding features in the main product, for ensuring reliability and self-healing, while also providing tools to the operations team for packaging, deployment, monitoring, diagnosing and fixing issues in running systems.
The successful candidate will be someone who is open and passionate about latest approaches to developing Cloud Services, has the ability to understand which languages are appropriate for different problems, and is passionate about solving the problem across the full stack. This role will significantly impact the architecture and development practices of the entire organization.

Responsibilities:
Design and create the "feedback loop" to provide information from our running systems back to development to help improve performance, scalability and feature usage

Includes building hooks into existing java systems to report metrics
Includes building a system gather logging information and make it available to DEV + OPS
Includes building-out internal services DEV and OPS can use to monitor and analyze metric and debug logging

Design and implement our deployment pipeline to go from source code control to an actual deployable fully tested artifact

Includes developing the automated build and test system using containers technology
Includes building out the scripts and configuration hooks needed to deploy in different environments (like a major public cloud service), using Chef

Design and implement our "push button" deployment process, to take our artifacts and automatically deploy them in a way that will not cause any downtime
Work with security staff to implement advanced security
Support systems and services that enable core functionality
Research and help select the technology upon which our next-gen deployment platform will be based
Participate in Agile development sprints with the rest of the engineering team
Write code; review code
Participate in on-call rotation (also includes all developers)
Requirements:
Bachelors or Masters in Technology in Computer Science or related specialization
Proficiency in shell scripting and at least one of the following: Java, Python or Ruby
Passion for building quality software
Understanding of deployment issues in a complex environment (DR, Load Balancers, Services Dependencies, etc.)
Knowledge of modern configuration management tools such as Chef or Puppet
Knowledge of modern source control system like Git
Experience with distributed UNIX systems administration
Solid understanding of networking concepts and troubleshooting
Experience with Amazon Web Services, autoscaling and infrastructure templating (CloudFormation or Terraform)
Experience configuring and deploying docker containers is desirable
Experience working with distributed Database systems, RDBMS etc would be added advantage.
Experience deploying, scheduling, and managing big data aggregation jobs would be desirable.
Knowledge of web development technologies including Spring and Hibernate is a plus
Must be motivated, detail-oriented, have the ability to thrive in a team environment
Very strong analytical skills, good judgment, passion for your work
Customer focus and insight about usability 

Strong communication skills 

Relevant Jobs
Sorry, there are currently no new opportunities near your current location. Try a new search.