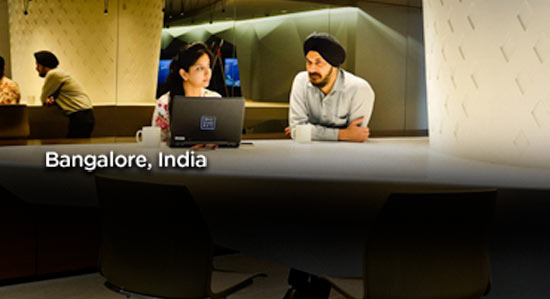 Push us. Amaze us. Inspire us.
Careers in India
When you walk through the doors of one of our state-of-the-art office sites in India, you'll find modern, comfortable, positive spaces that invite our employees to share ideas, spread creativity, innovation, and find balance in their daily lives. We are proud of our presence in the community, proud of VMware's future in India, and proud of our commitment to initiatives that celebrate diversity in the workplace and India's technology industry.
VMware India continues to play a strategic role in VMware's global growth strategy for the mobile cloud era and our operations are currently second in size only to those at VMware's Palo Alto headquarters in the United States.
QE Automation Engineer - IoT Edge
Bengaluru, India
Apply Now
Job ID R1901093
QE Automation Engineer – IoT Edge
Job Description
VMWare Internet of Things development team is seeking for a strong Quality Engineer for working on validating our IoT Agent Software on Industrial and virtual Gateways or Edge Systems from our strategic partners and OEMs. You will closely work with our End users, developers, QEs and Product managers to deliver high Quality releases. 
Your responsibilities will include but not be limited to:
Understand the Evolving Product Features and Identify right Test scenariors for IoT Agent Testing
Validate the Functional and performance of IoT Agent APIs to be used by Systems Integrators for End to End IoT solution
Develop Third party Test Applications, Framework using C(Mandatory) and C++/Python or Perl
Develop Shell scripts on various Linux Distros for validating, analyzing and reporting of System behaviors
Review the Product Requirements, Design and Test Deliverables towards the Technical Success criteria
Drive Automation of Certification Procedures and improves cycle times as New Gateways are added
Execute and Report Gateway Certification Tests on the supported Gateways
Analyze and Trouble shoot any issues depicted on various Gateway and Device Communication Interfaces
Position Requirements
4 to 8 years' work experience in product development/QE engineering
Strong expertise in C, C++ based application development, memory management intricacies
Good Exposure to testing of Embedded Products having smaller Foot prints
Expertise in Developing or consuming REST and gRPC based Services
Experience in test automation of Embedded Applications or products.
Expertise with various Linux operating system distros from User and Admin level for profiling and scripting
A working understanding of code and scripting with Python and Shell
Expertise in analyzing and troubleshooting large-scale distributed systems
Able to prioritize and execute tasks in a high-pressure environment.
Experience working in a team-oriented, collaborative environment.
Motivated and self-driven - Find problems to solve. Solve them.
Additional Requirements
Expertise with Integrating and Testing IoT Gateways with Devices on standard communication protocols like Zigbee, Bluetooth. MQTT, Wi-fi etc..
• Familiarity with one of the major server virtualization platforms (preferably VMware ESXi/vSphere) is a plus.
• Expertise in deploying and managing Kubernetes clusters and Docker containers for container orchestration is a huge plus.
Your saved jobs
You have not saved any jobs.
Recently viewed opportunities
You have not viewed any jobs.