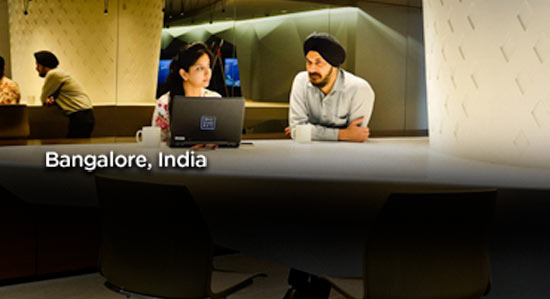 Push us. Amaze us. Inspire us.
Careers in India
When you walk through the doors of one of our state-of-the-art office sites in India, you'll find modern, comfortable, positive spaces that invite our employees to share ideas, spread creativity, innovation, and find balance in their daily lives. We are proud of our presence in the community, proud of VMware's future in India, and proud of our commitment to initiatives that celebrate diversity in the workplace and India's technology industry.
VMware India continues to play a strategic role in VMware's global growth strategy for the mobile cloud era and our operations are currently second in size only to those at VMware's Palo Alto headquarters in the United States.
Product Line Manager, Cloud Management
Bengaluru, India
Apply Now
Job ID R1901585
Business Summary: Cloud Management Platform – Automation
Together our $1.5 billion Cloud Management Business Unit (CMBU) is leading transition to software defined data centers (SDDC) across public and private clouds. CMBU is at the heart of the IT transformation led by cloud, SaaS, virtualization, devops and containers. These trends represent a huge opportunity for you to help define our strategic and GTM approach through astute product marketing. You will be working on the rapidly transforming Infra and App Operations space, defining the management and operations of SDDC and Apps and the way enterprises run and manage their cloud infrastructure. Amidst the rapid growth of our offerings, you'll expand vRealize Suite's market leading position, further establishing VMware as a leader in cloud management segment.
For our Code Stream and PaaS services support for Automation Blueprints, you will define the product requirements, work with engineering, user experience research and product marketing on product development, roadmap and launches while continuously validating the use cases with customers to execute on the requirements. You will partner closely with VMware's customers, partners, our sales force, product marketing, and other cross-functional organizations.
Job Role and Responsibilities:
Define and lead core part of product capabilities for Code Stream and Cloud Assembly Blueprints support for Public Cloud Resources targeted for growing DevOps market
Develop use cases and work with engineering to prioritize and release features
Work closely with broader R&D teams and collaborate.
Partner with product marketing and technical marketing to educate field and customers about the positioning and the differentiation for the products
Required Skills:
You will be a tenacious, ambitious, self-starter with a real passion for the cloud operations market, who can also serve as a strong advocate for our customers
Proven, tenured experience in technology product marketing or product management in the enterprise software market segment.
Proven track record of growing new products into successful businesses, especially for enterprise products
Technical background in software development, enterprise platforms, and applications software space as well as an understanding of DevOps process and practices
Aptitude to quickly come up to speed on groundbreaking technology concepts
Ability to deal with and execute under ambiguity
Preferred Skills:
Excellent written and verbal communications skills
Ability to travel 20% of the time
MBA and BA/BS in Computer Science (or equivalents) preferred
​​
Your saved jobs
You have not saved any jobs.
Recently viewed opportunities
You have not viewed any jobs.