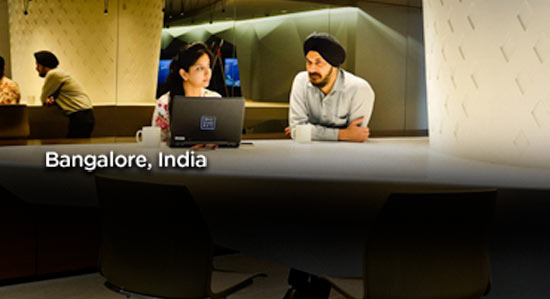 Push us. Amaze us. Inspire us.
Careers in India
When you walk through the doors of one of our state-of-the-art office sites in India, you'll find modern, comfortable, positive spaces that invite our employees to share ideas, spread creativity, innovation, and find balance in their daily lives. We are proud of our presence in the community, proud of VMware's future in India, and proud of our commitment to initiatives that celebrate diversity in the workplace and India's technology industry.
VMware India continues to play a strategic role in VMware's global growth strategy for the mobile cloud era and our operations are currently second in size only to those at VMware's Palo Alto headquarters in the United States.
Network Virtualization Engineer
Job ID R1904477
Date posted 04/09/2019
Role: Technical Support Engineer - NSX
About Us
VMware is the leader in cloud infrastructure, business mobility and virtualization software. A pioneer in the use of virtualization and policy-driven automation technologies, VMware simplifies IT complexity across the entire data center to the virtual workplace, empowering customers with solutions in the software-defined data center to hybrid cloud computing and the mobile workspace.

With 2014 revenues of $6.04 billion, VMware has more than 500,000 customers, 75,000 partners, and 18,000+ employees in 120+ locations around the world. At the core of what we do are our employees who deeply value execution, passion, integrity, customers, and community. Want to be part of a compassionate community that thrives on architecting what's next in IT? Learn more at
VMware NSX is a network virtualization platform that delivers the operational model of a virtual machine for the network. Virtual networks reproduce the network model in software, allowing complex multi-tier network topologies to be created and provisioned programmatically in seconds. NSX includes a library of logical networking services – logical switches, logical routers, logical firewalls, logical load balancers, logical VPN, QoS, and distributed security.

A self-service interface allows users to create custom combinations of these services in isolated software-based virtual networks that support existing applications without modification or deliver unique requirements for new application workloads. Similar to virtual machines in compute, virtual networks are programmatically provisioned and managed independent of networking hardware. Decoupling from hardware introduces agility, speed and operational efficiency that has transformed data center economics.
Why work for our Division

The VMware Global Support Services (GSS) team supports over 250,000 companies running VMware in over 100 different countries. GSS provides time-zone optimized coverage throughout five support centers globally. The GSS team supports the entire suite of VMware products for global customers and partners and participates in developing new products and new versions of current products. GSS team members also participate in product delivery strategy, product documentation, discussion forums with customers, and expert documents publishing. A commitment to excellence and customer advocacy pervades the GSS team, and the work environment fosters intellectual stimulation through exchanges with internal and external customers. The VMware GSS team members are the "best of the best" supporting business-critical applications in a virtual infrastructure.

As a NSX engineer you will participate in and provide technical leadership for:
• Resolve all Technical issues through diligent research, reproduction, and troubleshooting. 
• Provide technical support to VMware customers - via email and telephone.
• Own and drive the Customer Experience throughout the lifecycle of the Service Request to resolution.
• Be an advocate for network virtualization, educate GSS on the NSX platform
• Troubleshoot and engage with NSX Engineering on customer reported issues, including identifying viable workarounds.
• Provide clear and constructive product feedback to VMware Product Management teams based on customer use-cases and requirements.
• Maintain deep technical and business knowledge of cloud computing and networking applications, industry directions, and trends.
• Document all technical inquiries; develop and review content for knowledgebase.


Requirements

• 3+ years' hands on experience working in customer support industry supporting network infrastructure (L2/L3 devices)
• B.S. in Computer Science, Electrical Engineering, Math, or equivalent work experience
• Understanding of modern IT production data center and Internet (ISP/ASP) hosting operations including • • Compute, Storage and Networking
• Understand datacenter networking fabric topologies and common architectures deployed both Layer 2 and Layer 3 based
• Networking: In-depth understanding of L2/L3 networking protocols including switching technologies, routing fundamentals, IP subnetting and Address Management, firewalling, load balancers, Security trust zones, Management Networks, VPN and network design
• Experience with network components such as, ASR routers, switches, firewalls, ASA, etc).Virtual networking components VSG, Nexus1000V, BGP & OSPF protocol, Cisco UCS and storage
• Familiarity with systems management concepts, processes and standards (e.g. SNMP); capacity/performance management and tuning; and storage and network management 
• Extremely well organized, detail-oriented and possessing a high level of integrity
• Outstanding communication skills, both written and verbal
• Experience designing and/or supporting large enterprise deployments.
• Hands-on experience with Linux/UNIX based operating systems including strong CLI skill set and working knowledge of general system and network troubleshooting tools (e.g. WireShark)
• Good practical working ability with Linux/UNIX utilities, including editors and command shells
• Ability to travel 20 per cent of the time
• CCNP or equivalent certification and/or related work experience
• Willingness to work in 24x7 support environment
• Ability to communicate with Network Architects

Highly Preferred Skills
• Hands on experience with VMware ESX Server or VMware products 
• UNIX kernel diagnostics/debugging
• Experience with operation and administration of large Windows Server and Desktop Environments o Experience in administration of complex Storage Area Networks, including Fibre-channel and Ethernet based protocols
• Previous exposure to Cloud Management Platforms such as OpenStack, CloudStack, vRA including Networking enabled by software
• Familiarly of Clustering Technologies such as MS Cluster Server, Redhat clustering, Oracle RAC
• Hands-on and working with key technology solution/language/tools e.g. CloudStack, OpenStack, AWS, KVM, libvirt, Chef, Puppet, Python, CMS, DynamicOps, API, etc.
Relevant Jobs
Sorry, there are currently no new opportunities near your current location. Try a new search.