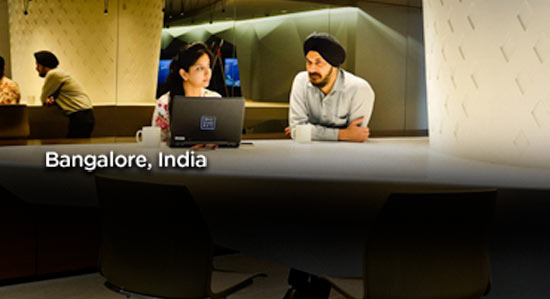 Push us. Amaze us. Inspire us.
Careers in India
When you walk through the doors of one of our state-of-the-art office sites in India, you'll find modern, comfortable, positive spaces that invite our employees to share ideas, spread creativity, innovation, and find balance in their daily lives. We are proud of our presence in the community, proud of VMware's future in India, and proud of our commitment to initiatives that celebrate diversity in the workplace and India's technology industry.
VMware India continues to play a strategic role in VMware's global growth strategy for the mobile cloud era and our operations are currently second in size only to those at VMware's Palo Alto headquarters in the United States.
Member of Technical Staff
Bengaluru, India
Apply Now
Job ID R1812073
Responsibilities:
QA'ing of vSphere product especially in the area of vSphere Networking.
Contribute to interoperability testing networking solutions of the SDDC product portfolio.
Contribute to White-box, Black-box, Functional, Grey-Box, System testing activities of core networking components of vSphere product.
Automate Test cases, build automation frameworks.
Participating in the designing & reviewing of Test plans etc. Identify technical risks for quality of products and execute tests for quality product delivery.
Communicate technical dependencies and concerns/issues of implementations effectively.
Improve product and solution supportability and debuggability/serviceability by actively engaging with cross-functional teams across the company 
Requirements:
- 2 to 3 years of hands on engineering experience with testing enterprising applications.
- Bachelor's degree in Computer Science or equivalent 
- Strong networking domain(L2/L3/security) knowledge and experience in debugging.
- Hands on experience in automation by using Python/Perl. 
- Hands on experience in Continuous Integration / dev-ops tools like Jenkins &/or Puppet
- Strong technical expertise across Client-Server architecture
- Demonstrates expert knowledge in troubleshooting complex networks
- GO, Java based automation experience is desirable
- Linux/Unix system knowledge & experience is desirable
- Network virtualization knowledge & experience is desirable.
Your saved jobs
You have not saved any jobs.
Recently viewed opportunities
You have not viewed any jobs.