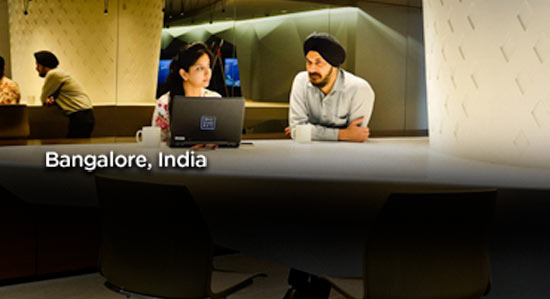 Push us. Amaze us. Inspire us.
Careers in India
When you walk through the doors of one of our state-of-the-art office sites in India, you'll find modern, comfortable, positive spaces that invite our employees to share ideas, spread creativity, innovation, and find balance in their daily lives. We are proud of our presence in the community, proud of VMware's future in India, and proud of our commitment to initiatives that celebrate diversity in the workplace and India's technology industry.
VMware India continues to play a strategic role in VMware's global growth strategy for the mobile cloud era and our operations are currently second in size only to those at VMware's Palo Alto headquarters in the United States.
MTS (GoLang, C++, REST, BigData, Distributed Systems)
Job ID R1900906
Date posted 02/15/2019
Business Summary:
VMware (NYSE: VMW) is the global leader in virtualization and cloud infrastructure, two areas that consistently rank as top priorities among CIOs.

VMware delivers award-winning, customer-proven solutions that accelerate IT by reducing complexity and enabling more flexible, agile service delivery. Our solutions help organizations of all sizes, lower costs, increase business agility and ensure freedom of choice. We are searching for people who are ready to accelerate, innovate and lead to join our team of more than 20,000 employees in 40+ locations worldwide working to develop innovative solutions that deliver the future of IT through cloud computing. Having the audacity to challenge constraints and problem-solve for tomorrow starts today, and it starts with you. Learn more at www.vmware.com/careers
In vCenter team at VMware, we are in the business of providing a centralized platform for managing customer VMware vSphere environments, allowing customers to automate and deliver a virtual infrastructure across the hybrid cloud with confidence.
Job Role and Responsibility:
We are searching for several talented, dynamic, hands-on Developers for our vCenter core team.
You will join with a team of highly skilled engineers and product managers on the design, development and delivery of projects in vCenter and play a key role in ensuring the best possible customer experience.
You will be part of a high visibility development team to develop and deliver critical features into the product
Provide R&D focus for released products by resolving product issues in complex customer deployments,
Drive customer raised issues to closure in your components by providing workarounds and fixes in a timely manner
Improve product and solution supportability and serviceability by actively engaging with multi-functional teams across the company
Build diagnostic tools to optimize troubleshooting and deriving faster root cause analysis and fixes
You possess a B.S/MS/BTech/MTech in computer science (or equivalent degree) with 5+ years of relevant industry experience
Required Skills:
In this role, you will work independently and as a member of a team of engineers in designing, developing and sustaining critical areas that form a part of vSphere vCenter Suite
You have a strong hands-on software development skills in C++/GoLang with emphasis on bigdata projects.
You understand and have experience in REST, Swagger, Time series databases, API modeling and design.
You have development knowledge in distributed systems, operating systems and system management software
You have very strong coding skills including diagnostic and troubleshooting skills
You are organized and passionate about details; able to effectively perform multiple/concurrent tasks within deadlines in a dynamic environment
Preferred Skills:
Our team looks for individuals who embody our values of humility, empathy, collaboration above isolationism, respectfulness, trustworthiness, and good-natured fun. Additionally, we would like:
You to have worked in an environment with VMware virtualization
You are familiar with other languages like C,, Java
Relevant Jobs
Sorry, there are currently no new opportunities near your current location. Try a new search.