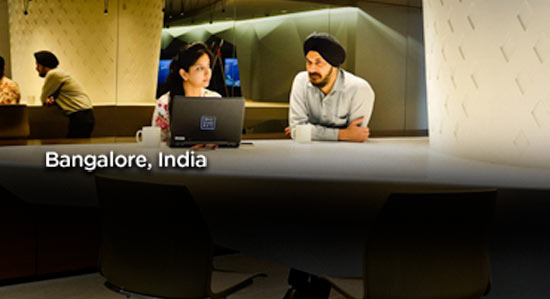 Push us. Amaze us. Inspire us.
Careers in India
When you walk through the doors of one of our state-of-the-art office sites in India, you'll find modern, comfortable, positive spaces that invite our employees to share ideas, spread creativity, innovation, and find balance in their daily lives. We are proud of our presence in the community, proud of VMware's future in India, and proud of our commitment to initiatives that celebrate diversity in the workplace and India's technology industry.
VMware India continues to play a strategic role in VMware's global growth strategy for the mobile cloud era and our operations are currently second in size only to those at VMware's Palo Alto headquarters in the United States.
Member of Technical Staff (Java, REST, Spring Boot)
Bengaluru, India
Apply Now
Job ID R1903316
Business Summary
ISBU ERI R&D team is driving innovative product that simplify building Enterprise Ready Clouds.
We are looking for a Member of Technical Staff to join the ERI team and related initiatives.
As part of the AERO team (Automated Enterprise Readiness and Orchestration) :
You will be responsible for design and implementation of high quality building blocks that powers SDDC products.
Make sure the individual product implementations are consistent and coherent across the whole product suite
Ensure that our Partners can build value added solutions for our customers using the standard REST API exposed by our Products
Deliver Product Agnostic High Quality Code that can potentially be used to build key use cases for multiple ER SDDC cloud (VCF, VVD, VMC)
If cutting edge products, solving real world issues, demonstrating technical geekiness and working in a very
aggressive phase with top-notch engineering team excites you this job is for you.
Job Role and Responsibility:
Responsible for design and development of Certificate, Configuration, Security, Compliance and RBAC capabilities to our cloud.
Contribute to requirements gathering, architecture, design, and implementation of enterprise class software that provides centralized management for hyper converged product in data centers.
Work as part of team to deliver on software projects using proven development processes (Agile/SCRUM).
Collaborate with stake holders on requirements and respond with deliverables in agile methodology for frequent releases.
Have experience with distributed systems, experience building a modular, scalable and highly available software application.
Work closely with project team members (architects, Product Management, Functional QA, System Test), and coordinate all aspects of the projects including core VMware product integrations.
Proven ability to handle multiple, complex technical problems and have the flexibility to work in a very dynamic environment.
Required Skills:
Experience in working with world-class software development teams and projects through multiple releases.
The successful MTS engineer is an innovative and seasoned software engineer with 3+ years of experience, with proven track record for delivering features in complex on-premise and cloud hosted products, services and systems.
2+ years of hands-on experience with Java based development projects using Spring Boot, MVC, RESTful APIs, horizontal scalability, micro services, high availability principles.
Good experience with OO design patterns, Programming, Data structures and Algorithms
Ability to discuss, present, document and provide design. Drive good software design patterns for consistency, code quality and supportability.
BS or MS degree in Computer Science and minimum of 3+ years of software development experience is required.
Excellent presentation, interaction and communication skills along with the ability to collaborate effectively across functional organizations.
Your saved jobs
You have not saved any jobs.
Recently viewed opportunities
You have not viewed any jobs.