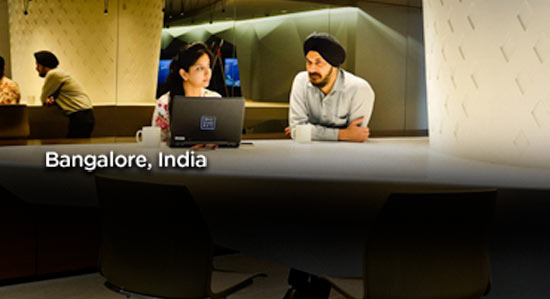 Push us. Amaze us. Inspire us.
Careers in India
When you walk through the doors of one of our state-of-the-art office sites in India, you'll find modern, comfortable, positive spaces that invite our employees to share ideas, spread creativity, innovation, and find balance in their daily lives. We are proud of our presence in the community, proud of VMware's future in India, and proud of our commitment to initiatives that celebrate diversity in the workplace and India's technology industry.
VMware India continues to play a strategic role in VMware's global growth strategy for the mobile cloud era and our operations are currently second in size only to those at VMware's Palo Alto headquarters in the United States.
Member of Technical Staff - DTS Networking
Job ID R1901078
Date posted 02/15/2019
Principal Duties
Coordinates activities with Account team from Sales, Engineering, Solution Architects and Global Support Services to ensure all customer needs are met. Acts as point of escalation for issues and concerns on specific problems relating to assigned region or country and is responsible for ensuring follow up and fault resolution. Coordinates all aspects of ongoing service issues, technical assistance and direction to customers and to GSS regarding NSBU products.
Integrates customer and VMWare business requirements with technical requirements to determine best course of action when resolving customer issue.
Ensures suitable level of service personnel and activity during problem resolution at all locations. Prepares and presents key business issues to senior management to provide and obtain information and to build consensus regarding project direction. 
Interfaces with customer on behalf of senior management via customer meetings and written communication during business disruptive escalations.
Identifies and facilitates technical queries and problem resolution from the customer and Global Support Services to NSBU Engineering. Advises NSBU senior management of any developments and action plans. Generates support plans to resolve complex service related problems. 
Analyzes customer technical problems with respect to business, operational and financial areas of customer service and has responsibility for making decisions relating to these issues. Controls and directs internal resources in terms of setting time requirements and expectations. 
Documents and manages action items, assigned owners, and timeline of events during a break/fix customer impact event; drives corrective action plan. Participates in Root Cause Analysis including incident and problem management activities. Participates and leads highly technical escalation and management conference calls; assumes leadership role in providing case status updates to management, account team and director level customers. Able to clearly articulate concerns and issues to the customer. Ensures suitable levels of service personnel and activity during problem resolution at all locations.
As a 24x7x365 organization, holidays and on-call responsibilities may be required.
Professional Skills  Understanding of
VMWare ESX and networking solutions
good knowledge of troubleshooting networking issues (L2-L7)
Innovative debugging skills
At least 5+ years of experience in Customer Support
Strong Knowledge of L3 and L2 Protocols (TCP, UDP, ARP, DHCP, ICMP, IPv4/IPv6, STP, VLTP, LACP) and Forwarding
Strong understanding of L2 and L3 networks, VLANs
Networking troubleshooting / debugging - e.g. tcpdump, wireshark, traceroute, route, netstat5+ Years Virtualization experience desired - Installation/Configuration/Administration (ESX and KVM a plus)
Operating Systems: Deep Linux knowledge - Installation/Configuration/Administration (RHEL and Ubuntu a plus)
Experience in Python or equivalent
Self-sufficient, but knows when to ask for help - A True team player.
Knowledge of cloud architecture - vCD, NSX or Openstack a plus
SCM: git, Jenkins, Jira, Selenium
Databases: MySQL or similar
Understand and put technical perspective to customer problem
Reproduce customer reported issues in internal labs and think out of the box during this activity
File serviceability / debuggability and usability related bugs as and when necessary
Create Root Cause Analysis documentation
Create Knowledge Based content and document field facing articles
Cross Functional Engagements
Participate in Test plan review / Functional Spec and Design  Reviews
Contribute to Product Quality Improvements by opening product defects and serviceability requests
Work with Technical Services
Work closely with Release Engineering
Capability to work individually with less supervision
Excellent written and verbal communication.
Possess excellent logic and data analysis capabilities
Solid Customer facing experience
Ability to work in a high-pressure environment.
Problem solving – Ability to be resourceful and figure things out how to get things done
Self-confidence – Ability to express opinions and influence effectively
Passion to do more and think out of the box
Education:
Bachelor degree in Computer Science (or higher) and equivalent work experience
We are bold, we are not afraid to question the status-quo. We promote innovation that disrupts industry. We embrace diversity and folks who think different. We dream big and we have the passion and drive to make those dreams a reality and have fun doing it!
VMware is an equal opportunity Employer. We do not discriminate on the basis of race, religion, color, national origin, gender, sexual orientation, age, marital status, veteran status, or disability status.
Relevant Jobs
Sorry, there are currently no new opportunities near your current location. Try a new search.