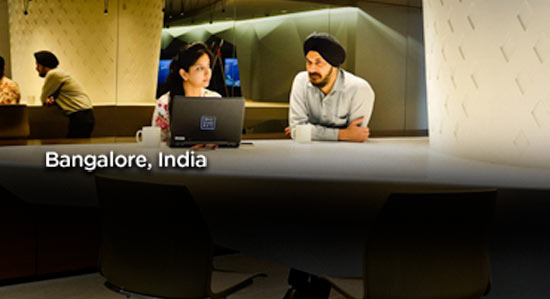 Push us. Amaze us. Inspire us.
Careers in India
When you walk through the doors of one of our state-of-the-art office sites in India, you'll find modern, comfortable, positive spaces that invite our employees to share ideas, spread creativity, innovation, and find balance in their daily lives. We are proud of our presence in the community, proud of VMware's future in India, and proud of our commitment to initiatives that celebrate diversity in the workplace and India's technology industry.
VMware India continues to play a strategic role in VMware's global growth strategy for the mobile cloud era and our operations are currently second in size only to those at VMware's Palo Alto headquarters in the United States.
Marketing Operations Manager
Job ID R1904891
Date posted 04/16/2019
Primary Responsibilities: 
Build, monitor and analyze marketing automation campaigns in Eloqua including messaging, templates, email nurture logic, segmentation and KPIs.
Optimize Marketing Automation platform implementation through gathering of requirements across the lifecycle, planning and programming campaign logic, data mapping and augmentation, nurture or demand gen campaigns, program templates, targeting/segmentation and reporting.
Manage internal Marketing Operations request portal, including assigning tickets, creating workflows, building reporting and implementing governance to ensure that team's tickets are within SLA and logically grouped
Support and manage campaign and Lead operations teams.
Help define marketing automation/email metrics and dashboards to enable marketing to assess results against KPIs, channel/program effectiveness, and overall sales and marketing performance.
Partner closely with internal and external cross functional teams (e.g. Segment Marketers, Product Managers, Data Ops, Analytics, Creative & Deployment Agencies) to strategize and execute marketing automation campaigns, as well as optimize and analyze campaign results.
Define, execute and measure end-to-end email or direct mail campaign cycle including development of email campaign brief, segmentation, pre-deployment testing and QA, plus analysis campaign results.
Define, execute and measure customer-backed email and direct mail campaigns to drive usage, conversion, retention, revenue and unit growth
Provide input on customer segmentation.
Participate in journey mapping process to create best in class E2E customer experiences.
Build and ensure on-time detailed program schedules - including managing stakeholder expectations and communicating out project timelines.
Drive creative process with agency partners including giving feedback and incorporating best practices.
Work with analyst to set up A/B testing plan, report on and analyze programs against program and testing objectives.
Maintain strong knowledge of marketing automation, email marketing best practices, lead management and trends.
Operating & Leadership Requirements.
Prior Experience - About 8 – 10 yrs of experience in Marketing Operations.
Expertise with marketing automation (preferably Eloqua, SFMC) and Salesforce.com 
Proven ability to thrive and deliver in ambiguous and/or fluid business conditions while maintaining a positive attitude.
Understands E2E customer lifecycle and Marketing Ops processes.
Apply and spread a process and data driven approach and culture.
Establish yourself as a SME and thought leader.
Strong analytical and synthesizing skills with demonstrated ability to make recommendations to leadership.
4+ years of people management experience, with passion for managing and developing talent 
Collaborative team player comfortable with fast-paced environments and rapidly changing priorities
Self-driven, leads and strives to improve personal and business acumen within role/team.
Lead and execute within the program goals and objectives
Recognize, reinforce and respect the reporting hierarchy & team culture 
Highly collaborative, with the ability to lead effectively across organizations – build the coalition required for success.
How the role will be measured;
Operations:
Established planning processes are in place, managed and working efficiently Established processes are activated, clearly communicated within region .
Meeting monthly goals/commitments to deliver campaigns on time.
Established processes are activated, clearly communicated to sales/marketing in Geo's .
Positive peer feedback.
Relevant Jobs
Sorry, there are currently no new opportunities near your current location. Try a new search.