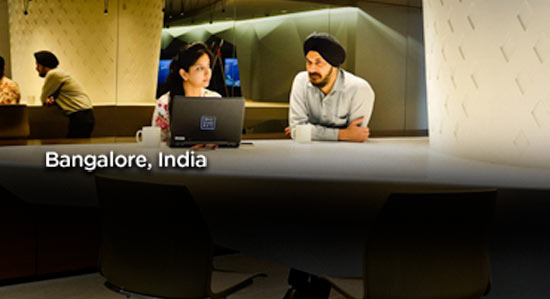 Push us. Amaze us. Inspire us.
Careers in India
When you walk through the doors of our new, state-of-the-art campus in Bangalore (opened in April 2015), you'll find a modern, comfortable, positive space that invites our employees to share ideas, spread creativity, innovation, and find balance in their daily lives. We are proud of its presence in our community, proud of the promise it means for the future of VMware in India, and proud of our commitment to initiatives that celebrate diversity in our workplace and India's technology industry.
Currently, our operations in India are second in size only to those at VMware's Palo Alto headquarters in the U.S and we are continuing to grow each year. VMware India plays a strategic role in VMware's global growth strategy for the mobile cloud era and is in line with the company's commitment to invest $500 million in India by 2017.
Marketing Manager, Business Mobility, India
Bengaluru, India
Apply Now
Apply Now with Linkedin Profile
Apply As An Employee Referral
Job ID 80897BR Job Overview
VMware is seeking a highly experienced and dynamic Specialist Marketer to build, lead and manage key strategic programmes for Business Mobility across India, incorporating our desktop and mobile product portfolio. Reporting into the Director Marketing, India this role will drive the overall country strategic marketing plan to deliver and maintain aggressive market growth, market share and measurable return to VMware in the specialist product line of Business Mobility. The role holds responsibility in strategic planning and ensuring end-to-end execution of the VMware Business Mobility marketing programmes. The role will involve working closely with VMware's global headquarters, VMware's APJ Business Mobility team and Partner marketing team. The expectation is to build a strategic framework for VMware's mobility business, as well as creating a 'library' of assets against that framework for physical and digital platforms, and driving execution in partnership with Sales and Channels across India.

Responsibilities
• Act as the front line specialist, taking responsibility for developing relevant GTM plans for the region in conjunction with the global, APJ and country marketing teams, ensuring the correct level of regional and country needs are met.
• Develop creative, cutting edge marketing programs that build awareness and pipeline across physical and digital platforms and drive execution in partnership with country teams
• Work closely with Indian partner marketing team to ensure there is a consistent view across direct and in-direct marketing channels.
• Build the India strategy and pull resources to develop a content library against that strategy, enabling markets to select key assets for execution.
• Ensure local requirements are met and supported in the desktop mobility space.
• Effectively aligns and leverages internal and external resources to resolve complex issues and scale the business through collaboration.
• Be responsible for key aspects of VMware marketing operations for Business Mobility in the region, including executing on the VMware go-to-market strategy, and coordinating all elements of an integrated, global marketing program.
• Work closely with sales leadership to align local plans to deliver and maintain aggressive market growth, market share and measurable returns.
• Develop and execute relevant programs focused on market segments, strategic customers and partners, to increase customer attraction and demand for VMware offerings. A key focus will be on implementing these programs with measurable results in high quality leads, marketing sourced and touched pipeline.
• Develop and execute customer-driven, locally oriented marketing strategies and programs that will increase customer demand, sales, and positively impact VMware brand equity in India.
• Oversee the organization and implementation of marketing events, including exhibitions, seminars, tradeshows and product launch within the mobility space.
• Successfully champion an integrated, solutions-based marketing operation for the region, bringing organizational stability and marketing expertise to the function
• Present senior management with compelling, results-driven business plans, complete with market assessments, product & service launch plans. Plans must be aligned with global, APJ and country stakeholders.
• Be a key member of the VMware integrated marketing team, working alongside and leveraging the digital demand generation team and the partner marketing team.
• Provide strong feedback and direction on company-wide marketing and product directions, specifically representing the considerations of the India geography and Business Mobility subject matter expert and more generally as a company thought leader
• Managing marketing budgets including calculation of ROI on in market programs
• Localization of messaging for the market including managing translation and translation approvals for content
• Champion getting customer win/success stories from Sales and create reference content for Customer Marketing team and Communications (PR) team in relation to Business Mobility.

Education and Experience
• MBA in Marketing from a Premier B-School will be an advantage.
• Proven track record in B2B marketing in large enterprises.
• 10+ years' experience working in matrixed marketing teams to achieve high growth initiatives and revenue goals in a fast paced, highly competitive, matrixed and ever-changing sales environment.
• A team player – must be country focused, whilst ensuring the company meets strategic, brand and revenue goals for business mobility.
• Able to collaborate as a colleague and peer with all levels of the business, whether in C-level planning meetings or providing support to in-country marketing team members.
• Strong and current marketing skills and experience gained with international software or hardware vendors presently operating in a Marketing specialist role with a leading IT vendor.
• Ability to build and operationalise / localise key campaigns across physical and digital platform to drive pipeline for the business.
• Experience in propensity modelling, account selection with a working understanding of how foundational tools (database, Eloqua, SFDC etc) are used to create maximum impact.
• Experience in leveraging resources to build, localise and maintain content libraries for physical and digital platforms and help markets to localise, focussed on mobility
• Experience in strategic marketing management & market analysis – demonstrated ability to build & execute a marketing strategy with clear goals & objectives to align to business objectives and support the growth targets
• Exhibits sufficient marketing and business acumen, credibility and presence to enable effective relationship building, influencing and instilling confidence at all business levels
• Metrics/ROI focused and knows how to generate leads & track to closed loop
• Strong understanding of Technology. You should be able to appreciate and understand the technical and business issues surrounding Business Mobility products and technologies
• High levels of energy, drive and commitment, combined with excellent written and verbal communication skills.
Your saved jobs
You have not saved any jobs.
Recently viewed opportunities
You have not viewed any jobs.