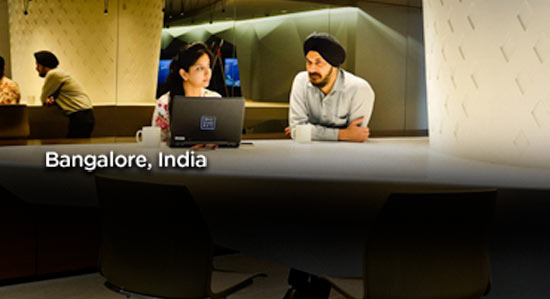 Push us. Amaze us. Inspire us.
Careers in India
When you walk through the doors of one of our state-of-the-art office sites in India, you'll find modern, comfortable, positive spaces that invite our employees to share ideas, spread creativity, innovation, and find balance in their daily lives. We are proud of our presence in the community, proud of VMware's future in India, and proud of our commitment to initiatives that celebrate diversity in the workplace and India's technology industry.
VMware India continues to play a strategic role in VMware's global growth strategy for the mobile cloud era and our operations are currently second in size only to those at VMware's Palo Alto headquarters in the United States.
Manager, Business Analytics
Bengaluru, India
Apply Now
Job ID R1903307
Desired Knowledge and Abilities
Bachelor Degree in Business, Finance, Engineering, or Accounting; a MBA or CA is preferred
• Experience in people management, particularly in a BI or financial environment
• Goof coaching skills
• Ability to think strategically
• Business like engagement with stakeholders
• Excellent knowledge of Excel
• Good understanding and practical experience of SQL and SQL Server 2000, including queries & views
• Excellent knowledge of Excel, specifically Pivot tables connecting to data sources via ODBC links
• Knowledge of Tableau/ SAP Hana/ OBIEE/ QlikView/ Cognos/ SAP BI environments
• Able to write Macros using VBA
• Experience in financial, planning and compensation data
• Business Acumen, ability to translate business needs into a set of workable, specific requirements
• Solid communication skills
• Coaching skills
•Good understanding of Master Data Management, data reconciliation, data quality
• Well versed with MS PowerPoint/ Visio
• Project Management skills
• Experience in process mapping/ documentation
• Finance background in an IT company, previous experience in dealing with sales/sales operations a plus. Desire to further develop within BI or Sales/ Marketing Operations

·Special Knowledge/Skills
Ability to build analytical models that can be driven into standard planning tools
Proficiency in computer-based analysis and complex financial modelling
Experience with Microsoft Excel, Oracle Financials, and FP&A software tools
Strength in researching, understanding, and succinctly explaining complex transactions and business impact
Strong initiative and desire to work in a team-oriented environment
Ability to work in a remote environment
Self-starter with excellent time and project management skills
Excellent English (written and verbal) communication skills required
Integrity
Good organisational, communication and interpersonal skills
Team building and leadership skills
Major Responsibilities and Duties
Job Related
• Manage a team of analysts, setting objectives, development plans, and reviewing performances, providing guidance and support, arranging training and ensuring alignment to team and company goals
• Work with sales, management and sales operations stakeholders to deliver BI solutions to meet their business requirements. The BI solutions are generally developed in Excel, Tableau, OBIEE, Anaplan
• Engage in strategic conversations with stakeholder to understand their needs, goals and priorities before discussing solutions requirements
• Develop BI and reporting solutions to support planning activities such as planning, quota setting, product interlock, compensation etc.
• Take responsibility of the update and enhancement of critical management reports
• Support the delivery and continuous improvement of existing BI solutions
• Provide ad hoc reports/ analyses to sales and management stakeholders
• Manage data and metrics enquiries
• Provide training to other team members on your area of expertise
• Proactively investigate, report and – where possible - address data quality issues
VMware the global leader in cloud infrastructure delivers customer-proven virtualisation solutions that significantly reduce IT complexity. The Business Analytics Manager will be managing and coaching a team of Business Intelligence and Data Analysts working on a range of Business Intelligence, Data Science and data management activities. This role will play a critical role in the creation, delivery and maintenance of management dashboards, executive analyses, machine learning models and ad hoc reporting, ensuring BI and Analytics solutions are meeting the highest quality standards and also enhancing current solutions to meet the ever-changing requirements of the business stakeholders. The reporting solutions will use the most suitable environment, mainly Tableau or SAP Hana/Webi using SQL backend data warehouses/databases & queries for data management / manipulation. The Business Analytics Manager will also support various planning and forecasting activities through the design and operation of appropriate data solutions. The role will be required not only to provide people management and coaching of the BI Analysts but also to be involved directly in some of the Analysts activities. The Business Analytics Manager will work with AMER stakeholder as well as with the Corporate organisations, but predominantly with the Management team and Sales Operations.
Your saved jobs
You have not saved any jobs.
Recently viewed opportunities
You have not viewed any jobs.