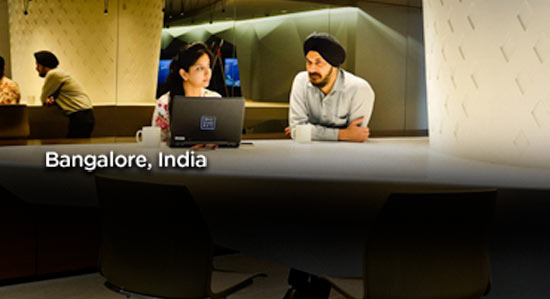 Push us. Amaze us. Inspire us.
Careers in India
When you walk through the doors of one of our state-of-the-art office sites in India, you'll find modern, comfortable, positive spaces that invite our employees to share ideas, spread creativity, innovation, and find balance in their daily lives. We are proud of our presence in the community, proud of VMware's future in India, and proud of our commitment to initiatives that celebrate diversity in the workplace and India's technology industry.
VMware India continues to play a strategic role in VMware's global growth strategy for the mobile cloud era and our operations are currently second in size only to those at VMware's Palo Alto headquarters in the United States.
Lead Business Analyst - MDM & Data Services
Bengaluru, India
Apply Now
Job ID R1811363
Roles and Responsibilities:
Responsible to deliver portfolio of projects and initiatives for a Business function, from a Data Management and consumption perspective
Good understanding of SAP MDG, SaaS (Software-As-A-Service) business and Data consumption of SaaS business
Engage with business stakeholders to understand business requirements & demonstrate ability to develop and prepare business analysis, plans & business requirement definitions
Support the functional design and implementation of projects and create solutions to meet business objectives and resolve system / process issues
Drive business consumption of Master Data and attributes
Responsible for business process understanding of data consumption.
Data Lifecycle management processes and procedures.
Drive streamlining of Customer data end to end process flow.
Manage relationships with multiple business teams, stakeholder & partners for new solution implementation & adoption
Establish SOP (Standard Operating Procedures) to maintain and improve data quality
Leverage business knowledge and expertise to drive business process improvements
Work with business counterparts to identify requirements, needs, data gathering and prioritize
Work closely with IT to conceptualize and deliver the roadmap to enhance MDM Capabilities and business consumption of Master data
Extensive validation skills of the gathered data for veracity, consistency and completeness
Requirement:
10+ years of industry experience in Data Management practices and methodologies
Sound knowledge of SaaS Business and Data management needs
Good understanding and working knowledge of 'Data-As-A-Service' framework
Attention to detail and strong personal organizational skills and able to work in fast paced, high volume environment
Proven ability to provide guidance and make decisions that require judgment and consideration of possible impacts
Should have exhibited accountability, ownership and decision-making capabilities
Self-directed and proactive approach to tackling problems and leveraging resources
Demonstrated process management, testing and document control skills
Experience on task prioritization, workload and escalation management
Strong verbal and writing skills, project and time management skills, ability to work in teams
Flexible and resilient, comfortable with ambiguity, adaptable to a high-change environment
Experience with identifying improvement opportunities, defining and implementing new processes
Good office software skills (e.g., Excel, Access, Visio, PPT), knowledge of relational, object & dimensional databases, and familiarity with statistical packages and analysis techniques
Should perform end to end RCA on issues and challenges that are reported by business system users and process owners
Exposure towards building playbooks, SOP's, KPI's will be an added advantage
Should have excellent knowledge on proactive data analysis in conjunction with business needs
Good understanding on all or any two of the domains (Customer, Product and Vendor)
Should have Excellent Communication skills, both verbal and written
Preferred Skills
Business Consulting Skills
Strong experience in SAP MDG, Customer Master.
Excellent presentations skills
Your saved jobs
You have not saved any jobs.
Recently viewed opportunities
You have not viewed any jobs.