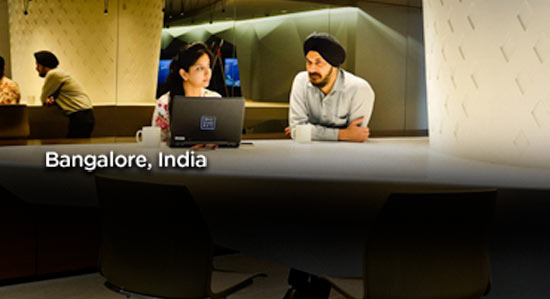 Push us. Amaze us. Inspire us.
Careers in India
When you walk through the doors of one of our state-of-the-art office sites in India, you'll find modern, comfortable, positive spaces that invite our employees to share ideas, spread creativity, innovation, and find balance in their daily lives. We are proud of our presence in the community, proud of VMware's future in India, and proud of our commitment to initiatives that celebrate diversity in the workplace and India's technology industry.
VMware India continues to play a strategic role in VMware's global growth strategy for the mobile cloud era and our operations are currently second in size only to those at VMware's Palo Alto headquarters in the United States.
Senior Customer Success Engineer – IOT Operations
Job ID R1901206
Date posted 02/15/2019
Senior Customer Success Engineer – IOT Operations
Our Company
VMware is a global leader in cloud infrastructure and business mobility. Built on VMware's industry-leading virtualization technology, our solutions deliver a brave new model of IT that is fluid, instant and more secure. Customers can innovate faster by rapidly developing, automatically delivering and more safely consuming any application. With Fiscal 2018 revenues of $7.92 billion, VMware has more than 500,000 customers and 75,000 partners. The company is headquartered in Silicon Valley with offices throughout the world and can be found online at www.vmware.com.
At its best, VMware is a place, where we are valued for the complete people we are, where extraordinary progress is achieved for ourselves, our teams, our company, our customers, and our communities – and where even more progress is desired and expected. VMware is a powerful platform for all of who we are – individual, colleague, pioneer, citizen – a place where empowerment, accountability, and responsibility become the traits of ownership, and where each of us can own our future and achieve success through our own actions, on our terms. With 20,000+ employees and 50+ locations worldwide, we are a passionate, innovative and driven group inspired to make a difference in the industry and our communities.
The Business
With VMware Pulse IoT Center, we change the world for better, by helping our customers build reliable IoT solutions and manage millions of "Things" as easily as managing one.VMware Pulse IoTC solution provides IoT device management capability solution that drives the operational and cost efficiency in deploying and managing IoT infrastructure. It onboards, configures, manages, monitors and secures the unmanned IoT devices and objects in scale. The solution enables pre-register devices in bulk, alerts and notifications, troubleshooting, device configuration, audit log and compliance management through over the air updates.
VMware Internet of Things Operations team is seeking a Senior Customer Success Engineer to join our Next Generation IoT Edge Engineering team. The engineer must be flexible and be able to adapt to a range of technologies and frameworks and must be able to support as well as do service monitoring, back up incident management and support of Pulse IoT Infrastructure. The SRE will work closely with the developers, Infrastructure/cloud administrators, monitoring team, and information security team. The position requires a mix of hands-on development and cloud infrastructure management experience
Responsibilities 
·Monitor and support the Pulse IoT SaaS and on-prem solutions
·Deploy, upgrade and troubleshoot the Service and the Customers' on-prem installation
·Work with Clients to troubleshoot applications, check logs, suggest solutions 
·Write Shell Scripts, Python code, as needed 
·Collaborate with team and work with minimal supervision 
·Willingness to learn and work with new technologies 
Position Requirements 
·Proficiency in python/shell scripting 
·Solid exposure to Cloud operations and support (VMC, AWS, OVH )
·Solid experience in monitoring tools (Logz, WaveFront, Prometheus, Grafana, PagerDuty, Uptime)
·Good understanding and experience in back up solutions (Networker, DataDomain, Veeam, Cohesity, AWS backup, Druva)
·Hands-on experience with build automation tools (Jenkins, Maven, Make)
·Experience in creating scripts and runbooks to remediate issue
·Solid Experience in Databases – Mongodb, Influx, nexus, Consul
·Experience in microservices (docker, Kubernetes, containers)
·Experience in administering Linux systems in a production environment
·Proficiency in networking/connectivity ( NSX / SDN) and load balancers (nginx, HAProxy, F5, Incapsula)
·At least 5 years of experience in supporting applications 
·Hands-on experience with Incident Management, Change management, Escalation handling and RCA
·Experience with profiling and debugging tools 
·Excellent analytical and problem-solving skills 
·Excellent communication skills and fluent English 
·The CSE is expected to be available for on call duty as well as for application support during off-hours, as needed
Desirable Technical Skills/Experience 
·Working with design engineering, propose architectural changes, and fosters communication between different organizational units
·Experienced in Software Development web development using Java with ability to work with operational knowledge of Software Revision tracking and Release Management desired
·Exposure to VMware OS (Photon)
​
Relevant Jobs
Sorry, there are currently no new opportunities near your current location. Try a new search.