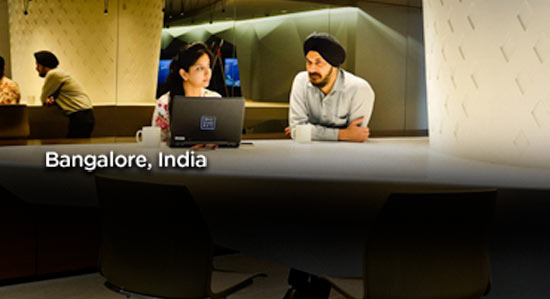 Push us. Amaze us. Inspire us.
Careers in India
When you walk through the doors of our new, state-of-the-art campus in Bangalore (opened in April 2015), you'll find a modern, comfortable, positive space that invites our employees to share ideas, spread creativity, innovation, and find balance in their daily lives. We are proud of its presence in our community, proud of the promise it means for the future of VMware in India, and proud of our commitment to initiatives that celebrate diversity in our workplace and India's technology industry.
Currently, our operations in India are second in size only to those at VMware's Palo Alto headquarters in the U.S and we are continuing to grow each year. VMware India plays a strategic role in VMware's global growth strategy for the mobile cloud era and is in line with the company's commitment to invest $500 million in India by 2017.
Information Experience Program Manager
Bengaluru, India
Apply Now
Apply Now with Linkedin Profile
Apply As An Employee Referral
Job ID 81290BR
Information Experience Program Manager Job Description
Summary
The IX program manager will work with the IX leadership and IX services team to define, implement, and run programs that enable the IX team to succeed on the core mission of delivering product documentation and help systems that help customers achieve their goals. The program manager must work with little supervision to gather requirements from stakeholders, create program definition and training material, proactively work with teams to ensure program success, and track KPIs to demonstrate program success.
The program manager should be results-oriented, possess exceptional communication skills, and enjoy working as part of a distributed, global team in a fast-paced environment. To be successful, the program manager must have a good understanding of the content production process, have the tooling expertise needed to understand the DITA authoring toolchain, excellent writing and training skills, and solid project planning experience.
The program manager for the IX Self-help program will be responsible for onboarding and enabling non-technical writers to create and deploy DITA-sourced content by using corporate tools and deployment channels. The program manager will work with R&D to enable engineers to create content that meets VMware's quality standards and best serves our customers.
Responsibilities
• Manage the IX self-help product documentation program
• Create documentation for self-help teams such as training materials, checklists, and process docs
• Conduct regular meetings with self-help teams to ensure products are successful
• Complete system administration tasks for onboarding of self-help teams
• Create and deliver training to educate self-help teams about the program and tooling
• Provide application support to enable authors and resolve issues
• Ensure quality, style, and branding compliance
• Provide support for moving content through the business process workflow
• Complete production checks to ensure content quality
• Publish output to customers via standard corporate channels
• Provide quarterly usage and quality reports to business units and users
• Ensure that customer feedback is appropriate managed
• Measure success of the self-help program
Required Skills and Experience
• Positive attitude to engage with SME authors in R&D
• Project management skills to effectively track and manage self-help teams
• Familiarity with DITA authoring standards and content management systems
• QA, editorial, and production experience
• Information architecture knowledge
• Ability to define and document business process
• Familiarity with technical writing teams and processes
• Proven ability to understand and synthesize technical information
• Ability to estimate, prioritize, and organize tasks effectively
• Exceptional communication and organization skills
• Works cooperatively with other members of the team
• 5-7 years of editorial, production, or writing experience

Why Join VMware Information Experience
The Information Experience team at VMware works across business units and divisions to create a collaborative writing community that is focused on serving customers. Our vision is to help customers find answers. To support that mission we work creatively to find new authoring and publishing methods to help customers successfully use our products. Our global team works with video producers, graphic designers, information architects, and tool experts to deliver industry-leading information. We are a fast-paced, dynamic team that is seeking leaders to help us deliver our mission and seek innovation that will ensure we continue to give customers the best information experience possible.
Your saved jobs
You have not saved any jobs.
Recently viewed opportunities
You have not viewed any jobs.