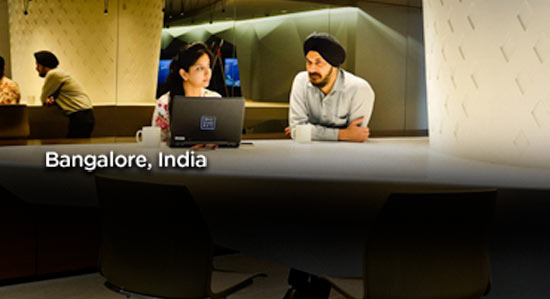 Push us. Amaze us. Inspire us.
Careers in India
When you walk through the doors of our new, state-of-the-art campus in Bangalore (opened in April 2015), you'll find a modern, comfortable, positive space that invites our employees to share ideas, spread creativity, innovation, and find balance in their daily lives. We are proud of its presence in our community, proud of the promise it means for the future of VMware in India, and proud of our commitment to initiatives that celebrate diversity in our workplace and India's technology industry.
Currently, our operations in India are second in size only to those at VMware's Palo Alto headquarters in the U.S and we are continuing to grow each year. VMware India plays a strategic role in VMware's global growth strategy for the mobile cloud era and is in line with the company's commitment to invest $500 million in India by 2017.
Engineering Manager (Application Virtualization Technologies)
Bengaluru, India
Apply Now
Apply Now with Linkedin Profile
Apply As An Employee Referral
Job ID 80812BR VMware vRealize Operations delivers intelligent operations management across physical, virtual, and cloud infrastructures—from VMware vSphere® and Hyper-V to Amazon Web Services. It correlates data from applications to storage in a unified, easy-to-use management tool that provides control over performance, capacity, and configuration, with predictive analytics driving proactive action, and policy-based automation.

For more information please see the links below:
http://www.vmware.com/products/vrealize-operations/
http://blogs.vmware.com/tribalknowledge/2015/04/vmware-vrealize-operations-6-claims-best-interop-award-2015.html

We are seeking a senior software development manager to lead multiple concurrent software projects related to the development of VMware's vRealize Operations Management product. It provides a new and much simplified approach to operations management of vSphere, physical and cloud infrastructure. Using patented, self-learning analytics and an open, extensible platform, vRealize Operations Manager provides you with operations dashboards to gain deep insights and visibility into health, risk and efficiency of your infrastructure, performance management and capacity optimization capabilities.

The ideal candidate is someone with a proven software development background with experience in the successful delivery of high quality software projects. The ideal candidate will be highly technical, detail oriented with focus on implementation excellence as well as have significant project management expertise in large scale commercial enterprise product development. This manager will work closely with Sr. Management, other software development managers, product owners, product managers, QE, and software engineers that are both direct reports and indirect reports. Projects vary greatly in size, scope and delivery schedule.

Requirements:
• 6+ years experience in leading and managing world class software development teams and projects through multiple releases
• Ability to discuss, present, document and provide architectural and technical guidance to a team of highly skilled engineers.
• Knowledge of multiple software lifecycle methodologies including Agile and Waterfall.
• Strong software development and project management fundamentals
• Excellent leadership, people management, communication and documentation skills. Should be comfortable presenting to other managers, engineers, support, product managers, product owners, and customers as needed
• Effective influencer in highly diverse, matrixed organization across multiple geographical locations
• Foster innovative environment for peers and staff
• Ability, interest, and experience in identifying and resolving technical issues.
• Track record of delivering Object Oriented technologies through complete product lifecycle
• Design, implement and test high quality products
• BS or MS in Computer Science or related technical fields

Highly Desired Skills:
• Proficiency and experience with virtualization and application virtualization technologies in a data center environment.
• Exposure to systems-management and monitoring applications preferred
• Knowledge of big data analytics, performance, capacity and configuration management domains
• Experience with state-of-the-art messaging, databases and distributed scale out technologies.
• Strong knowledge of Architecture and Design Patterns
• Understanding and involvement of Test Driven Development & Design practices
• Experience with Continuous Integration processes
Your saved jobs
You have not saved any jobs.
Recently viewed opportunities
You have not viewed any jobs.