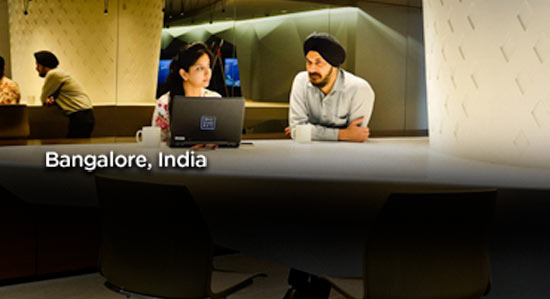 Push us. Amaze us. Inspire us.
Careers in India
When you walk through the doors of one of our state-of-the-art office sites in India, you'll find modern, comfortable, positive spaces that invite our employees to share ideas, spread creativity, innovation, and find balance in their daily lives. We are proud of our presence in the community, proud of VMware's future in India, and proud of our commitment to initiatives that celebrate diversity in the workplace and India's technology industry.
VMware India continues to play a strategic role in VMware's global growth strategy for the mobile cloud era and our operations are currently second in size only to those at VMware's Palo Alto headquarters in the United States.
Director, Global Escalation Management
Job ID R1904897
Date posted 04/08/2019
Director Escalation Management  
Are you a dynamic technical leader that is passionate about leading a team of highly motivated and skilled escalation managers?  If you are, then this is a fantastic opportunity for you to join VMware's Global Support organization leading our talented APJ Escalation Management team.  In this senior role you will be responsible for identifying areas of opportunities, defining new business processes, communicating with customers and VMware executives, as well as driving changes for VMware's support organization as we are transitioning toward becoming the most proactive support organization in the world.  Your key business partners are Support, Engineering, Professional Services, Sales, and Product Management.  With a number of high-performance resources at your disposal, you will be responsible for enhancing our internal processes and overall customer experience.
We are looking for an experienced technical leader with 10-15 years of industry experience including 7+ years leading escalation management/critical situation management team focused on SaaS, Virtualization, Networking, AWS cloud infrastructure technologies.  BS is required, MBA or MCS preferred.
You will lead the APJ Escalation Team – review all global escalations, coach and provide guidance to the escalation managers on how to handle critical/escalated cases
Represent the VMware Brand and leadership team at the highest levels within a customer's organization.
You will develop team members – guide and coordinate personal development plans, set team and individual goals, coach and counsel team members day to day in their professional growth
Keep focus proactively supporting escalated customers in the region and around the globe
Reinforce the embracement of a customer first focus, strong negotiation skills and ability to adjust to different situations at a moment's notice.
Reduce the number of escalations by partnering with GSS leadership on lessons learned. 
Build strategic relationships with senior decision makers across VMware Business Units and VMware customer's
Encourage the team to adopt a solution-support approach; orchestrate resources external to the team, particularly channel partners through which most sales will be fulfilled
Seek deep understanding and champion the customer's business objectives and needs throughout escalation lifecycle
Facilitate a 'follow-the-sun' commitment through global team collaboration, process alignment, and resource delegation
Provide leadership oversight to escalated incidents through timely coordination of cross-functional teams and tasks, including drafting executive communications, providing technical guidance; developing, monitoring and executing cross-functional action plans
What do we want? 
You have the ability to understand technical issues and translate them based on your audience
You are effective in working independently with minimal supervision in a collaborative team setting, where you build relationships with various cross-functional departments
You are a self-starter, have strong interpersonal skills and possess excellent time management
You are a strong, clear communicator and confident handling communication with C-level executive leadership 
You are a forward and strategic thinker, always thinking a few moves ahead
What do we require? 
You have strong people management skills including: hiring, developing, motivating and retaining high performing talent with experience of handling any performance shortfall
You have excellent written and verbal communication skills and are fluent in English
Good knowledge and understanding of Enterprise customers and their dynamics
You are a creative thinker and willing to challenge the status quo.
You have the ability to work flexible hours depending on the needs of our customers and the business as well as the ability to travel domestically and/or internationally when needed (<20%) 
You have a BA/BS degree. MBA, MSC or equivalent job-related experience preferred 
Relevant Jobs
Sorry, there are currently no new opportunities near your current location. Try a new search.