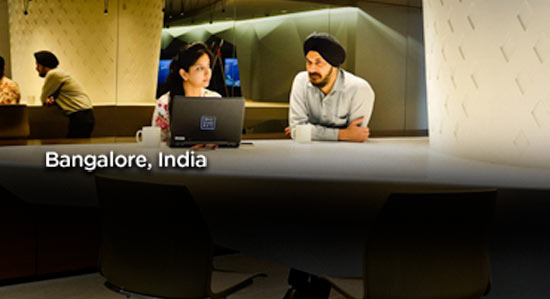 Push us. Amaze us. Inspire us.
Careers in India
When you walk through the doors of one of our state-of-the-art office sites in India, you'll find modern, comfortable, positive spaces that invite our employees to share ideas, spread creativity, innovation, and find balance in their daily lives. We are proud of our presence in the community, proud of VMware's future in India, and proud of our commitment to initiatives that celebrate diversity in the workplace and India's technology industry.
VMware India continues to play a strategic role in VMware's global growth strategy for the mobile cloud era and our operations are currently second in size only to those at VMware's Palo Alto headquarters in the United States.
Application Support Analyst - Sales Force
Bengaluru, India
Apply Now
Job ID R1812967
Requirements:
Minimum 5 years of experience working in IT organization
A complete understanding of SDLC
Experienced in working with global cross functional teams
Hands-on with resolving highly complex and mission-critical issues
Technical Skills:
Manage ongoing support requests and Salesforce.com administrative needs of users.
Experience in Salesforce CRM, Sales Cloud, Service Cloud, PRM applications.
Hands on experience on Validation Rules, Workflows, Approval Process, Page Layouts and Record Types.
Strong knowledge on salesforce security, Profiles, Roles & hierarchy, territory, forecasting etc.
Knowledge and Experience on Building Reports, Report types, Dashboards etc.
Should be able to manage different Integrations with salesforce.com
Should possess strong knowledge on Salesforce Limitation.
Strong debugging skills and good to have Understanding of Force.com Platform (Apex, Visual force Pages, Triggers etc.)
Should able to do data migration including data cleansing activity.
Strong understanding of Salesforce.com CRM, Certified Administrator (ADM 201) would be preferred.
Key Skills:
High flexibility so you remain agile in a fast changing business and organizational environment.
Analyze work load, determine best practices and implement changes to improve productivity
Strong operations management and innovation orientation so you can continually improve the processes, methods, tools, and utilities.
Strong team player so you leverage each other's strengths. You will be engaged in collaboration with peers within/across the teams every hour.
Good understanding in Incident, change and problem management
Knowledge on tools like PPM, SFDC, ticketing systems
Strong problem solving skills so you can quickly narrow down to the root cause of the issue reported.
Proactively contribute to improve the team efficiency by sharing knowledge, providing feedback about best practices, designing tools / utilities etc
Participate in Issue resolution Conference calls and quickly provide the solution.
Personal Attributes:
Be highly motivated and self-driven
Strong problem solving/analytical skills
Strong customer support and relation skills
Have great communication skills especially when working in a remote environment
Willing to work in shifts
Your saved jobs
You have not saved any jobs.
Recently viewed opportunities
You have not viewed any jobs.