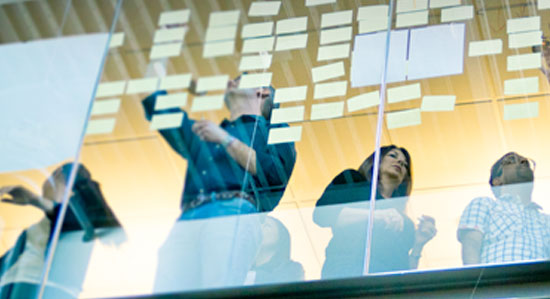 Push us. Amaze us. Inspire us.
Careers in Finance
Join our team of motivated professionals in a collaborative, fast-paced environment. You'll take your critical thinking skills to the next level as you use analytical tools, build connections, and contribute to the growth of our company.
GCR Strategic Sourcing Manager
Job ID R1904583
Date posted 03/29/2019
Business Summary
VMware Global Sourcing & Operations (S&O) are strategic business leaders who drive value through transformative sourcing and operational excellence. S&O has been transforming how VMware unlocks value to support its continued growth and evolution into a SaaS company… and the opportunities seem endless.
Job Role and Responsibility
As a VMware Strategic Sourcing Manager, you will work with a geographically diverse sourcing category team and business partners to develop and execute our objectives in the all types of category domains. You will collaborate with Sr. Managers, Directors, and Sr. Directors across VMware and will play a key role in the development of policies and processes that drive efficiency and saving opportunities and compliance across various categories for Greater China region.
Core Responsibilities:
Provides negotiation strategies and establishes contract terms surrounding complex contracts in support of corporate goals.
Builds relationships with internal customers to be a business partner for each initiative from the very start and be a strategic partner for stakeholders focused on the total cost of ownership, corporate objectives, and industry best practices.
Conducts all phases in the development of contracts to include drafting statement of work, creating request for proposals, contract evaluations and negotiations.
Creates and maintains the strategic sourcing plan through collaboration with stakeholders. Leads the execution of strategic sourcing and competitive bidding initiatives, including conducting spend and data analysis, internal assessments, drafting requests for proposals, evaluating proposals, and negotiating with suppliers.
Develops and maintains policies and controls for competitive bidding and supplier management processes to achieve financial, compliance and risk management objectives.
Provides insight to management on sourcing issues and solutions.
Utilizes collaborative skills in interacting with stakeholders, suppliers, and team members. 
Ensure compliance that contracts are being processed in a quality manner consistent with best practices and in compliance with policies, process, and procedures and regulatory requirements.
Deliver results with high degree of ethics, integrity & passion.
Required Skills
Minimum of 6 years relevant experience.
Demonstrated track record of identifying, developing and executing high impact sourcing strategies.
Confirmed ability to communicate, influence and establish collaborations at all levels of an organization.
Strong business insight, including good strategy, financial and operational skills.
Solid project management skills to drive and close multiple complex, high risk projects across business functions and geographies.
Excellent negotiations skills with the ability to negotiate large volume, high risk deals independently.
Strong supplier management skills.
Outgoing personality and a trusted people manager.
Passion for strategic sourcing
Desired Skills
Bachelor degree or relevant higher qualifications
Experienced in leading SRM (Supplier Relationship Management)
Completed formal negotiation training
Relevant Jobs
Sorry, there are currently no new opportunities near your current location. Try a new search.